Why your windows rattle from thunder and lightning
Excited air molecules explode, creating a shock wave that shakes buildings and homes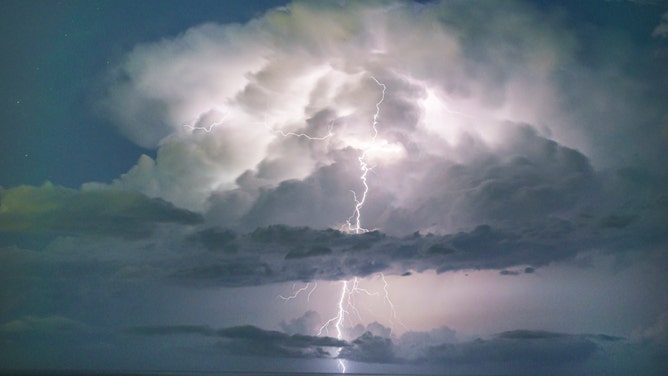 It's happened to us all, you're sleeping, and then boom, lightning and thunder so intense it causes your windows to shake, and suddenly you are wide awake. Weather can be bad for your beauty sleep sometimes.
A severe thunderstorm can produce house-shaking lightning and thunder, but how does the weather event translate to the physical shaking of your windows?
According to the National Weather Service, thunder is created when lightning heats the air, causing it to expand. After the rapid heating, the air cools and contracts, making the thunder we hear.
HOW DO LIGHTNING RODS WORK TO PROTECT HOMES AND BUILDINGS?
Although a lightning strike usually hits one spot, the bolt travels miles through the air, meaning that we can also hear the associated thunder for miles.
FOX Weather meteorologist and data specialist Shane Brown explains this phenomenon has a few things in common with the sonic boom created by a jet or a SpaceX rocket booster returning to Earth.
"Lightning heats the air around it to roughly 50,000 degrees Fahrenheit -- 5 times hotter than the surface of the sun. This excites the air molecules so much that they explode in all directions," Brown said. "The result is a shock wave that creates a sonic boom --like a jet exceeding the speed of sound – which can reverberate off of the ground and buildings. All of that energy can't just stop as soon as it hits something, so it will transfer into those objects and cause rumbling and shaking."

CLICK HERE TO GET THE FOX WEATHER UPDATE PODCAST
So, unfortunately for sleeping people and pets, that energy is transferred to homes and building windows.
How loud thunder can sound depends on things like the temperature between the ground and the atmosphere. For example, a recent thunderstorm near New York City was so audible many New Yorkers reported the thunderous claps woke them up.
According to Brown, the "supercharged" thunder was created by a temperature inversion. It was a few degrees warmer at 900 feet than on the ground, trapping sound waves and allowing them to dissipate slower and be heard from further distances.