SpaceX Dragon barrels back to Earth rattling windows, lighting up the sky
The fireball was seen across the east coast
Windows rattled down the east coast Thursday night as the SpaceX Dragon capsule returned from space, landing in the Atlantic Ocean.
SpaceX gave residents a heads up they might be in for a show.
"Dragon's descent as it enters the atmosphere before splashdown may be visible in parts of Florida and Georgia," the company wrote in a tweet.
The spacecraft created a fireball streak across the night sky as it re-entered Earth's atmosphere following a month-long stay on the International Space Station. Residents from Florida to South Carolina reported seeing the cargo supply ship barreling through the sky late Thursday.
Onlookers in Florida were reminded of the Space Shuttle Programs days as the SpaceX ship broke the sound barrier on re-entry, causing windows to shake.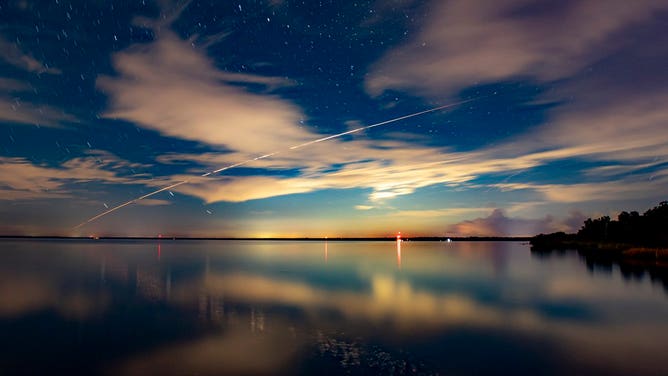 "I can't believe we just felt and heard the SpaceX Cargo come in for its splashdown," Brittany Mullan in Jacksonville said. "I'm so used to that sonic boom growing up but was shocked to experience that in Jacksonville just now."
SpaceX does not disclose publically precisely when or where the spacecraft will be landing. There are several splashdown sites around Florida. 
The company confirmed a successful splashdown Thursday around 11 p.m. off Florida's east coast.
The return marked the 23rd resupply mission for SpaceX, sending food, experiments and supplies to the astronauts on the International Space Station. Some science returned with the capsule and was retrieved via helicopter after landing, according to the company.
Later this week, the Dragon spacecraft will make its way back to NASA's Kennedy Space Center on board SpaceX's retrieval boat "Go Searcher."
SpaceX is preparing to launch four humans on its next liftoff from Florida. A Crew Dragon spacecraft will deliver NASA astronauts Raja Chari, Tom Marshburn, Kayla Barron, and European Space Agency astronaut Matthias Maurer to the International Space Station.
That launch is scheduled for Oct. 30 at 2:43 a.m.