Why late spring snow weighs heavier on tree branches causing limbs to break
Leaves on trees creates more surface area for snow or ice to cover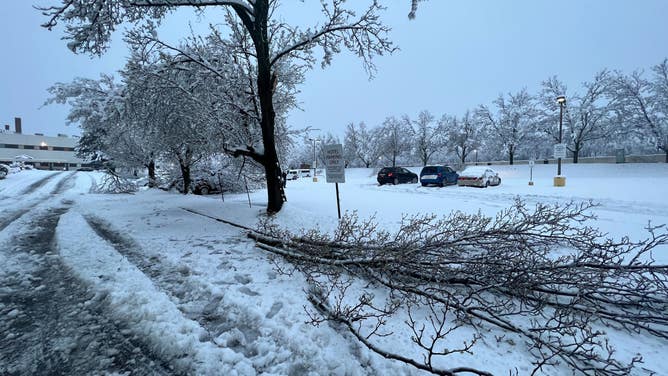 Some New Yorkers reported the sounds of branches snapping under an April snow after a late-season Nor'easter knocked out power to thousands. 
Ice or snow can cause tree branches to fall under the added weight, but this late in the spring, additional factors increase those chances of breakages.
LATE-SEASON NOR'EASTER DUMPS HEAVY SNOW, RAIN ACROSS THE NORTHEAST
FOX Weather Meteorologist Brian Mastro explains that some trees already have leaves on their branches in spring.
"The leaves increase the amount of surface area, which increases the amount of snow on the branches," Mastro said. "Another factor is also the water content of the snow, and a wet, heavy snow will weigh down a branch more than dry fluffy snow. So the combination of heavy wet snow and leaves on the branches can cause issues."
Some areas in upstate New York, Vermont and New Hampshire received more than a foot of snow 12-hours into the storm. 
FOX Weather Meteorologist and senior digital producer Brian Donegan reported tree branches in Berkshire, New York, sagging with heavy snow piled on trees early Tuesday morning.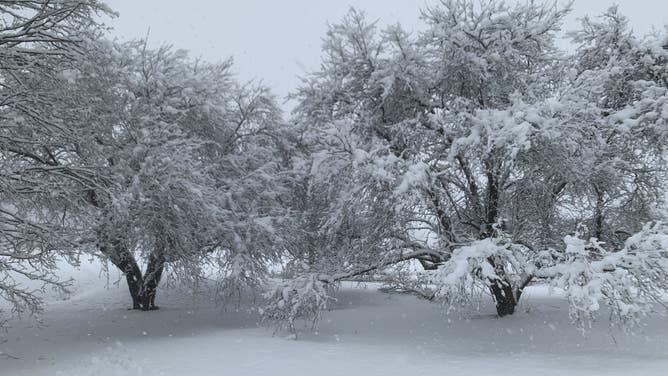 FOX Weather reporter Katie Byrne was in Binghamton, New York where downed trees and power lines led to widespread power outages.
Virgil, New York, picked up 18 inches and Erieville and Indian Lake saw at least 16 inches.
THUNDERSNOW ILLUMINATES NEW YORK NIGHT SKY IN ELECTRIFYING VIDEO
According to Simpson Nurseries Plant Me Green, trees also require a certain number of "chill hours" or hours between 32 and 45 degrees to go dormant and then wake up to blossom in the spring. 
For example, a Southern Anna Apple tree only requires 200 chill hours, whereas a Granny Smith apple tree needs 400 hours. 
"Reaching the needed chill hours sets off the plant's internal alarm clock to wake up in the Spring instead of Summer or Fall so that it can take advantage of the warm weather to blossom, set fruit, and finish the seed cycle before the coming of another winter's nap," according to Plantmegreen.com.