US company tracking power outages in Ukraine in first-of-its-kind war zone effort
The company said they are tracking around 70 percent of Ukraine, which is around 14 million customers
A company whose information is used by emergency managers, FOX Weather and other leaders in the weather industry to track power outages during natural disasters has added another feature to its popular website- tracking electrical outages in Ukraine during the fog of war.
Unveiled in 2016, PowerOutage.com has grown into an exclusive, one-stop shop for experts to see which areas have been hit the hardest during significant weather events.
Bluefire Studios LLC, the company behind the website, says its systems constantly collect, record and display publicly available power outage data that makes it easy for consumers to read.
RUSSIAN INVASION OF UKRAINE PUTS US-SPACE COLLABORATION IN QUESTION
When an outage is reported, a map highlights the region in either yellow, orange or red depending on how significant the disruption is in terms of customers.
The displays and data have proven invaluable during hurricanes, tornado outbreaks and even winter storms. 
During the Groundhog week blizzard of 2022, more than 400,000 homes and businesses lost power due to high winds, ice and snow and data provided by PowerOutage.us to FOX Weather made for easy-to-read graphics which showed the areas that were the hardest hit.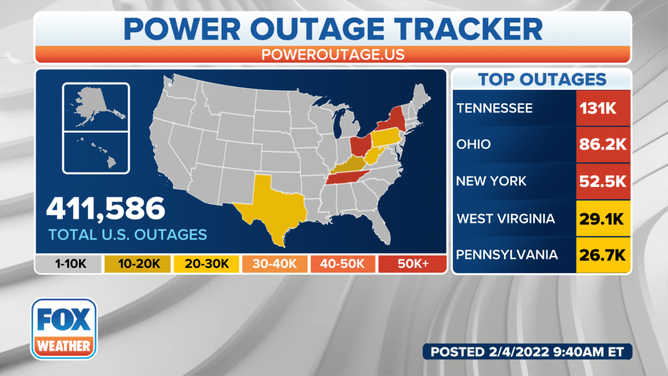 With the recent addition of Ukraine, PowerOutage.com added yet another notch to its belt, tracking near real-time outrages in a war zone, an effort that is a first to the company and maybe even the world.
Jason Robinson, the founder of Bluefire Studios LLC, said during a typical significant weather event in the United States, power outages tend to build up quickly before utility crews are able to get into neighbors and address the outages, but he has noticed a different trend in Ukraine.
The power outages during the Russia-Ukraine conflict have only slowly built up, and Robinson said it appears that either outages are taking a long time to fix or are not being addressed.
The newest venture to provide the world updates on Ukraine's power outages has not been without its challenges. 
Robinson said it has been difficult to access some of the publicly available data because electric providers have been hardening their systems to protect their infrastructure from cyber warfare.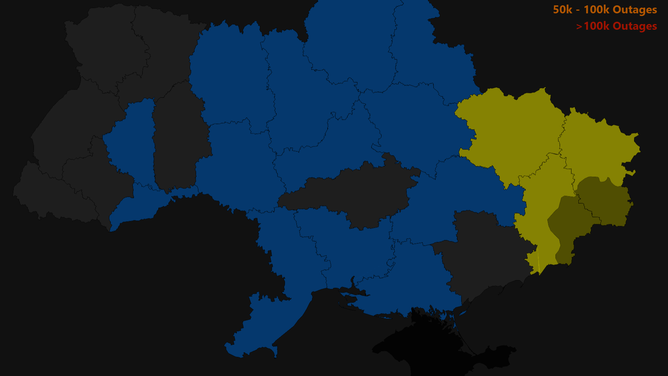 Before the heart of the conflict, about 70% of the eastern European nation was available to be viewed on PowerOutage.com/ua.
Fortunately for residents in Ukraine, power outages have mostly lower end of the impact scale, with only around 70,000 outages reported country-wide as of Friday evening.
Robison said it appears the conflict has only had a limited impact on the electric grid and most infrastructure remains intact.