Winter storm knocks out power to more than 400,000 across US
Accumulating ice pulled down power lines and snapped poles.
The monster storm sweeping across the U.S. from border to border has knocked out power to more than 400,000 homes and businesses as of Friday morning, according to PowerOutage.us. Many areas have endured freezing rain and sleet for hours which weighs heavy on the power lines.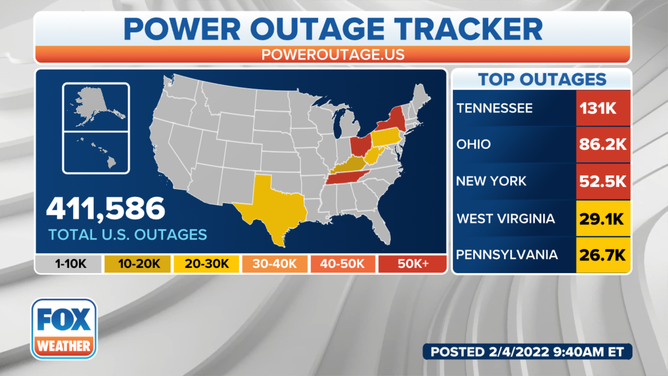 "The distribution system is engineered to withstand Mother Nature. But, we all know that doesn't always work," An official from Jackson Purchase Energy in Paducah, Kentucky told FOX Weather's Nicole Valdes. "In most cases, a half an inch of ice or less is not a significant event. But, once you pass that point, then we start to have critical failure."
Critical failure means no power, no heat and no hot water for areas headed well below freezing behind the front.
A half-inch of ice can add 300 pounds to the power line stretched between poles, about 300 feet reported Jackson Purchase Energy. One inch of ice can add 300 pounds and two inches can add 2,200 pounds to that stretch of line.
HOW MUCH ICE IS NEEDED TO KNOCK OUT POWER, DAMAGE TREES
Ice accumulating on tree branches can also knock trees into lines.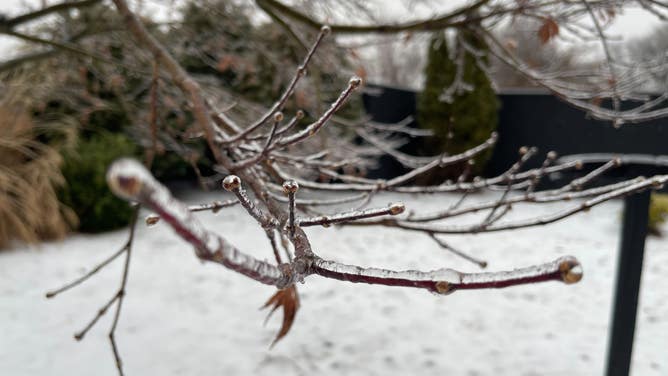 "We've seen so much vegetation, tree branches coming down on lines. The ice is no match, really if you get to a quarter of an inch or more on our wires and certainly with snow following it up, that's expected this evening and throughout the overnight hours," said Sally Thelen, Spokesperson for Duke Energy. "It's definitely going to be a long night and certainly into tomorrow for many of our customers."
Once the line fails or falls, power crews have to wait until plows clear the streets and highways just to get to the problem.
DON'T' WAIT, NOW IS THE TIME TO PREPARE FOR A POWER OUTAGE
Several governors have declared states of emergencies which allows them to suspend weight and size limits for trucks on roads and highways. That allows oversized trucks to bring in large power replacement equipment.
TEXAS EXPERIENCING MOST SIGNIFICANT ICING EVENT IN DECADES, GOVERNOR SAYS
The Northeast will have winter weather on Friday, which could add to the number of power outages across the country.