How to protect your home against termites
How do you know if termites are eating their way through your home and furniture? Experts say the warm winter, recent rain and damaging storms could make this an active year. And most insurance policies won't cover it.
Its swarming season. If you've noticed some flying "ants," strange muddy tubes and "sawdust" around your home, you may have a termite infestation.
The second week of March is Termite Awareness Week, and the National Pest Management Association wrote, "Buckle up for an active season."
The South's recent warm-up, California atmospheric river storms, mild Northeast winter and even Florida's destructive hurricanes contribute to these hungry insects taking even more of a toll on your home. Spring swarming season is typically the time to determine if you have an infestation within your home.
RECENTLY DISCOVERED 'SEA BUGS' CAN GROW UP TO 1.5 FEET, EAT ENTIRE ALLIGATOR CORPSE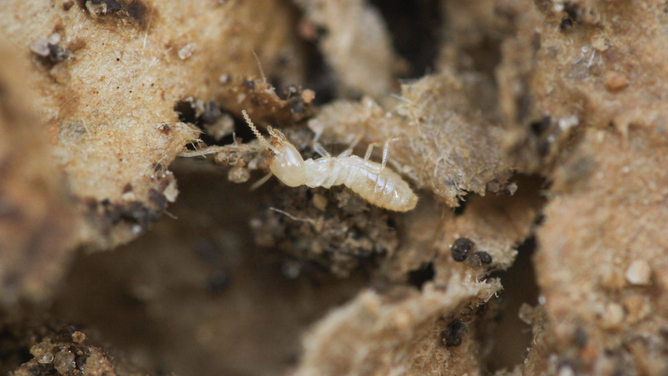 What is swarming season?
"There are certain times when they are reproductively active. Swarming season for termites, that's when there are members of that colony are going to leave the colony and start new ones," said Orkin Entomologist Ben Hottel. "And they have wings, and they leave usually in the spring, and then they fly and meet with each other. And then they'll go and try to start a new termite colony."
One species in Florida swarms in January and February, while others swarm in March and April. But, one of the most invasive termites swarms around Mother's Day.
"And then you kind of just shift that timeline into the north. In Georgia, it's late March, April for some of the native species. And as you move further north, it gets later and later," Hottel said. "So, in general, the springtime is the time for subterranean swarming."
GIANT BUG FOUND AT ARKANSAS WALMART IDENTIFIED AS JURASSIC-ERA INSECT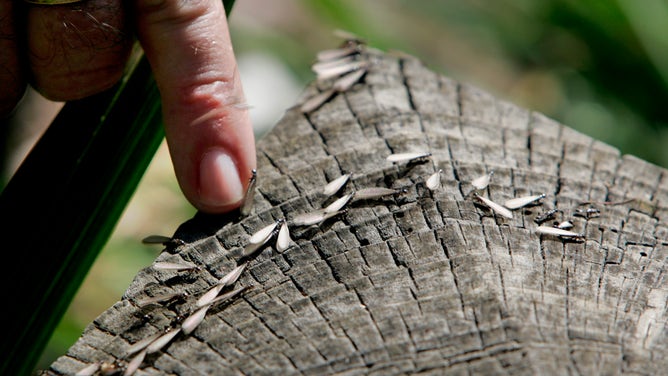 HOW TO WATCH FOX WEATHER ON TV
Sometimes this is the first indication a homeowner will have because termites live inside walls and furniture, underground and in mud tubes that are not out in the open, Hottel says. Many times they start swarming after rain. 
When are termites actively devouring my home?
"It's a little confusing with termites because they really are active year-round. There are large colonies of termites that live typically in the soil, subterranean termites," he said. "They're out in the yard, and then they randomly go through the soil, and they find a house, and they tunnel up into the house and find wood, and they start feeding on it."
Subterranean termites need moisture, so they favor the Southeast and Gulf Coast states. He said the wetter and warmer a state, the equivalent the more species of invasive termites and termite problems the state has.
NOT FROM A HORROR FILM: WHEN INSECTS TURN INTO 'ZOMBIES'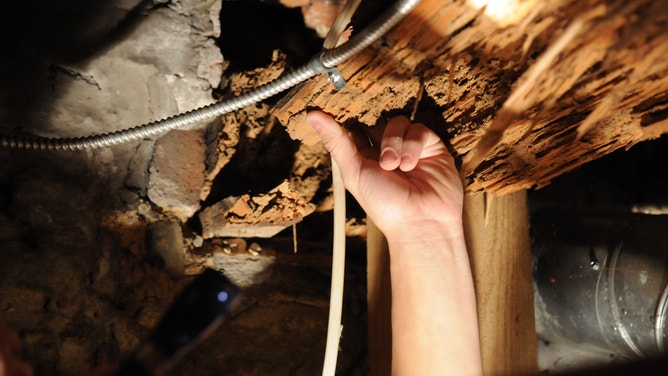 The farthest north Hottel has seen a subterranean termite is Norfolk, Virginia. Freezing winters limit the insect's range. But, cold weather states still have to worry because termites could be chomping away inside your warm insulated house.
"Dry wood termites don't live in the soil, and they will just fly, like into an attic. And then they find there's wood there, and they start feeding on it and making a nest in the wood there," said Hottel "Or they might get into the wall void areas of people's houses and start creating colonies there."
They also attack furniture and cabinets. The two biggest states with dry termite problems, he said, are Florida and California. 
"There are certain states, that if you own a home, you should have a termite exterminator on speed dial," he said. "If you see things, take action."
Dry termites damage slowly while subterranean ones damage quickly
"With some of the invasive species that are in the South and Hawaii, I've seen buildings have to be demolished because of the extent of the damage," he said.
SWARMING INSECTS CAN CREATE AN ATMOSPHERIC CHARGE COMPARABLE TO STORM-PRODUCING CLOUDS, STUDY SHOWS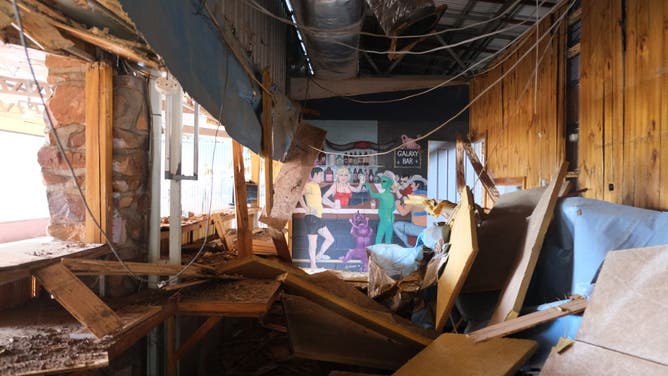 More signs of termite infestation
Another sign of termite activity is piles of pellets or "sawdust" that show up. They are the same color as the wood meal termites are noshing on. But it's not sawdust, it's feces.
"These little pellets will start showing up maybe by your door if you have wood frame doors or wood frame windows. You might start seeing pellets on the flat surfaces where they just roll out of these holes while the termites are feeding," said Hottel "They'll actually scrape their droppings out of these holes in the wood, and those will fall down, and there might be a little pile."
Subterranean termites build mud tubes to travel in. Look for sandy earthworm-like tunnels on surfaces like in a basement, crawl space and foundation. The tubes seal in moisture, which stops the insects from drying out and protects them from predators.
THREATS FROM TICKS, FLEAS AND MOSQUITOS ON THE RISE AFTER HISTORIC RAINFALL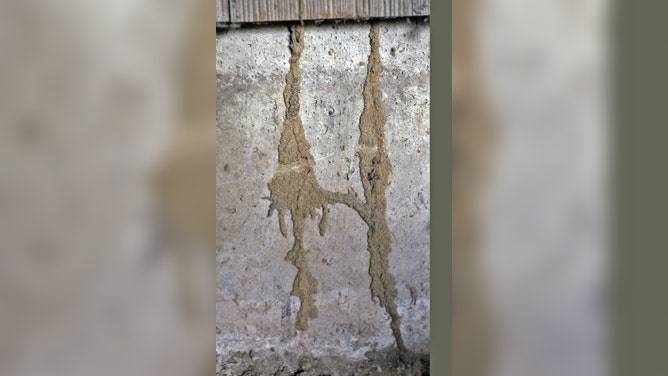 "If it's really bad, like if they get into structural supports in the roof, I've actually seen the ceilings start to bend a little bit and crack under the weight," he said.
Look for wood damage. Moisture patches and cracks on the wall could be another indication. 
And Hottel says neatness can actually hurt the home. Leave the pellets, wings, dead animals and tubes for the exterminators.
"We're kind of like detectives in a way. And if all the evidence has been scrubbed out and removed, it can be more difficult to figure out what specifically there's a problem," said Hottel adding that beetles and ants leave similar evidence but need different removal techniques. "You could always put them in a medicine container or a Tupperware container or something to save it."
NEW REASON TO FEAR TICKS: EXTREME FLOOD ALLERGY POSSIBLE FROM SINGLE BITE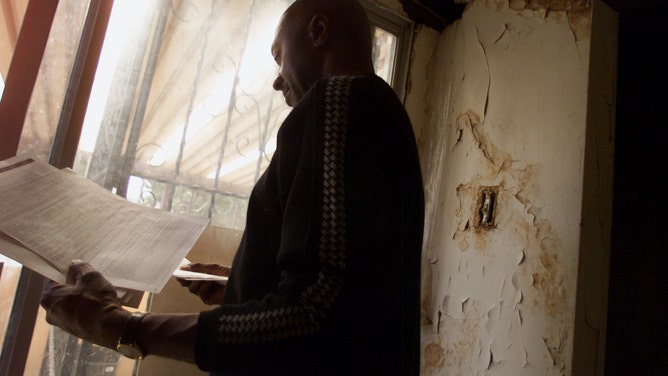 Homeowner's insurance usually doesn't cover the damage
Double check homeowner's insurance policies because, in Hottel's experience, termite removal and damage are uncommon. In most states, pest companies offer different levels of protection and guarantees.
Why do storms make my home more susceptible to termites?
Heavy rain and flooding allow moisture-needy subterranean termites to travel further distances. Moisture issues and damp wood in homes make them more susceptible to termites, Hottel said. 
"A lot of wood that they feed on, they tend to get into it because they have moisture issues. If there's a downspout that's broken, and it's leaking onto the side of a building, that makes that wood more attractive," he said. "Wood frame windows can be moisture magnets, and termites can get into that as well."
Hurricane and wind damage leads to more termite issues. Not only will you have more damp wood and areas for termites to enter, but repairs can transport the insects.
WATCH: SWARM OF BLOODSUCKING MOSQUITOES CLOUD HOME AMID HEAVY RAIN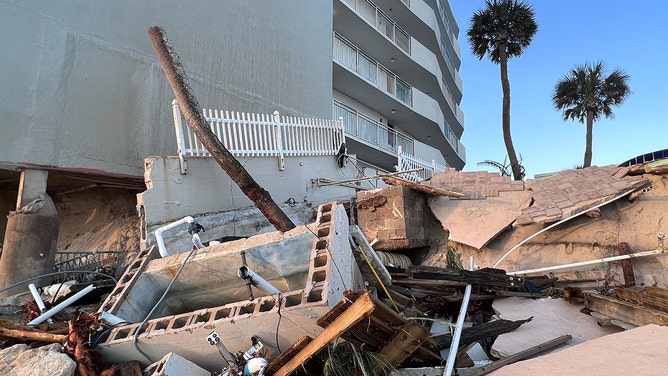 "One of the bigger issues with hurricanes is actually after they go through, you can actually end up moving around some of those termites," he said. "So it can be very localized, and then all of a sudden, you move damaged wood into different areas."
He continued, "If you're repairing things, you can have wood that is already infested with termites. Or if you have to get new furniture, the new furniture, depending on where you're getting it from, could have termites."
Who do you call to get rid of termites?
Try going online to find out if termites infested neighborhoods near your home. States like Florida have online databases. State universities usually have extension offices with entomologists on staff to answer questions.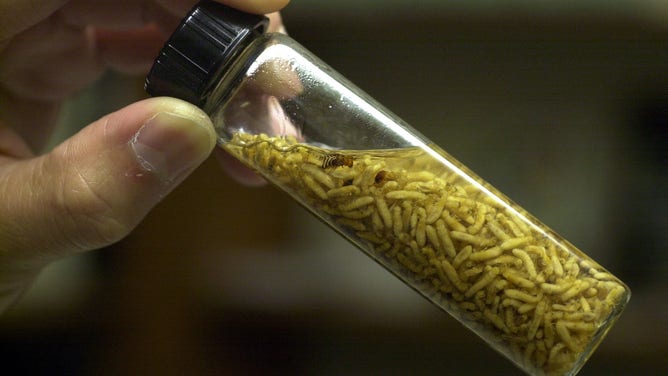 Local pest operators are a great source of knowledge. The EPA regulates exterminators in each state and states license professionals that apply pesticides.
"When you hire someone, it's important to make sure that they are licensed in that," Hottel said. "All the pest control companies that are doing legal work should have someone that is certified in charge. And then there may be workers within under that person that allows them to do essential services."
Check with your state's department of agriculture and/or public health to find these lists.