Scuba divers clean up Lake Tahoe through the winter after wildfires delay progress
Mother Nature has not been kind to volunteers; cold, wind, rain, snow, lightning, wildfires and even the pandemic hampered cleanup efforts.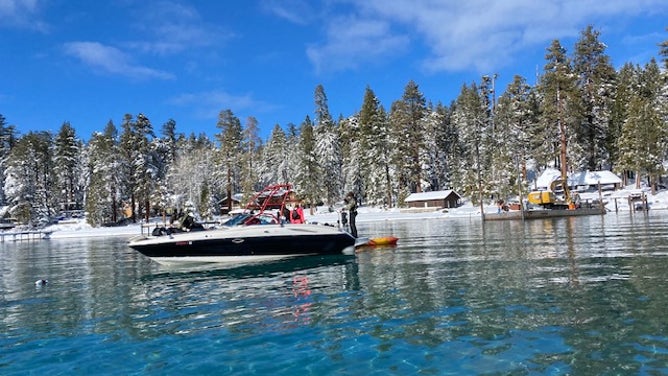 Mother Nature has not been kind to the volunteers cleaning up the bottom of Lake Tahoe. There has been a frustrating string of weather-related delays including record December snowfall, October storms, wildfire evacuations and unhealthy air quality.  But now, divers are finally back out on the famed California lake restoring its natural beauty.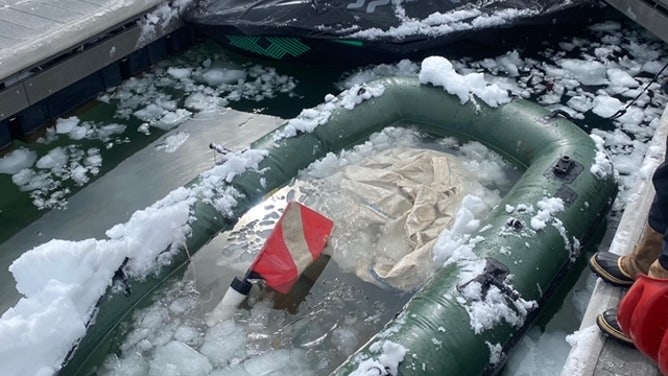 RECORD SNOWFALL AT CENTRAL SIERRA SNOW LAB
"We're at this until all litter has been removed from underneath the surface of Lake Tahoe," said Colin West, founder of the non-profit Clean Up the Lake. "Our dive teams consist of obviously our scuba divers. And then we have free divers who were on the surface and the free divers work in conjunction with kayakers and jet skiers as well as boaters." 
Scuba divers with support boats, aided by free divers pick up trash from the bottom and transfer it to a trash raft (that they named Darlene) that is towed by jet skis and kayaks.  
Some trash is small like a can or sunglasses. Bigger trash like tires and concrete blocks take a team effort. Seven to ten volunteers work on the water per day. So far the group has enlisted the help of 111 volunteers.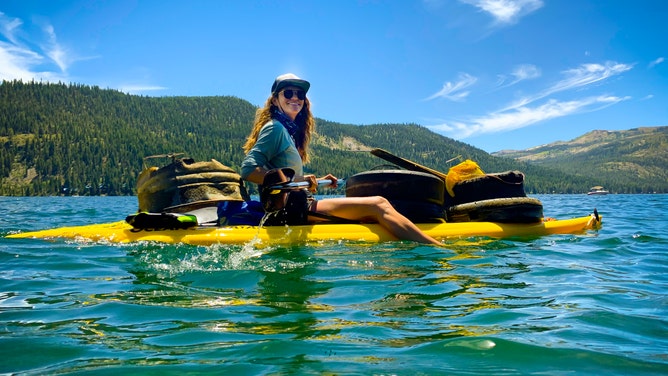 Filmmaker turned environmentalist, West set out to clean up Lake Tahoe, by hand, literally. He founded Clean Up the Lake three years ago. Scuba divers pick trash off the bottom of the lake by hand: one bottle, one tire and one concrete chunk at a time. It's slow-going.  
Weather Delays  
"You can't predict and plan for whatever Mother Nature is going to throw our way. We are kind of, at the beck and call of the winds or the fires or the smoke or the snow or the lightning," continued West.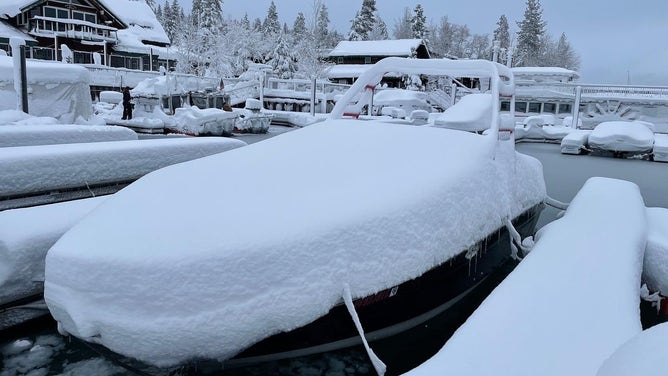 He explained that while scuba divers can wear cold-weather gear in the 42-degree lake water, the garbage collection team on the surface feels the full brunt of the winds, waves and weather.  
"Once things begin to break that 13 to 15 miles an hour it is difficult to stay on the lake because the waves get pretty high," said West about putting the surface support teams in danger.  
 "We've got wind protocols, lightning protocols, cold weather protocols, all sorts of safety protocols to make sure that we keep our volunteers safe."  
 "We typically do our best to schedule when it's a bluebird day," said West. "A lot of people will be at Heavenly or Palisades Tahoe, and we will be out diving on the lake," West said of diving while most hit the ski slopes.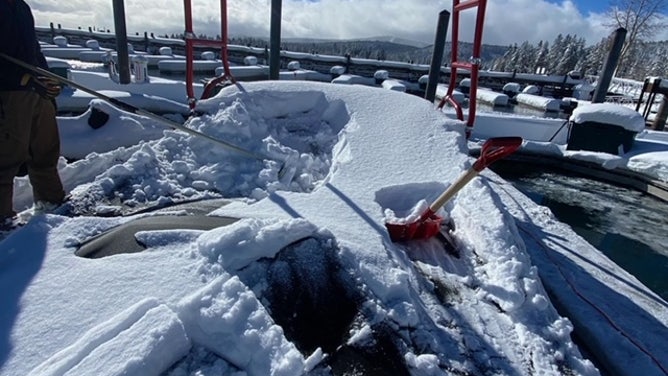 "I've really enjoyed winter a little bit more. The dry suits are fun to dive in, the equipment solid and there's not as many people on the lake," he conceded.  
In addition to the weather, wildfires and the pandemic have at times halted, the clean-up. Most of 2020 was lost because of Covid-19.
Then the Caldor Fire derailed the Summer of 2021. "I don't think we were expecting a forest fire to force my evacuation from my home," recalled West who was evacuated for weeks along with volunteers and his four staff members. "Most of my belongings are still stacked up in the garage because I've been too busy diving and cleaning up the lake to unpack from evacuation."  
RAGING CALDOR FIRE DESTROYS SMALL CALIFORNIA TOWN
"And so with that came really high AQI levels in the basin, and the EPA classifies anything as 150 and above as unhealthy for everyone," continued West. AQI is the Air Quality Index measuring air quality. "And so with that, we couldn't schedule any cleanups for surface support that's above water with 115 above. So we lost about 15 days or about the equivalent of five weeks worth of our time diving when the smoke would roll in."  
THE AIR QUALITY INDEX EXPLAINED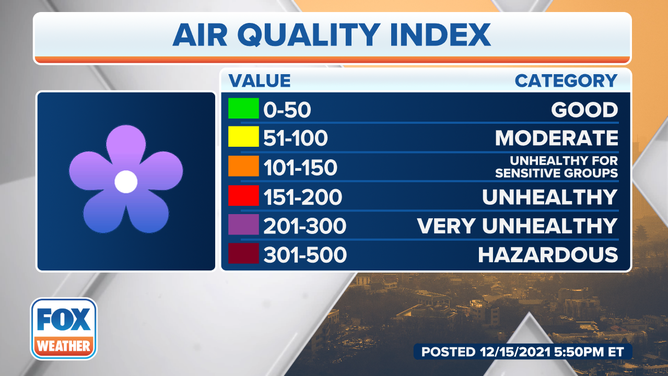 Look at FOXWeather.com or the FOX Weather app to see the AQI near you. 
7 FACTS THAT EXPLAIN HOW AIR QUALITY IS MEASURED
The goal: Clean all 72 miles of Lake Tahoe 
The group keeps a running tally of progress:  
51.5 miles of circumference cleaned
18,215 pounds of trash collected
990 beer cans
448 cylinders of air used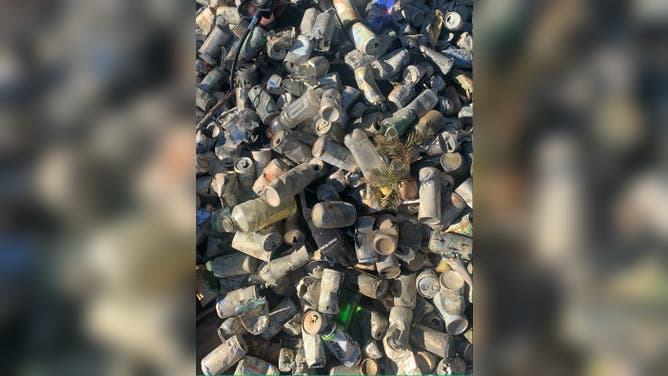 How Clean Up the Lake started  
West was a filmmaker for 10 years and even has a Master's degree in wine, "And, you know, living the life," he admitted. "But, it wasn't the kind of work that I wanted to be doing or the legacy that I wanted to leave."  
"And then I saw trash, a lot of trash and litter in the oceans of Central America ending up on the beaches," said West. "So that initial idea came before the whole project in Tahoe. I wanted to run volun-tourism models down to Belize and take people down to have fun. But while they're there, make a difference and clean up Belize."  
 "But then when I was home, I was doing beach cleanups in my own backyard," he said. One day I pulled off 40 pounds of trash from the beaches of Kings Beach in North Lake and a friend of mine actually pulled out 600 pounds of trash from a tiny little cove in Tahoe from under the surface."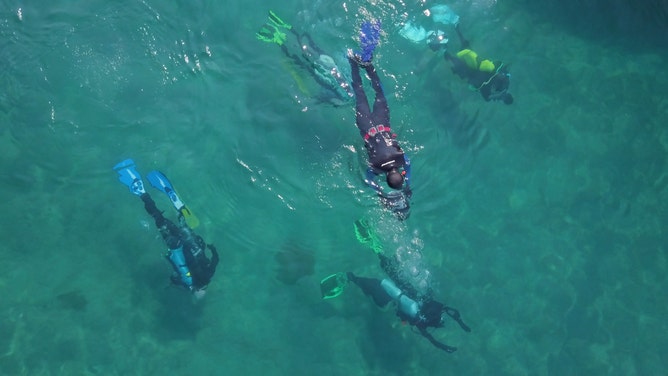 "And so on that day, I just set my sights for the water and I dove in figuratively and literally. And, you know, here I am a couple of years and about thirty thousand pounds of litter later," said West about founding Clean Up the Lake.  
The bigger picture: Studying litter mitigation and microplastics  
"There's a lot of construction-based trash," he said of the accidental and intentional litter. "Like iPhones or these sunglasses that I found at the bottom of the lake. And you know, they might be women's, but they work, and I'm recycling them." West showed off his "recycled" sunglasses.  
He and his staff sort and catalog the trash onshore using the United Nations' marine debris classification system and hand the data off to the group's environmental scientist. "So that environmental scientists can look at that data and really understand what's accumulating where so that we can build public education campaigns possibly and provide this data to the public and policymakers that can hopefully implement change and really just drive awareness because I think knowledge is power."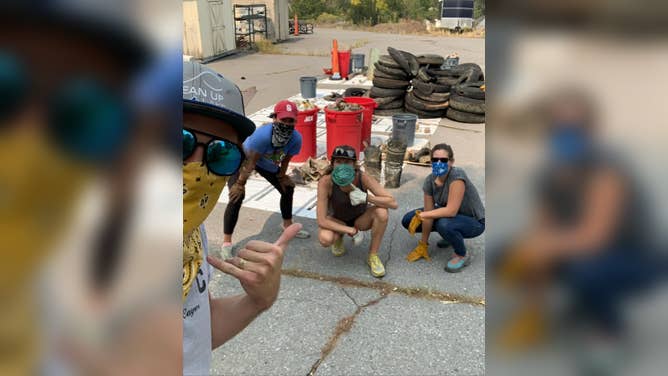 The group also works with an environmental engineer, scientists and government agencies to analyze the trash, "That might be a big red Solo cup or a Gatorade bottle or an Evian plastic water bottle…  And we're giving them to some of these institutes and agencies where they're able to study the genetic makeup of those plastics and compare it to the microplastics that they found."  
Larger plastic degrades into microplastics, the size of a sesame seed or smaller, that are harmful to sea life. A NOAA report claimed that plastics are the most prevalent type of marine debris.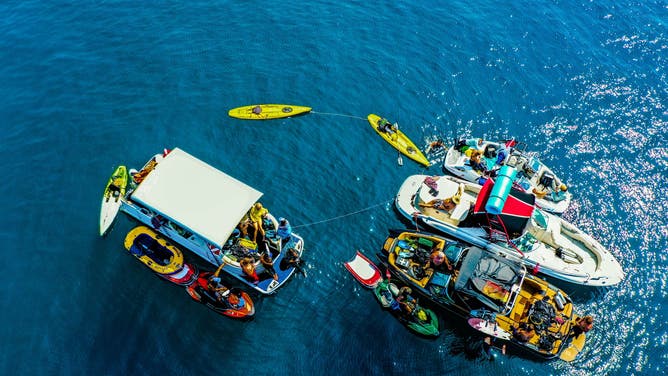 Divers collect trash from the shoreline to a depth of 25 feet. "Once you go past twenty-six feet at this altitude, you're typically the equivalent of past 33 feet at sea level, which is a second atmosphere," West explained the dangers of diving at 6,225 feet of elevation. "So there's more pressure on you, which can cause risk of decompression sickness or the bends."  
TRASH INTO TREASURE: GROUP USES ART TO RAISE AWARENESS OF OCEAN POLLUTION
 "You get winds that are pushing trash towards shore and the rocks. Or you have boaters that are mooring up near shore or you have people recreating at the beaches and hanging out near shore," West said. "So we're targeting the high litter areas and keeping people safe while we do it."  
 The future  
 Clean up the Lake was one of the 2021 California non-profits of the year per state legislators and plans to expand cleanup efforts in 2022. "But we plan on being in Lake Tahoe here for decades to come. It's our home," he promised.  
 West hopes to have all 72 miles clean by early 2022, "It all depends on the weather, but you know, we're looking to finish as soon as possible."