Navy turns 246 Wednesday, and what they use to forecast is soon to change
There are two new Navy weather models that are projected to revolutionize forecasting.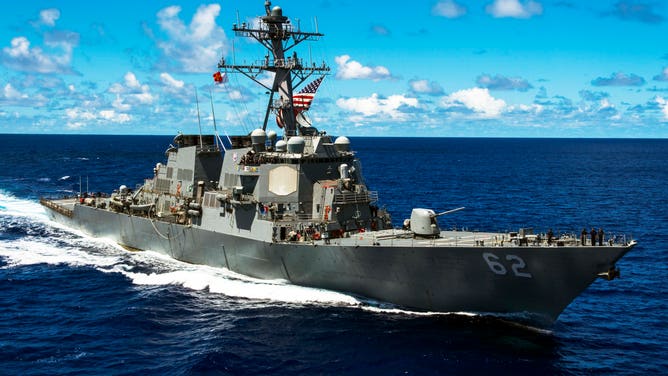 Today marks the 246th birthday of the U.S. Navy, and what they use to forecast weather is soon to change. 
On October 13, 1775, the Continental Congress established a naval force with hopes that the fleet could offset the British. The Navy has used meteorology and oceanography to help dictate their every move throughout history, whether at sea or ashore. 
"We need officers to inform us of weather patterns, prepare comprehensive maps, and watch over Aerographer's Mates who forecast the weather," the Navy says. "Planning an air mission, charting the best course for a ship or identifying currents that affect a submarine underway." 
With the importance of this, meteorologists and oceanographers for the Navy currently use Coupled Ocean Atmospheric Mesoscale Prediction System or COAMPS for short. COAMPS is an atmospheric data model and a hydrostatic ocean model by the Naval Research Laboratory. 
Today, the Navy used COAMPS to track Typhoons Namtheun and Kampasu in the west Pacific Ocean and Tropical Depression Pamela in the eastern Pacific. 
While COAMPS has been helping meteorologists for years, two new Navy weather models hope to revolutionize forecasting. 
The Naval Environmental Prediction System Utilizing the Non-Hydrostatic Unified Model of the Atmosphere (NEPTUNE) and Earth Systems Prediction Capability (ESPC) are scheduled to be in operation next year. 
The Defense Visual Information Distribution Service says that these models are a new generation of numerical weather models, poised to give sailors an improved long-range accuracy.
These two models represent the next generation in weather model technology," Dr. Bill Burnett, Naval Meteorology and Oceanography Command (NMOC) Technical Director, told DVIDS. "Naval Research Laboratory and Naval Postgraduate School researchers and scientists incorporated their latest breakthrough technologies into these models, which will improve the science of weather forecasting for many years. By coupling the Navy's weather, ocean, wave and ice models the way the earth system is coupled, we will be able to provide the Navy with accurate, longer range forecasts."
The excitement comes as NEPTUNE is a fundamental change in approach to traditional weather models due to the math that runs the algorithm.