Keeping NASCAR drivers from overheating is a balance of weight, aerodynamics and safety
Racecar drivers prepare to sweat pounds on race day through endurance training and staying (really) hydrated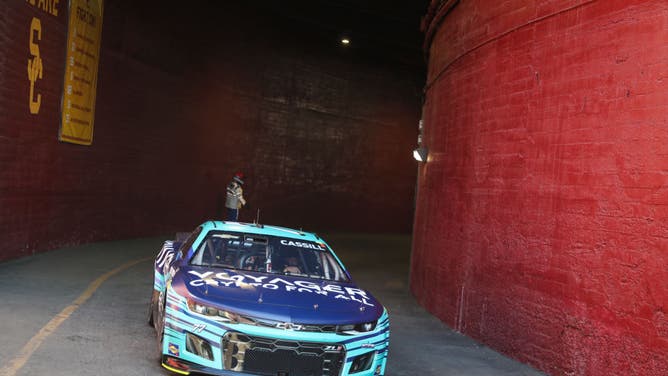 DAYTONA INTERNATIONAL SPEEDWAY, Fla. – NASCAR drivers have no air conditioning and spend hours on a hot racetrack behind a burning engine. Keeping racecar drivers cool isn't an option but making sure they don't overheat and consume enough calories is as close as they'll get if they want to win the championship.
Landon Cassill drives the No. 10 car for Kaulig Racing in the Xfinity Series. He spoke to FOX Weather from the Daytona International Speedway ahead of the 300-mile-long race on Saturday.
The Chevy Camaro he drives is built for speed and does not have a lot of "creature comforts" that come in a daily driver, like air conditioning.
"It does have a big old heater, and that's the engine that sits in front of me," Cassill said. "It's a race car that's meant to go fast and to keep you safe."
FROM IN-CAR TEMPERATURES AS HIGH AS THE 130S TO RAIN, HOW WEATHER IMPACTS NASCAR RACES
The whole car produces a lot of heat from the engine, breaks and driveline, but the inside of the vehicle can get anywhere between 100 degrees to 140 degrees Fahrenheit.
"Some of the races that we run in the summertime are hot weather climates as well. We've been in Vegas and race to 107-degree weather. You know, Texas, it gets really hot when we race there. If it's north of 85 degrees outside, the inside of the car will get to be about 140."
When it's that hot inside a car with no air conditioning and every pound you add to the car matters, teams like Kaulig Racing have other means to keep their drivers from overheating and getting dehydrated.
Cassill said the first step is to be physically fit. Endurance training similar to marathon runners or cyclists is also suitable for racecar drivers. Additionally, good nutrition is a big part of any racecar driver's daily life. 
Drivers are also wearing jumpsuits made of fire-retardant materials. While those are critically important to their safety, Cassill said it is still a head-to-toe jumpsuit that doesn't make you any cooler. 
The racing suits used by Kaulig made by Sparco are designed to be lightweight, and Cassill said they're breathable enough, so sweat isn't just clinging to the driver.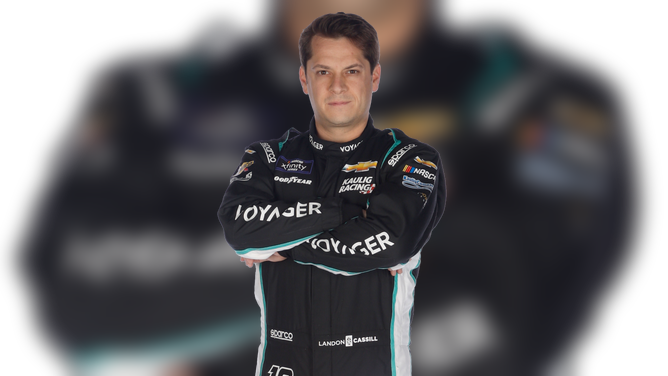 Speaking of sweat, the next important step is staying hydrated.
NASCAR USES SPECIALTY TRACK-DRYING TECHNOLOGY TO RID THE RAIN FROM RACETRACKS
While he's on the track, Cassill said he takes in calories while driving. He drinks about 20 to 40 ounces of fluid per hour, depending on how hot it is in the car.
"In that drink mix is about 300 calories, so I'm taking in about 300 calories per hour in the car."
Even drinking hundreds of calories per hour, racecar drivers will still sweat more water than they can consume. 
"I've weighed myself before and after races before and probably the most extreme scenario that I've ever seen was a race where I lost 8 pounds total net from before the race, to after the race, and that with 120 ounces of water that I drank during the race."
Cassill drank about 1 gallon of water, consuming calories in each sip, and still lost 8 pounds.
A driver's helmet also helps keep his head safe and somewhat cool. It has a hose attached to the back that works as a carbon monoxide filter, and it blows air into the helmet.
For really hot races, drivers can wear a cool shirt.
LIGHTER THAN AIR: PILOTING THE GOODYEAR BLIMP
"It's a shirt that has piping through it and runs kind of a circulated fluid through it that can help lower your body temperature a little bit," Cassill said. "You definitely don't ever feel cool in the car by any means unless it's 50, 60 degrees outside. But it does help manage your body temperature."
The driver's seat also has a hole in the back where the team can mount a cooling tube to blow into the back of the chair, onto the driver's back.
There is also the option to run a hose off the side of the car that will pull air from outside the vehicle and direct it to the driver, but sometimes those can be performance inhibitors messing with the car's aerodynamics.
"We don't like to open those up as very often. So the teams will try to close those as much as they can," he said. "Drivers usually have to just deal with what they got."
Cassill kicks off the 2022 Xfinity Series season this weekend in Daytona Beach. On race day, he hopes the forecast includes sunshine and a high of 70 degrees.