How weather plays a role in the Kentucky Derby
Mother Nature has brought a little bit of everything to Churchill Downs on Derby Day
LOUISVILLE, Ky. -- The Kentucky Derby is quickly approaching and with only a few days left, all eyes are on the sky for the big day.
Each year, thousands of people flock to Churchill Downs on the first Saturday of May to watch the Run for the Roses.
Ocala Breeders north of Orlando, Florida raises horses, some of which go on to be used by jockeys for the Kentucky Derby.
Wes Peterson, a spokesman for the company, said the two biggest weather impacts on the horses are cold and rain which can lead to a muddy track.
EXPERTS LINK DEADLY HORSE ILLNESS TO EXPOSURE TO COLORADO WILDFIRE
"Every horse is different and depends on a case-by-case scenario, but jockeys sometimes change horses' hooves on Derby day to accommodate the cold, rain, or muddy track," Peterson said. "It is a game-time decision, if you will, as the weather can change in a hurry."
The forecast for this year's Kentucky Derby calls for chilly and possibly wet weather. Temperatures will climb into the low to mid-60s with a 50% chance of showers and storms.
Here is a look at some Derby Day weather history that dates back nearly 150 years.
Temperatures
According to National Weather Service records, the average high temperature on Derby Day is a pleasant 70 degrees. The low temperature averages 60 degrees.
The hottest Derby on record was in 1959 when the high temperature hit 94 degrees. The coldest Derby on record happened on May 4, 1940 when the temperature dropped to 36 degrees. That temperature was tied on Derby Day in 1957.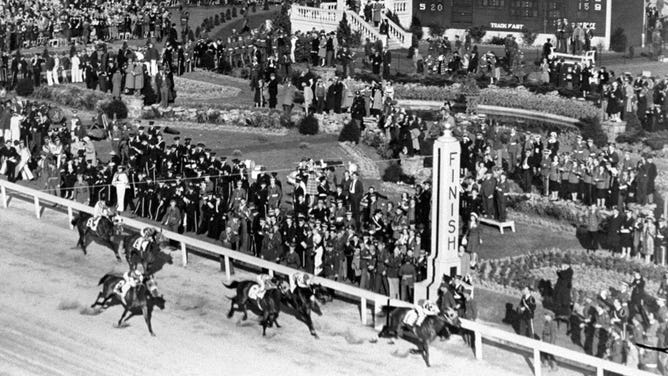 Precipitation
According to National Weather Service records, rain has been recorded on 69 out of the 147 Derby Days that have happened since 1875.
The rainiest Derby Day happened in 2018 when 3.15 inches fell. Nearly 3 inches of that fell between 1 p.m. and 7 p.m., when Churchill Downs was packed with spectators to watch the horses run on a sloppy track.
Even though the Kentucky Derby is in May, snow and sleet fell during the race in 1989.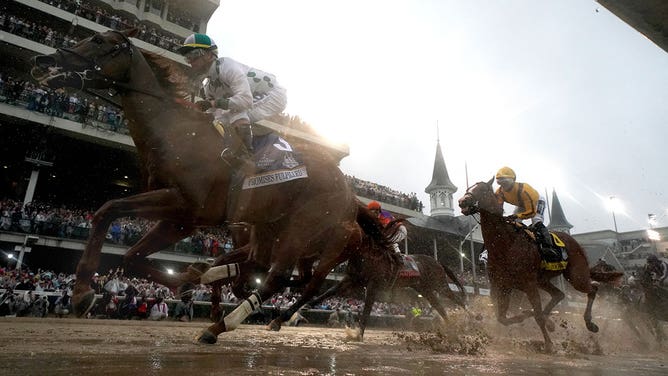 Janice Dean reflects on covering Derby
FOX News senior meteorologist Janice Dean has covered the Kentucky Derby many times. 
"Not only do I love covering the horses, but I love the fashion," Dean said.
HOW TO WATCH FOX WEATHER ON YOUR TV
She said the worst Derby she has ever covered was the rain-soaked race in 2018. 
"They call that a muddier on the tracks," Dean said. "It was really difficult for some of the horses."
She said the best race was in 2021 when abundant sunshine and highs in the 70s were noted.