Here are the best -- and worst -- dates to get married outdoors
While you can't control the weather on your wedding day, you can at least weigh the odds in your favor.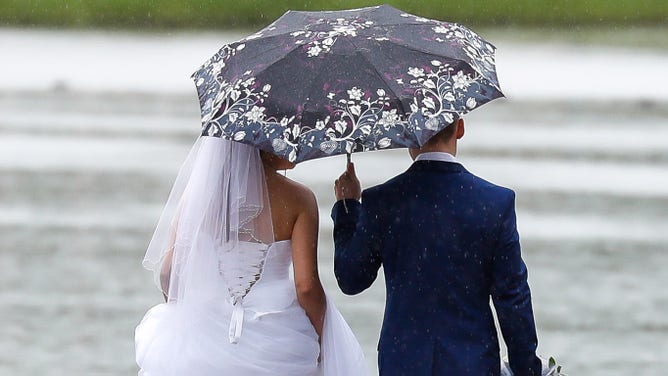 Among the many anxieties about planning a wedding, from the guest list to the venue to what everyone's going to wear, the weather of course can have a significant impact on the ceremony.
Just last month, a couple in Rhode Island didn't let the raging snowstorm during the Blizzard of '22 stop them from carrying forward.
Several years ago, one of my college friends was married in Snohomish, Washington. The weather was fine when the ceremony began but clouds built and a freak thunderstorm moved in during the exchanging of vows. A lightning bolt struck nearby and knocked out power to the church right at the solemn moment.
For my own wedding, we traveled from Seattle to Las Vegas in early October…and brought the weather with us. It had been sunny and warm for days but we awoke on our wedding morning to find gray skies and puddles in the street.
It was the first rain in several weeks and the temperature that day would not get out of the 50s -- the 59-degree high still stands as the coldest Oct. 2 on record there. It was actually a degree cooler than Seattle. Two days later it was well back into the 80s.
And then there was this wedding in Kansas that might top them all -- it's pretty tough to get a tornado to crash your wedding photos.
MORE: Whirlwind Romance Follows After Tornado Crashes Kansas Couple's Wedding
But while you can't control the weather on your wedding day, you can at least weigh the odds in your favor. We've researched which days of the year have statistically had the fewest and greatest number of days of measurable rain across many major cities. If you're looking to dodge the rain, this won't guarantee a dry ceremony, but it can illustrate climate trends to find the driest time of the year.
For example, in my hometown of Seattle, the last week of July and first week of August have only had rain about once every 10-12 years on average.
Just grab these dates as soon as you can; good wedding planners know these dates too. Those two weekends in the Seattle area are usually the most popular for outdoor weddings.
On the other hand, it might be popular to get married in Hawaii, but in Hilo it's rained on every July 30 for over 70 years.
MORE: Among surest weather bet in America: Predict rain in this Hawaii town in July
If you're feeling like getting married on Valentine's Day, we have you covered there too, listing the percent of years it's rained on Feb. 14 in those cities:
By the way, the old adage goes it's good luck to have rain on your wedding day. Whether it's true or was borne for a silver lining to console those soaked during the ceremony, all of those marriages listed above are still going strong despite the angry skies.