Extreme heat and air pollution doubles chance for fatal heart attacks, study finds
A recent study found that the risk of a fatal heart attack doubles during a four or more-day heat wave accompanied by high levels of air pollution. Heat over 95 degrees lead to a 74% increase of dying of a heart attack.
A scary finding in a recent study puts Americans on notice as the hottest week of the year sizzles much of the nation, and the dense wildfire smoke just won't seem to go away. The chance of a deadly heart attack can double due to the combo, the study finds, and several days of excessive heat and humidity alone up chances by 74%.
US FACES HOTTEST WEEK OF SUMMER AS MORE THAN 260 MILLION SIZZLE FROM ABOVE-AVERAGE TEMPERATURES
A study published in the American Heart Association's Journal, "Circulation," studied heart attack deaths in a province in China from 2015-2020. The province goes through four seasons, with a wide variety of temperatures and occasionally high air pollution.
Twice as many residents died of heart attacks during four days or more of high feels-like temperatures or heat index between 82.6 - 109.4 degrees Fahrenheit, with high concentrations of small particulate matter in the air the day of the death and/or the day before. Scientists estimate that the combination led to 2.8% of heart attacks. Feels-like temperatures over 95 increased the chance of heart attack by 75%.
Dangerous small particle air pollution
Scientists focused on particles measuring 2.5 micrometers in diameter (PM 2.5), which is 30 times smaller than the width of human hair. Wildfires, as well as burning diesel, gas, oil and other wood products, make up much of the PM 2.5 pollution, according to the California Air Resources Board. 
CANADIAN WILDFIRE SMOKE CONTINUES BLOWING INTO UPPER MIDWEST, GREAT LAKES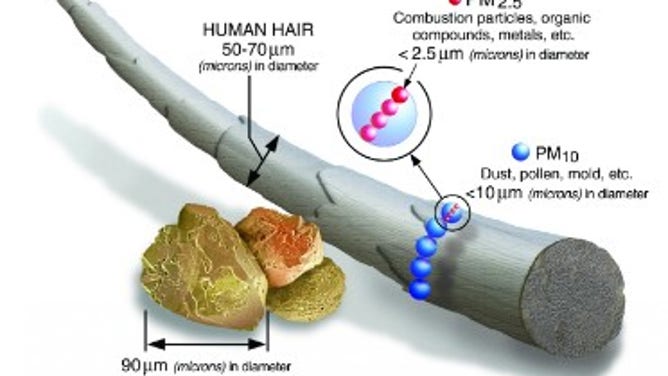 "Particulate matter contains microscopic solids or liquid droplets that are so small that they can be inhaled and cause serious health problems," states the EPA. "Some particles less than 10 micrometers in diameter can get deep into your lungs, and some may even get into your bloodstream. Of these, particles less than 2.5 micrometers in diameter, also known as fine particles or PM2.5, pose the greatest risk to health."
In New York, recent unhealthy levels of PM 2.5 descended on the city, dropping visibility and leaving an orange haze. The New York Department of Health warned that breathing in the haze from Canadian wildfire smoke can increase the risk of heart disease, asthma and contribute to low birth weight and cancer.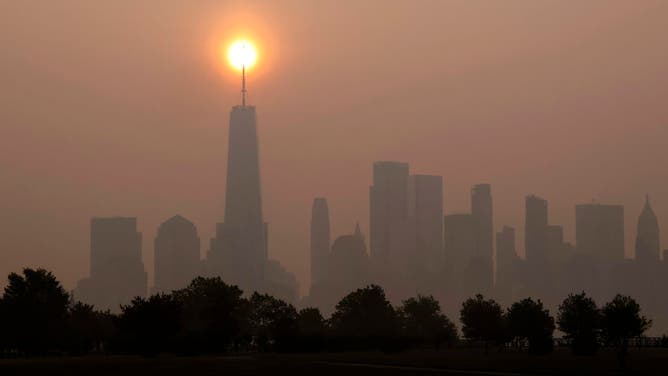 The study noted days that exceeded 37.5 micrograms of the particles per cubic meter for a daily average. For comparison, the EPA classifies that concentration as "moderate." The WHO recommends limiting exposure to no more than 15 micrograms per cubic liter to less than three to four days a year.
"Air pollution is one of the greatest environmental risk to health," states the World Health Organization. "By reducing air pollution levels, countries can reduce the burden of disease from stroke, heart disease, lung cancer, and both chronic and acute respiratory diseases, including asthma."
A 2019 report by the organization said that 99% of the world lived in places that did not meet the WHO's air quality guidelines. Outdoor air pollution caused 4.2 million premature deaths. 
WHICH CITES HAVE THE WORST AIR POLLUTION IN AMERICA?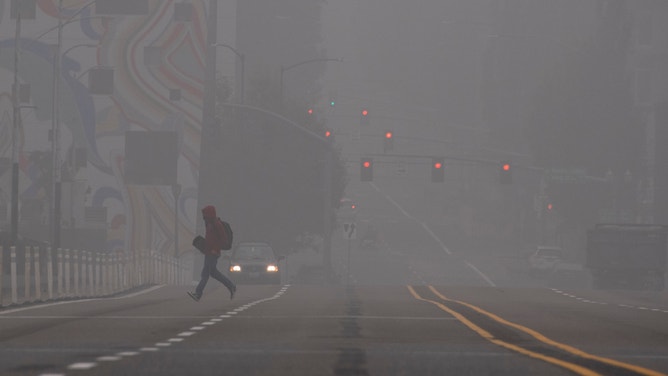 Extreme temperatures alone kill too
Findings showed that 3.2% of all the 202,000 deadly heart attacks in the study occurred when heat indices hit 91.2 – 104.7 Fahrenheit for at least three days. Most at risk were women and people over 80.
The study also found that the chance of fatal heart attacks during heat waves alone increased:
Up by 18% during a 2-day heat wave with heat indices between 82.6 – 97.9 degrees Fahrenheit
Up by 76% during a 4-day heat wave with heat indices between 94.8 – 109.4 degrees Fahrenheit
Even cold snaps proved deadly. Over 3% of heart attack deaths occurred during a three-day or longer stretch of temperatures from 30 to 38.5 degrees.
Up 4% when the cold lasted for two days, from 33.3 – 40.5 degrees Fahrenheit
Up 12% when the cold lasted for at least three days, from 27.0 to 37.2 degrees Fahrenheit
HEAT KILLS MORE AMERICANS THAN FLOODING, TORNADOES, HURRICANES OR LIGHTNING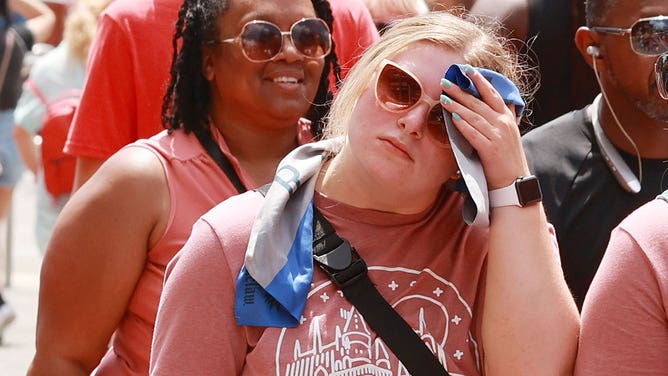 Listen to meteorologists, authors caution
The best way to lower your chance of fatal heart attacks due to extreme weather is to keep an eye on the forecasts. 
"Strategies for individuals to avoid negative health effects from extreme temperatures include following weather forecasts, staying inside when temperatures are extreme, using fans and air conditioners during hot weather, dressing appropriately for the weather, proper hydration and installing window blinds to reduce indoor temperatures," author Dr. Yuewei Liu told the American Heart Association. "Using an air purifier in the house, wearing a mask outdoors, staying clear of busy highways when walking and choosing less-strenuous outdoor activities may also help to reduce exposure to air pollution on days with high levels of fine particulate pollution may also help to reduce exposure to air pollution on days with high levels of fine particulate pollution."
Keep track of your forecast highs and air quality with the FOX Weather app.