'The feeling was ominous dread': Geraldo Rivera remembers Hurricane Gustav's 2008 strike on Louisiana
In September, 2008, Hurricane Gustav roared ashore along the Louisiana coastline bringing wind gusts over 100 mph and several inches of rain to the Gulf Coast region.
NEW ORLEANS -- In September, 2008, Hurricane Gustav roared ashore along the Louisiana coastline bringing wind gusts over 100 mph and several inches of rain to the Gulf Coast region.
The storm formed off the coast of Africa on Aug. 25 and swirled across the Atlantic, eventually making landfall in Haiti, then again while skirting the Jamaican coast and eventually reaching Category 4 status as it struck western Cuba.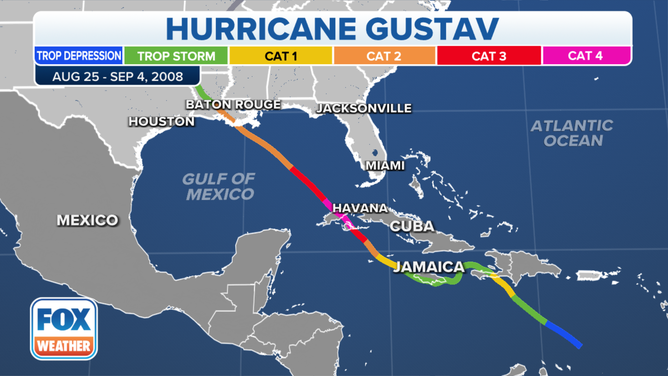 As the storm took aim at the Gulf Coast, 1.9 million people evacuated the Louisiana coastline, according to the National Weather Service.
FOX News' Geraldo Rivera was one of the many reporters covering the storm as it approached, as it was coming just three years later after the devastating Hurricane Katrina.
"The feeling was ominous dread, because we had all lived through (Hurricane) Katrina in 2005," Rivera told FOX Weather.  "Katrina was such a trauma, for not only New Orleans, which was destroyed, but to the whole nation. Our psyche was, 'is this going to happen again?' "
Gustav weakened a little as it approached Louisiana, eventually making landfall the morning of Sept. 1 near Cocodrie, which is 70 miles southwest of New Orleans, as a Category 2 hurricane with sustained winds of 110 mph.

A 117-mph gust was recorded near Houma, with a 91-mph gust clocked in Baton Rouge and 72 mph at Belle Chase.
But one again, storm surge, caused by Gustav's winds pushing the waters of the Gulf of Mexico inland, was a significant problem in parts of Mississippi and Louisiana.
At Bay St Louis in Hancock County, Mississippi River water levels were nearly 10 feet above normal on the morning of Sept. 1. Storm tides of 12.00 feet were measured at Black Bay in Plaquemines Parish, Louisiana, 10.50 feet at the Industrial Canal in Orleans Parish, and 9.50 feet at Bayou Dupre in St Bernard Parish.
But would it be a repeat of Katrina? Federal, state and local governments and even private firms had built new levees to replace the failed levees that led to catastrophic flooding with Katrina.
Rivera stood right next to one of the new levees as the storm raged.
"Most vivid memory I had of the event: We went up to the levees and by putting my hand on them, you could feel the pulse, you could feel the surge… pushing against the levees, and there was always the question of whether they would hold," Rivera said. "It was almost like a monster on the other side of the wall, just pushing, pushing to get in.
"It was unforgettable."
The levees held, but the storms still managed to do significant damage to the region. Gustav was a slow mover once it made landfall, and the storm brought torrential rains over a three-day period to the region. Larto Lake, Louisiana had the top rainfall report at 21.00 inches with 11.22 inches in Brusly and 8.15 in Livingston. Baton Rouge and New Orleans had between 5-6 inches of rain.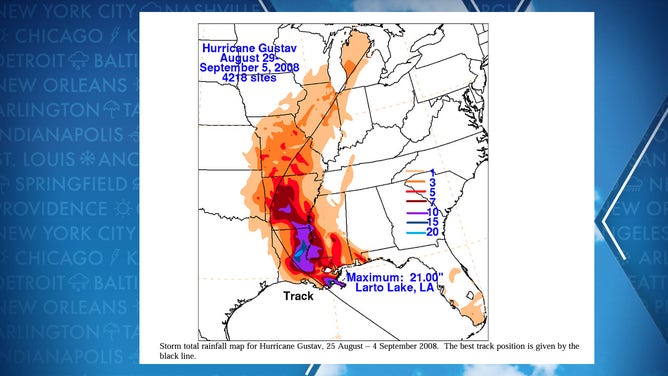 Seven people were killed in Louisiana -- five from falling trees in the wind while two others were killed by an EF-2 tornado in Evangeline Parish, according to the NWS. There were 41 other deaths in Louisiana indirectly associated with Gustav.  Four others were killed in Florida from drowning in rip currents.
Overall, including the Caribbean, the storm killed 112 people. Damage estimates for the United States totaled just over $4.6 billion.
Rivera will share his experience covering the storm during a 2-hour show on FOX Weather called: "Geraldo Rivera: Hurricane Gustav Special". It will air Saturday and Sunday at Noon, 3 p.m., 6 p.m. and 9 p.m. Eastern Time.
You can always watch FOX Weather via our app or click here to find how to access the stream on TV.