'Climate penalty' cries the World Meteorological Organization in their latest Air Quality and Climate Bulletin
More climate change triggered heat waves will mean more wildfires which equals a potential health crisis for air pollution. They released their report on the International Day for Clean Air and Blue Skies.
The World Meteorological Organization released their forecast for hotter, longer and increasing heat waves triggering wildfires creating a 'climate penalty.' 
"This is a foretaste of the future because we expect a further increase in the frequency, intensity and duration of heatwaves, which could lead to even worse air quality, a phenomenon known as the "climate penalty," said WMO's Secretary-General Petteri Taalas in a statement.
On the same day, the United Nations updated their 'The Air We Share' resolution on the International Day of Clean Air for Blue Skies, September 7th. The one-two punch took a look at climate change trends and married them to stunning statistics.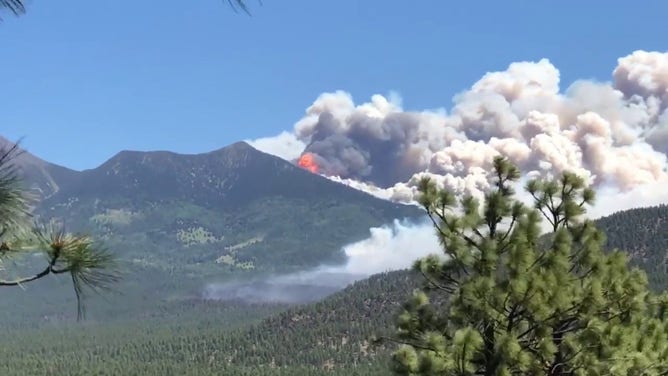 Weather, air pollution and health
"It seems like with every heat wave we're getting the resultant bad air quality impacts. But basically the fact is that about seven million people every year die from diseases that are related to unclean air," explained climate and sustainability strategy expert Paul Walsh to FOX Weather. "And in fact, according to U.N. secretary general, about nine out of ten of us are regularly breathing polluted air."
Walsh, the General Manager of BreezoMeter, the company that monitors weather, air quality and their human effects then pointed to a recent study from the University of Southern California.
"The impact of heat waves is probably one of the most deadly sort of weather elements that we all have to deal with. And the probability of death during a heat wave alone is about 6% higher than normal," said Walsh. "When you look at just high concentrations of air pollution, we see that there's about a 5% increase in the risk of death. But when you combine the two, the risk of death increases about four times to about 21%.
WHY DOES THE AIR QUALITY GET SO BAD IN THE SUMMER?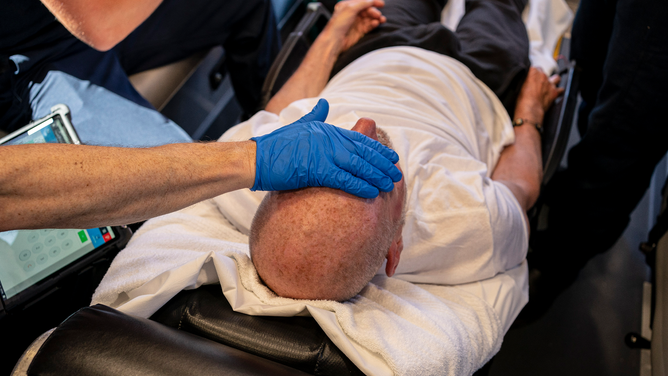 The WMO then factored in the in wildfire's role in air pollution in its second annual Air Quality and Climate Bulletin, which studies the intersection of air quality and climate change.
 "As the globe warms, wildfires and associated air pollution are expected to increase," said Taalas in a press release. "In addition to human health impacts, this will also affect ecosystems as air pollutants settle from the atmosphere to Earth's surface."
7 CITIES WITH AMERICA'S WORST WEATHER
"We have seen this in the heat waves in Europe and China this year when stable high atmospheric conditions, sunlight and low wind speeds were conducive to high pollution levels," Taalas continued.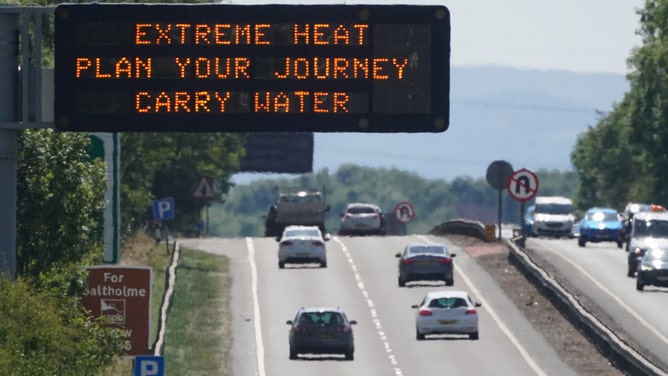 We don't have to look further than Seattle this past weekend to see an example. A stable ridge of high pressure dominated the area allowing for tons of sunshine and higher than normal temperatures. 
PACIFIC NORTHWEST WAKES UP TO SMOKE-FILLED SKIES, POOR AIR QUALITY FROM RAGING WILDFIRES
The National Weather Service (NWS) issued Fire Weather Warnings and Air Quality Alerts. Fire crews on Sunday were battling almost 20 wildfires in Washington and Oregon alone, according to the Northwest Interagency Coordination Center.
"Everyone should stay indoors," the NWS wrote on the air alerts. "Avoid all strenuous activity. Close windows and doors if it`s not too hot, set your AC to recirculate, and use HEPA air filter if possible."
According to the World Health Organization (WHO), wildfire smoke and smog are two of the very small particles that make up air pollution. Their size makes it possible to enter our blood stream.
WHAT IS MY AIR QUALITY? THE AIR QUALITY INDEX EXPLAINED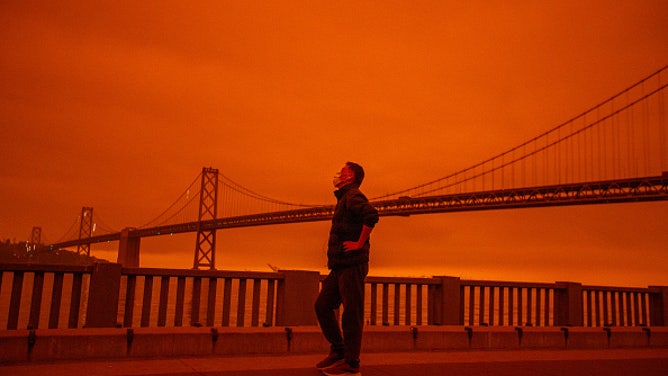 How is air pollution so dangerous?
"[Air pollution is made up of] poisonous particles that can be as small as a molecule. And with every breath they break through your lungs' protective barriers. There, they trigger inflammation as your system desperately tries to fight back," the WHO wrote in 'How air pollution impacts your body' presentation. "These tiny intruders penetrate those defenses lodging toxic compounds even deeper, sewing the seeds of cancer."
Those particles also settle down to the ground or are washed out of the air by rain and snow. The WMO pointed to a few compounds that can acidify soil and water damaging plants and animals. Other compounds will run off into bodies of water and sometimes create algae blooms which deprives anything living in the water of oxygen, a dead zone.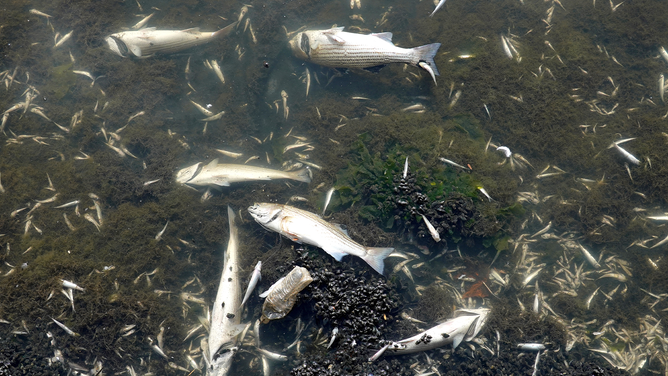 U.N. in their resolution, stated that by 2050, the world can cut global crop loss from air pollutants in half if countries reduced methane emissions. That equates to a $4 to $33 billion savings. 
WHY METHANE HAS TAKEN CENTER STAGE IN CLIMATE CHANGE PLANS 
Looking ahead…
The U.N. Intergovernmental Panel on Climate Change modeled several scenarios based on humans cutting back greenhouse gas production.
"The probability of catastrophic wildfire events –like those observed over central Chile in 2017, Australia 2019 or the western United States in 2020 and 2021– is likely to increase by 40-60% by the end of this century under a high emission scenario, and by 30-50% under a low emission scenario," wrote the WMO authors of the U.N. study.
Wildfires also pump out great amounts of ozone. (Ozone at the surface is damaging while atmospheric ozone makes up the ozone layer.)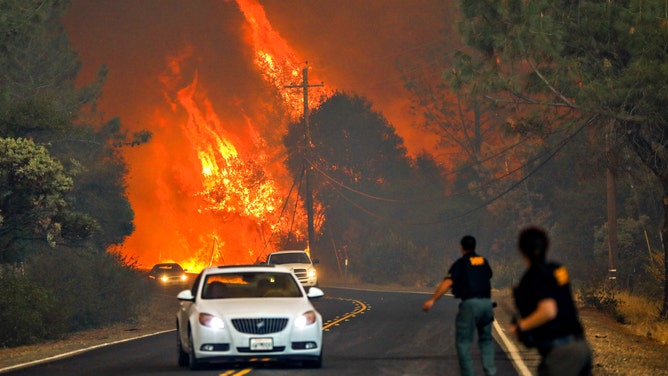 A NOAA study found that wildfires emitted the same amount and in some areas up to 10 times more ozone than urban pollution. Researchers found smoke in areas thousands of miles away from the actual fire. 
HOW TO WATCH FOX WEATHER ON TV
While scientists of the WMO study do point to burning fossil fuels as the main contributor of dangerous ground-level ozone, climate change and an increase in forest fires do will to the surface amount.
WHERE DO OUR TOP AIR POLLUTANTS COME FROM?
"Roughly a fifth of this increase will be due to climate change, most likely realized through increased heatwaves, which amplify air pollution episodes," WMO authors wrote. "Therefore heatwaves, which are becoming increasingly common due to climate change, are likely to continue leading to a degradation in air quality."