Can Texas road crews handle a winter storm? It depends on system's severity
Texas has more than 300,000 miles of roads, more than any other U.S. state
AUSTIN, Texas -- If winter weather history ever repeats itself, the scenes of buried roads, abandoned vehicles, and crashes seen during the February 2021 snowstorm will again be common sights due to transportation departments' limited arsenals.
The Lone Star State has more roadways than any other state but keeping the more 300,000 miles of roads clear is a task that Texas Department of Transportation officials admit is a challenge when the entire state is under threat for winter weather.
In an after-action review of the 2021 snowstorm, the city of Austin stated that TxDOT was able to keep the majority of essential roadways open, but residents, especially the most vulnerable, didn't have access to get to the cleared routes.
HOUSTONIANS HIT HARDEST BY THE 2021WINTER STORM STILL WORKING TO RECOVER
The report also stated that TxDOT lacked the resources to monitor roadways for hazards, and there was confusion on which agencies were responsible for clearing routes.
FOX Weather reached out to TxDOT multiple times to find out how their response has changed since the natural disaster in 2021, and the agency has yet to respond to our questions.
But a news conference held in November, ahead of the winter weather season, provided some insights on the changes the agency made for the next winter weather threat.
REPORT: TEXAS BLACKOUTS CAUSED BY FROZEN POWER AND GENERATORS, GAS FACILITIES
TxDOT engineer Tucker Ferguson stated his district stocks up more on materials such as brine and conducts additional planning and exercises, but big-ticket items such as purchasing snowplows and hiring additional employees was not part of the game plan.
Ferguson said the purchase of snowplows for central Texas would be an infective resource for an area where significant snowfall is considered a rarity.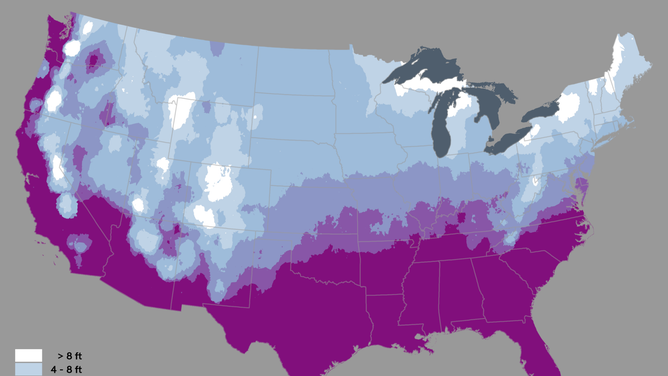 Instead, Austin District DOT said they've outfitted more motor graders to be capable of moving the snow, and the agency as a whole will be more self-reliant in case resources are stretched thin across the state.
A common theme stressed by both TxDOT and Ferguson was for Texans to simply stay off the roads when winter weather creates unpredictable and dangerous conditions.