Battlefield forecasts: Air Force veteran and meteorologist describes war planning
Whether it's snow, rain or wind, everything that can affect troops can also impact the battlefield. It can also help during mission planning.
Weather plays a critical role in how the Russia-Ukraine conflict unfolds as the war reaches its seventh day.
Temperatures will be rather chilly in Ukraine on Wednesday. Cloud cover and some rain is moving into Romania with some very cold conditions in Ukraine. They are expecting a high of 36 degrees in Kyiv with some possible snow showers. In Odessa, it's 38 degrees with some rain showers.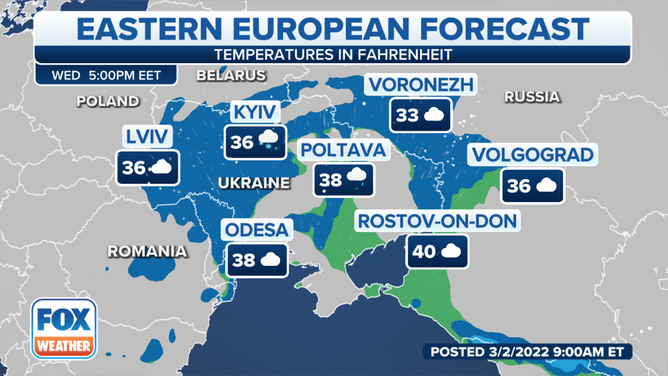 'WEATHER IS CLEARLY A FACTOR' IN RUSSIA-UKRAINE CONFLICT, ANALYST SAYS
The weather plays an integral part in soldiers' everyday lives regarding mission planning, said FOX Weather meteorologist Seth Darling, who served in Afghanistan with the United States Air Force. He is currently serving in the Air National Guard.
"When we talk about the climatology, we look ahead when it comes to mission planning, and we try and give a unique perspective to the commander, to the mission planner and take all the different facets into account," Darling said.
Whether it's snow, rain or wind, everything that can affect troops can also impact the battlefield. Sometimes, it also helps during mission planning.
"You really want to look at what type of assets you have … your air, ground, sea," Darling said. "Are we moving troops in? Do we have air assets?"
Armed forces have certain types of weather limitations that will delay a flight when it comes to the military side of it.
US COMPANY TRACKING POWER OUTAGES IN UKRAINE IN FIRST-OF-ITS-KIND WAR ZONE EFFORT
"The commander wants to know, 'OK, how can I stack my airframe? How high are those ceilings?'" Darling said. "As meteorologists, we say, partly cloudy and a chance of rain, in the military we will say exactly how high the clouds will be and exactly when they're going to move in. We try and pinpoint to that accuracy so that the commander can make a very good assessment on how much airframe he has to work with."
But it's not just one plane the military is directing. They have multiple aircraft, helicopters and drones.
RED CROSS PROVIDING UKRAINIANS WITH HOME HEATING FUEL AS TEMPERATURES DROP
"I don't know which air assets each country has specifically, but you can bet that when it comes to the weather, they're the first ones to brief in any type of military planning," Darling said.
FOX Weather is continually looking at the current weather conditions to keep you up to date on the Russia-Ukraine war. If you're interested in what has been discussed, we are staying on top of this story in the "Read" tab in the FOX Weather app.