Perfect storm for asthma: Scientists link storms to shortness of breath
Australia is home to one of the worst known events of thunderstorm asthma
Health experts warn storms could mean more than gusty winds, lightning and heavy rainfall, they could also help trigger asthma attacks that are significant enough to send people to the emergency room.
A study recently published in the Journal of Allergy and Clinical Immunology found that 65 percent of participants with seasonal allergic rhinitis reported experiencing asthma events associated with thunderstorms.
Experts believe thunderstorm asthma epidemics are rare but can temporarily overwhelm medical services.
When the right factors come together, studies have found that individuals usually suffer from coughing, shortness of breath and wheezing.
The National Asthma Council says these types of events happen when thunderstorms coincide with a region's pollen season.
The council says winds associated with thunderstorms can suspend the tiny particles in the air, and if humans find themselves in these pollen clouds, they can breathe in the miniature pieces, triggering side effects and even an asthma attack.
HOW TO WATCH FOX WEATHER ON TV
Experts began honing in on "thunderstorm asthma" after a rain event in Melbourne, Australia, caused thousands of people to seek medical services in 2016.
The event was so impactful that the Australian government established the Epidemic Thunderstorm Asthma Program to address the potentially growing issue.
Australia leading the way
The country has been epicenter for several large outbreaks due to thunderstorm winds spreading grass pollen during a season that typically runs from October through December.
Researchers say Melbourne experienced one of the world's worst events in November 2016 after thunderstorms blew pollen into populated areas impacting thousands of people.
The country's health department says they've worked with the Bureau of Meteorology and several partner organizations to develop a risk forecasting system to alert vulnerable populations for when the chance of "thunderstorm asthma" could be high.
When pollen and thunderstorm seasons coincide, forecasters produce a map and identify regions based on the threat level.
A high-risk day means there are extreme pollen levels and severe thunderstorms in the forecast.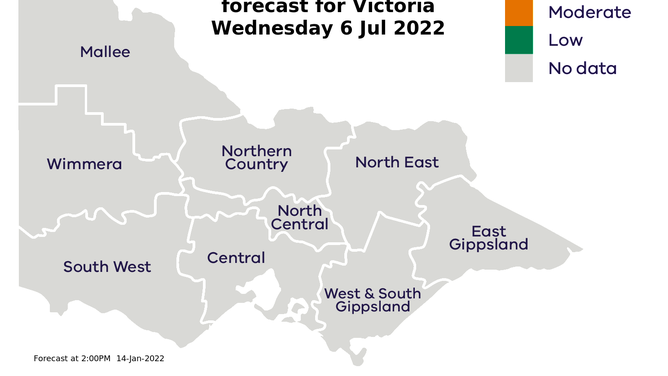 The combination increases the risk of an epidemic thunderstorm asthma event.
Health experts warn since the forecasting of these events is new, there is uncertainty as to how accurate the alerts are and say it will take some time to build confidence in the product.
THESE ARE THE WORST PLACE TO LIVE WITH ASTHMA IN THE US
What you can do to help
Researchers are still trying to figure out what triggers attacks in certain asthma sufferers and why many are able to escape any types of impacts.
According to the American Lung Association, studies have connected reactions to rye grass pollen that is spread by winds created by thunderstorms.
Experts stress thunderstorm asthma is rare and only happens when the right combination of weather and allergens come together.
Experts suggest asthma suffers to:
Always carry your inhaler
Keep your home well ventilated
Avoid being outside when thunderstorms erupt during high pollen seasons
Make sure your air conditioner is switched to recirculate mode during potential events