Albuquerque Box: Weather phenomenon responsible for helping city's balloon fest
How the air sets up in the Rio Grande Valley is a big part of this weather phenomenon.
What's that in the sky? A bird, a plane, a cow? If you are located in or near Albuquerque this next week, it very well could be all of the above. 
The 49th annual Albuquerque International Balloon Fiesta is officially underway after being postponed last year because of the pandemic. This weekend, the ceremony kicked off opening ceremonies that featured an aerial salute to first responders and healthcare workers.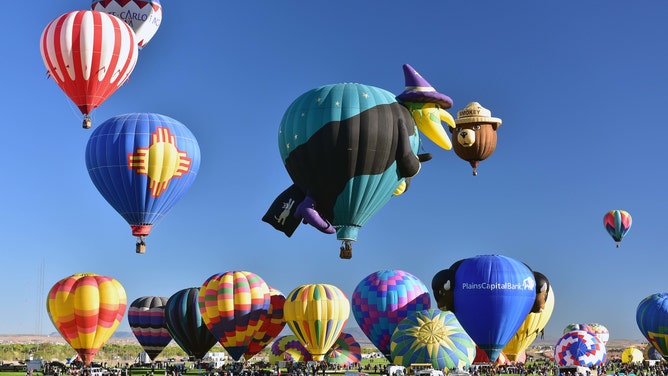 For nine days in October, the festival fills the sky with nearly 600 special-shaped balloons and a spectacle that brings people from all around the world to watch. 
While every major city has its special events, Albuquerque has a weather pattern that helps these balloons fly throughout the entirety of the day. It's known as the "Albuquerque Box."
What is the Albuquerque Box? 
No, it is not a special package from Amazon or your local delivery man.
During the festival, the thunderstorm season is usually wrapping up, the jet stream moves north, and the weather is starting to feel like fall. This stability with the weather and the valley's location helps the balloons out greatly during this event. 
With every balloon, the wind is significant. An atmospheric wind pattern during this festival helps to keep those hot air balloons remaining over the park throughout the entirety of the night. This is known as the Albuquerque Box. 
How the air sets up in the Rio Grande Valley is a big part of this weather phenomenon.  
Because of radiational cooling, the air near the ground is cooled. The cooler and denser air flows downslope into the valley and creates shallow air pools. 
The National Weather Service in Albuquerque calls this "drainage wind" and says that in much of the Albuquerque metro area, including the balloon park, a north wind of generally less than 10 mph can result. 
The NWS explains that the drainage wind occurs below a temperature inversion, separating the warmer, less dense air and creating a difference in wind direction. Their ideal box pattern would be when the wind blows in exactly the opposite direction – north wind at the surface and a south wind above the surface.
While it may seem easy for these hot air balloon pilots to fire everything up and float in the sky, pilots are skilled enough to know about the Albuquerque Box so that they can take off and touch down with these varying winds safely.