5 easy-to-fix things to stop winter's damaging effects on your car
Here are a few tips to help keep your car in good shape even when you're dealing with the worst of winter weather's elements.
There are a lot of ways that freezing temperatures can affect your car in negative ways. 
But here are a few tips to help keep your car in good shape even when you're dealing with the worst of winter weather's elements.
1. Low-tire pressure prevention
As temperatures drop, so does the pressure in your tires. So will want to make sure to top it off during the winter, said Laura Adams, a senior safety analyst at Aceable, an online educational platform and resource for drivers.
DON'T LEAVE ANY OF THESE ITEMS IN YOUR CAR THIS WINTER
"Get in the habit of checking your tire pressure regularly and adding a little bit of air when needed. That's really important to make sure that you're driving safely and that your tires are in the best condition that they can be," Adams said.
2. Don't get caught with a dead battery
Your car's battery can actually lose power due to the cold weather, so you also want to think about ways to keep it warm.
"A battery warmer or engine warmer can certainly help extend the life of your battery and make sure that you're not going to be caught with a dead vehicle when you're out and about," Adams said.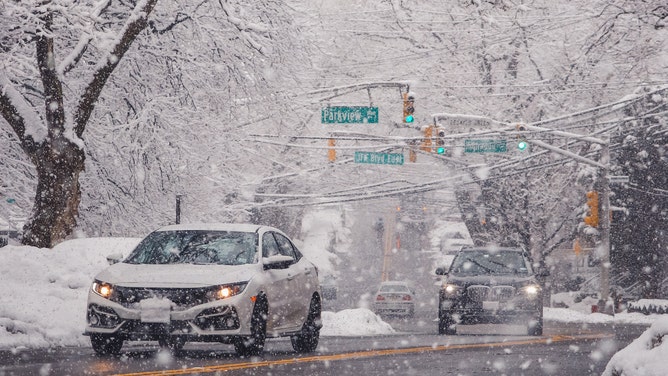 3. Avoid frozen fuel lines
Also, remember that frozen lines within your car can be very dangerous.
"Your gas will not freeze in your car, but if there's any moisture within, let's say, your gas tank or fuel lines that moisture can freeze," Adams said.
HOW TO MAXIMIZE YOUR CAR'S FUEL ECONOMY TO IMPROVE GAS MILEAGE AND SAVE MONEY
You will want to keep your car kind of topped off with enough gas at least half full to help prevent any moisture from freezing and causing those chunks of ice to get into your engine and causing it not to work.
4. Damaged wiper blades
Wiper blades can easily get damaged from freezing ice and snow. 
"You want to make sure that your windshield is defrosted first before you start using your windshield wiper blade or they can really get damaged," Adams said.
REMOVING ICE FROM YOUR WINDSHIELD CAN BE EASY - IF YOU DO IT THE RIGHT WAY
A damaged blade can lead to very low visibility when you need to use your windshield wipers. 
5. Stopping salt damage
While cities spread salt on the roads to melt away ice, it's very destructive to your car. So you want to make sure that you are washing your car. 
"Perhaps, maybe when the weather warms up, getting a really good wash and making sure that the undercarriage of the vehicle is thoroughly flushed out," Adams said.
7 THINGS YOU NEED TO KNOW ABOUT WINTER DRIVING
By doing so, you will are likely going to rinse off all the salt and not have any corrosion of the vehicle that may be invisible to you.
Bonus: Drive safe all winter
And if you feel like you or anyone in your family, like a young teen driver, need a little help with their skills navigating winter weather, Adams recommends taking a defensive driving course. 
"In a lot of cases, your insurance company will give you a discount if you successfully complete the course. So it's a win-win. You can save money and also up level your driving skills this winter," Adams said.
And those with teenagers know that insuring them is expensive, so anything families can do to get that premium down is a bonus.