Tidal flooding continues as rain shifts to the Northeast
Strong onshore winds associated with a large storm system piled water into tidal regions.
After seeing some of the worst coastal flooding since Hurricane Isabel in 2003 in the Mid-Atlantic Friday, the same storm system will shift to the Northeast for the weekend. 
The combination of heavy rains and strong winds contributed to tidal flooding, especially during periods of high tides, from Virginia to New Jersey on Friday. 
Tidal levels will slowly decrease on Saturday for the Mid-Atlantic as the storm heads towards New England. 
Heavy rains and a continued onshore flow could help trigger flooding in poor drainage areas from Rhode Island to Maine on Saturday.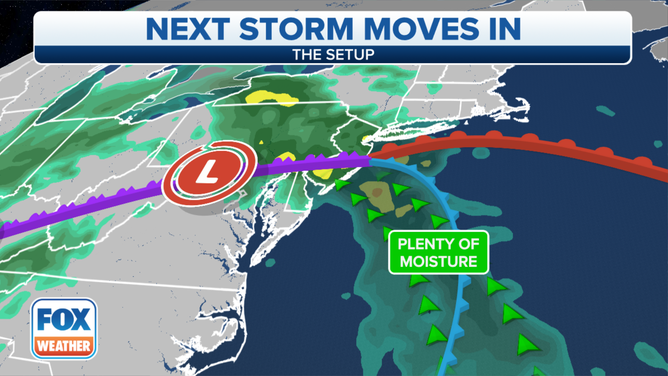 The area with the highest flood threat from rainfall over the weekend stretches from eastern New Hampshire through coastal Maine. 
Coastal Flood Warnings are in effect until 1 a.m. EDT Sunday.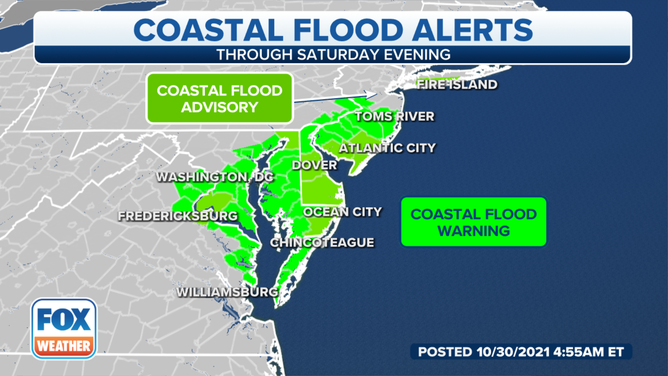 The National Weather Service says flooding may become severe enough to cause structural damage and widespread roadway flooding near tidal waterways. 

Forecast models indicate widespread rains of two to four inches, beginning Saturday and lasting through Halloween.
Historic Tides 


On Friday, significant street flooding in Old Town Alexandria, Virginia forced many streets to close and businesses employed the use of sandbags to keep rising waters at bay.
Similar flooding was reported in Washington, DC, including areas around the National Mall.
WTOP News' Valerie Bonk captured video of workers at The Wharf using boats to get back and forth to restaurants surrounded by floodwaters.
Historical sites around the Tidal Basin weren't immune from the flooding.
Some memorials resembled islands, as waters rose to their highest levels since Hurricane Isabel back in 2003. 
The official gauge near the U.S. Army's Fort Lesley J. McNair site reached 7.12 feet, making Friday's event the area's 15th highest crest in reported history.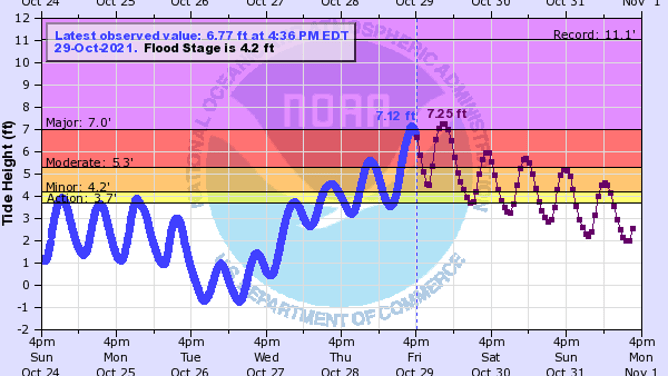 And in Maryland, Governor Larry Hogan declared a state of emergency for low-lying areas after floodwaters damaged dozens of homes and left streets impassable from the Delmarva Peninsula to Baltimore. 
"Even if you are accustomed to nuisance flooding, this is much more serious and has the potential to be much more damaging over the course of the next 24 hours," said Governor Hogan. "We are taking this action to bring all necessary state resources to bear, and assist local jurisdictions in their response efforts. We urge Marylanders to remain vigilant, to stay tuned to local news stations for the latest updates, and to follow any instructions local officials may provide."
The increased tides even caused flooding late Friday night in areas along the Delaware River.

Motorists were caught off-guard in Philadelphia, as waters rose to levels not seen since Hurricane Sandy in 2012. 

Despite widespread coastal flooding, authorities have not reported any injures or deaths associated with the weather.