Polar vortex plunges Boston into record coldest morning in decades with -39 degree wind chills
Wind chills are down to negative 30 degrees and beyond from the polar vortex striking the Northeast. Bundling up doesn't even begin to explain what you've got to do to go outside Saturday morning.
BOSTON – What a morning in Boston, where the brutal cold from a polar vortex invading the Northeast has pushed down the door for a very unwelcome weekend.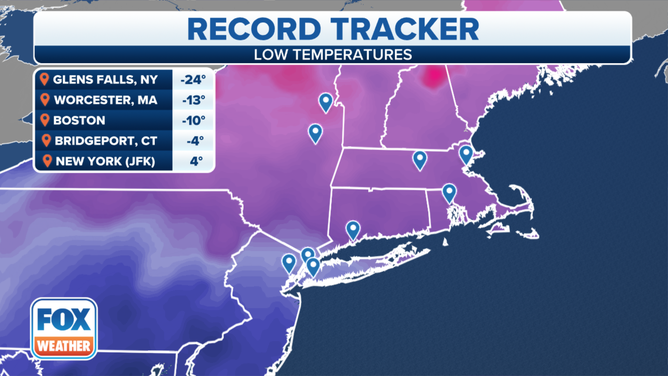 Wind chills are down to negative 30 degrees and beyond. Bundling up doesn't even begin to explain what you've got to do to go outside Saturday morning. 
A recorded 10 degrees below zero made it the coldest morning in the city in 67 years. Earlier Saturday morning, a negative 39-degree wind chill was recorded. This is the coldest wind chill recorded in Boston since at least 1944 (as far back as data goes).
POLAR VORTEX PROMPTS WIND CHILL WARNINGS ACROSS NORTHEAST AS COLDEST AIR IN OVER 5 YEARS ARRIVES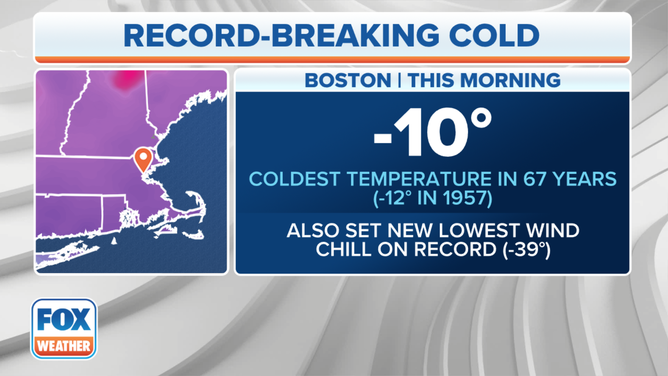 Frostbite and hypothermia can form in as little as 10 minutes on exposed skin in this type of dangerous cold. 
The wind has been causing problems since Friday with dozens of reports of downed trees in the Boston area.
Mayor Michelle Wu declared a cold emergency in Boston through Sunday.
"I urge all Boston residents to take precautions, stay warm and safe, and check on your neighbors during this cold emergency," Wu said.
In Southwick, Massachusetts, about 100 miles away, officials believe heavy winds lead to a tree falling on a moving car, taking the life of a baby inside. 
The Hampden County District Attorney's office said the baby was in the backseat and the 23-year-old mom was driving when the tree fell. She's in the hospital now with serious injuries.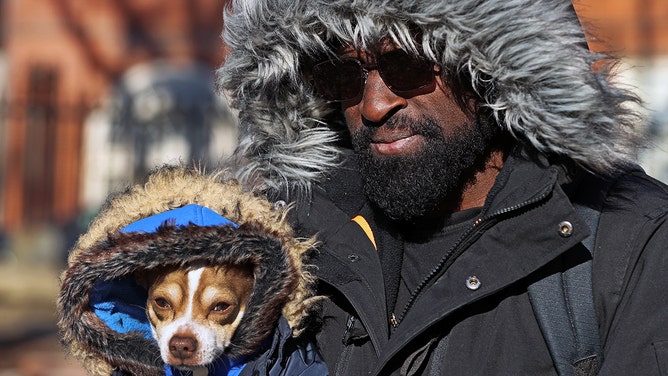 Another tree fell on moving car Friday in Massachusetts, FOX Weather confirmed with Westfield Fire Department Deputy Patrick Kane.
Three people got trapped at 3:48 p.m. after a large tree fell on a moving car due to heavy wind. Two adults and a 2-year-old were hospitalized with minor injuries.
Kane said first responders had to use jaws of life tool to extricate the patients.
At one point, almost 30,000 people were without power in Massachusetts. Utility crews were able to restore power to nearly all with outages down to about 6,000 on Saturday morning.
The title for coldest wind chill Saturday morning in a town where people actually live belongs to Frenchville, Maine, at negative 61 degrees.
Residents in Maine have even been hearing and seeing trees exploding from the sap and water inside them expanding. They are describing hearing loud booms in the woods through the night. 
Portland, Maine, recorded their coldest wind chill in at least 75 years on Friday evening. 
The worst has been reported in Mount Washington, New Hampshire, where the recorded minimum wind chills overnight was negative 108 degrees. It was so extreme that the National Weather Service software that generates their temperatures refused to include it, the agency said.
The good news is that the cold snap will be brief, and warmer temperatures will return Sunday and into next week.