New Mexico wildfires consume area the size of Dallas after 2nd driest April on record
Calf Canyon and Hermits Peak fires have scorched 370 miles in New Mexico at 33% containment
Wildfires in New Mexico fueled by high winds and extremely dry conditions since mid-April have scorched an area the size of Dallas, Texas.
As of Wednesday morning, the Calf Canyon and Hermits Peak fires have consumed 236,939 acres, or 370 miles, outside of Las Vegas, New Mexico. 
WILDFIRES RAGE ACROSS SOUTHWEST AS DANGEROUS FIRE THREAT CONTINUES
The fire jumped another section of Highway 518 on Tuesday moving toward Chacon. Fire officials said containment dropped from 39% to 33% in 24 hours. 
With the recent growth, the Calf Canyon and Hermits Peak fires have now consumed an area in New Mexico approximately the size of the city of Dallas. 

The National Weather Service Storm Prediction Center says critical fire weather remains for much of the Southwest Wednesday with widespread southwest winds and relative humidity in the teens.
Along with critical fire weather, Wednesday will also bring the potential for dry thunderstorms and dust storms in the eastern Plains.
According to the NWS Office in Albuquerque, April 2022 was the second-driest April and the 11th warmest on record dating back to 1895.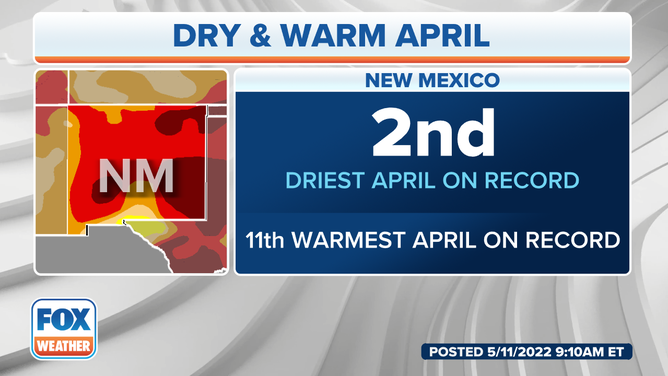 The wildfire grew more than 30,000 acres since the last update on Tuesday prompting local officials to put more communities on notice for possible evacuation orders.
The Taos Canyon community is on Ready Status, meaning they need to be ready to evacuate immediately.
"We want to remind all residents of Taos County, as evacuation levels change and your residence becomes deemed an area of evacuation, we encourage you to take immediate action," U.S. Forest Service-Sante Fe National Forest wrote in a news release. "This is a long-term event, and we do not anticipate having 'control' of this fire any time soon."
SUMMERLIKE HEAT TO EXPAND INTO THE MIDWEST, NORTHEAST PUTTING MORE RECORDS AT RISK
Within Taos County, the communities of Rock Wall, Mochas and Sipapu are in Set Status and should prepare for evacuation. The community of Angostura remains under mandatory evacuation.
Residents of San Miguel, Mora, Taos and Colfax counties should remain vigilant, listening for updates on evacuation orders and road closures, according to the Forest Service.
The latest evacuation map is available here.