Drone video shows North Carolina town covered in floodwater after powerful storm surge from Ophelia
Tropical Storm Ophelia made landfall just 60 miles south of Washington.
WASHINGTON, N.C. – Tropical Storm Ophelia made landfall in Emerald Isle, North Carolina, Saturday morning, just 4 mph shy of being a hurricane. The storm tracked over the riverside town of Washington with tragic impacts.
OPHELIA'S REMNANTS CONTINUE TO BATTER US COAST WITH LARGE WAVES, STRONG WINDS FROM MID-ATLANTIC TO NORTHEAST
Drone video shows the town on the banks of the Pamlico still underwater, hours after Ophelia departed. The drone follows the boardwalk, which is nearly impossible to pick out. Storm surge of 5 feet inundated the path and turned Waterfront Park into part of the river.
The Pamlico River was just a quarter inch away from "major" flood stage, according to the U.S. Geological Survey.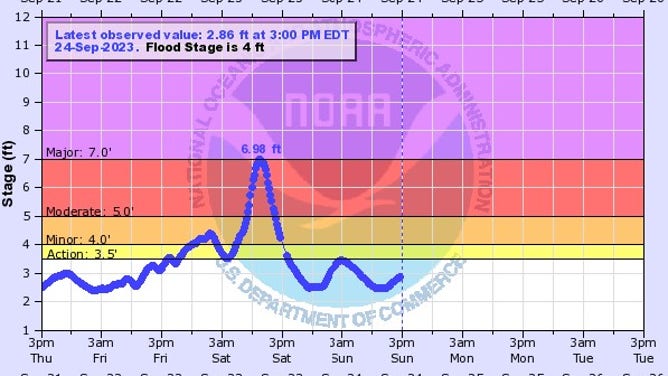 Take a look at how the riverfront usually looks on Google Maps. The buff boardwalk separates the water from the grassy park. Water covers even Water Street and Stewart Parkway. The floodwater surrounds businesses on Main Street and turned parking lots into lakes.
'WHAT HAVE YOU GOT US INTO?': COUPLE SPENDS ANNIVERSARY IN MIDDLE OF OPHELIA'S WRATH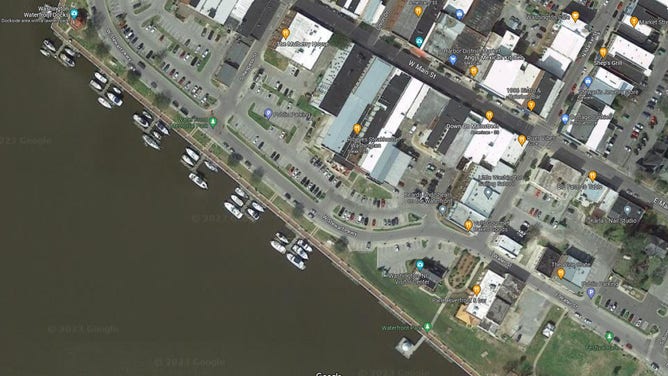 The river took over miles of normally dry land. Cars look out of place parked in standing water as high as the top of wheel wells. Boats on dry dock were the only vehicles that looked safe as high water floated them.
HOW MUCH WATER DOES IT TAKE TO DAMAGE A CAR? DOES IT MATTER IF IT IS SALT OR FRESH?

Emergency managers made pleas over social media, asking drivers and walkers alike to stay out of the stormwater. Chemicals, gas and oil, septic system and sewer waste, wildlife waste and remains are mixed in the water, the Beaufort County Sheriff warned. 
Six inches of water can carry away an adult. A foot of water can carry away a sedan. And 18–24 inches can carry away SUVs and trucks, according to emergency services.
HOW FLOODWATER CAN MAKE YOU VERY SICK
Power has been restored to most of the county. Clean-up will take weeks to months.