'Tornadoes do weird things': Oklahoma twister does mile-wide loop
Radar analysis and preliminary damage surveys indicate two tornadoes near Earlsboro Wednesday, and the first made nearly a complete loop along its path.
EARLSBORO, Okla. – A supercell that produced a pair of tornados that rolled through Earlsboro, Oklahoma Wednesday took a rather erratic path on its journey across the Sooner State.
"Tornadoes do weird things," said meteorologists with the National Weather Service office in Norman, Oklahoma. "Radar analysis and preliminary damage surveys indicate two tornadoes near Earlsboro… the first made nearly a complete loop."
The first tornado touched down just before 8:30 p.m. CDT just south of State Highway 9 and moved to the northeast for a bit. But then it twisted around back to the west and south, eventually tracking through the northeastern part of Earlsboro.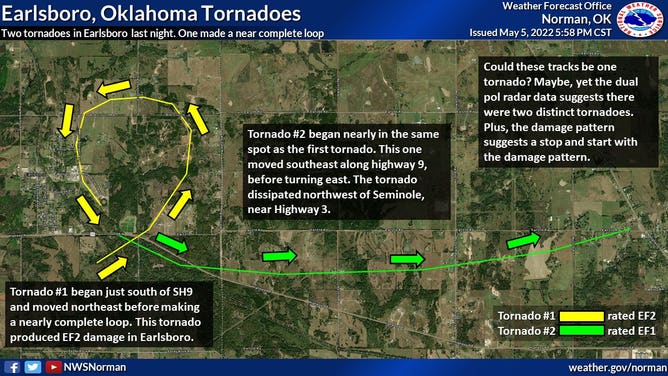 There, the tornado caused damage to houses, power lines and buildings, according to the National Weather Service storm survey team out of Norman. They estimated wind speeds of 135 mph, giving the tornado an EF-2 rating.
From there it turned back to the southeast, making a nearly complete circle about a mile across and just over 3 miles in circumference, forecasters said.
What would make a tornado have such a looped path?
Tornadoes are typically part of large supercells that have strong rotating updrafts, known as mesocyclones. 
LEARN: THE LIFECYCLE OF A TORNADO
"You have different scales of rotations," says Dr. Christopher Karstens, Techniques Development Meteorologist with NOAA and NCEP's Storm Prediction Center. "You have the tornado scale, and you have the mesocyclone scale. If the (mesocyclone) is big enough relative to the tornado, what can happen is the tornado is getting on the north side of the mesocyclone, then because the 'meso' is also spinning, it can give this appearance that it makes a loop…. It's just scales of rotation to consider."
Karstens says it's rare to document a loop in the path, but newer Doppler Radar technology and coverage is helping determine more precise tornado tracks.
"The Moore (EF-5) tornado in 2013 did (a loop) on a very small scale," Karstens said. "It did a loop around a 7-Eleven that radar was able to document pretty well."
And then a second tornado formed…
Just before completing the loop, the tornado stopped… only to be replaced a minute later by a new tornado, starting in nearly the same location as the previous tornado. Only this tornado tracked along a steadier path to the east.
HERE'S WHERE TORNADOES ARE MOST LIKELY TO OCCUR IN EACH MONTH
Survey teams found damage to trees and buildings just east of the Union Pacific train tracks along State Highway 9 and U.S Highway 270. That tornado was given a rating of EF-1 and was on the ground for 14 minutes and tracked just under 4.5 miles.