Tornado forces Denver International Airport to evacuate
Passengers delayed for hours after evacuating airport.
A confirmed tornado temporarily shut down operations at Denver International Airport Sunday afternoon for almost half an hour. The airport was under a ground stop and an NWS observer actually saw the twister while making his hourly report.
HOW ARE TORNADOS RATED? THE ENHANCED FUJITA SCALE EXPLAINED
Preliminary reports from the NWS classified the landspout tornado an EF 0, but survey crews will be on scene Monday to make a final determination.
HOW METEOROLOGISTS DETERMINE IF A TORNADO IS TO BLAME FOR STORM DAMAGE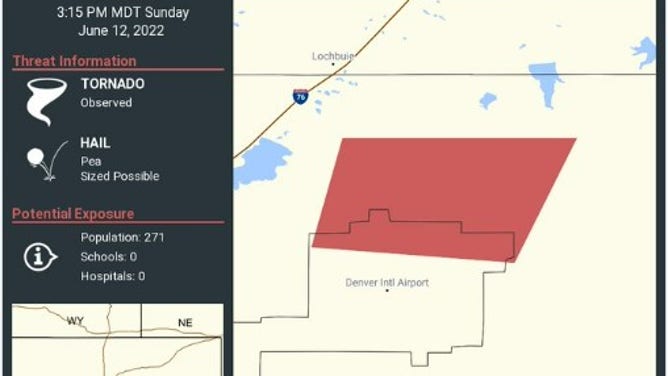 Authorities ordered a ground stop for the airport, not letting aircraft takeoff departing from or arriving to the airport. Officials then evacuated all passengers off planes and out of the terminals into tornado shelters. 
A very frustrated passenger Trev posted on Twitter @tlifenuggets that passengers were herded into tornado shelters during the Tornado Warning. TSA lines quickly became overwhelmed when everyone was allowed out of the shelter. 
"Security putting people back in tornado shelter to wait to get in line," Trev tweeted. "We missed our flight. So we are waiting five hours for the next flight.
CLICK HERE TO GET THE FOX WEATHER UPDATE PODCAST

FlightAware.com reported that Denver had 727 delays Sunday and 41 cancellations. Late into the evening, the airport was still catching up and showed departure delays of over an hour.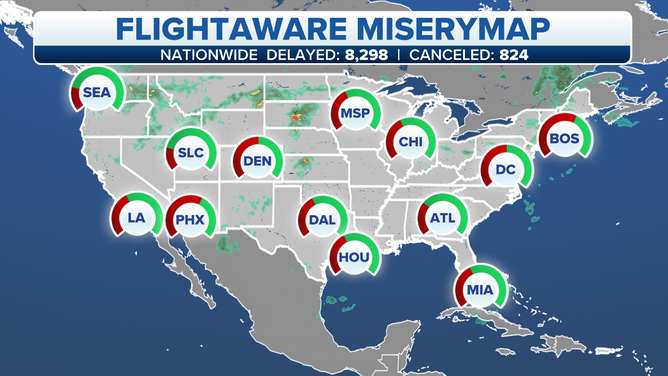 Near record heat fueled the storms. And that heat will continue. FOX Weather forecasts Monday to be the hottest day, flirting with the record high of 99 degrees. There are no storms in the forecast though.
A landspout tornado is a narrow, ropey funnel which forms while the parent thunderstorm clouds is still growing so it has no updraft, according to the National Weather Service. It is not associated with a supercell thunderstorm. The spin originates at the ground level and move up. A landspout tornado is generally weaker and shorter lived compared to other tornado types.
 Get the most up-to-date forecast for where you live from the app, FOXWeather.com or watch FOX Weather on TV.