Terrifying tornadoes destroy get-away-Friday plans for Memorial Day weekend
Tornadoes tore across the Mid-Atlantic states Friday -- look at all that is left behind. The NWS so far confirmed three.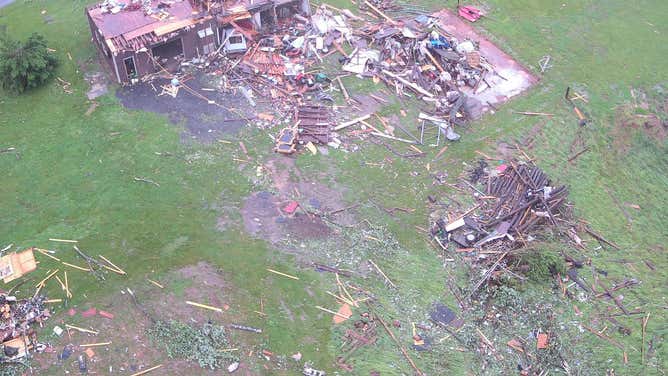 As families packed up the cars to hit the road and beat the crowds for the long weekend on Friday. The weather dealt a blow to travelers.
At least four tornados struck Friday from Virginia to Pennsylvania say preliminary reports from the National Weather Service (NWS).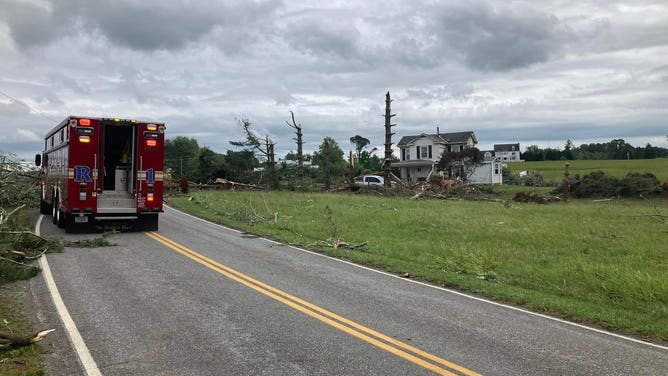 The first twister spun up early at 7:25 a.m. local time through Bedford County, Virginia. The EF-2 traveled just over six miles with winds to 135 mph and was 330 yards wide.
The Fire Department sent up a drone and a helicopter to help emergency responders navigate roads littered with debris and trees. Take a look at their video.
The tornado first touched down in a field then crossed US – 221 into a neighborhood, Goode. The force destroyed two mobile homes and tore an outer wall from another home. Winds snapped some trees and uprooted others. Over 15 homes were damages as well as 35 other out-buildings including sheds and garages. Two people were hurt.
First responders went door to door checking on residents early Friday.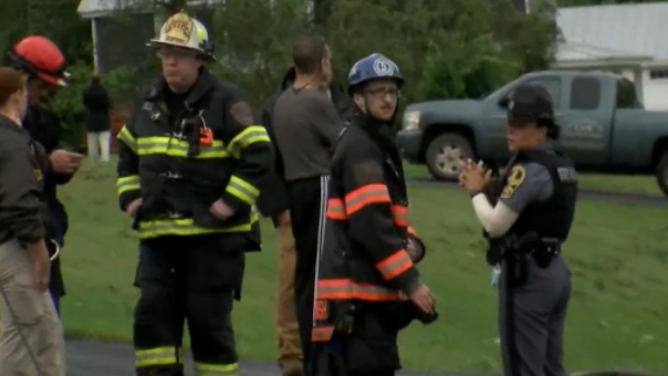 "I got in the closet with the dog. And its just like people say, it sounded like a freight train going through the house," Phil told WXFR. "It only lasted a minute or two, maybe less. I got lucky, my neighbors, not so lucky."
Phil pointed out the remains of his neighbor's house through a clearing in the trees.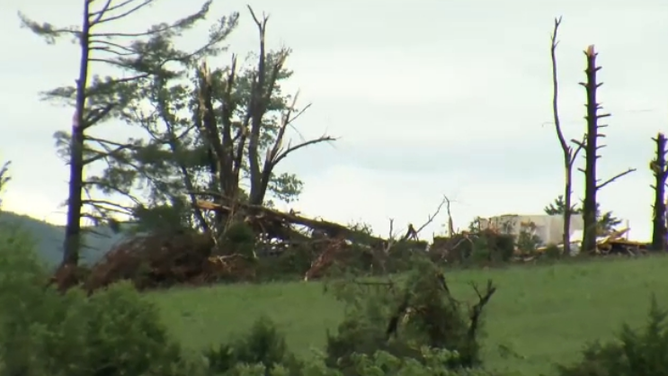 An official from Bedford County posted on Facebook, "Several residential neighborhoods suffered catastrophic structural damage."
Another resident in Goode watched the tornado rip apart his backyard from the bathroom window.
"I looked out the window and I see limbs flying, then it got real white and all heck broke loose," Bo told WXFR, happy he was safe in his brick home. "Windows busted out, trees down in the backyard as far as you can see – within five minutes, unbelievable."
Heavy rains accompanied severe storms in Roanoke, Virginia. A portable toilet bobbed in the floodwaters near the Brookside Golf Course.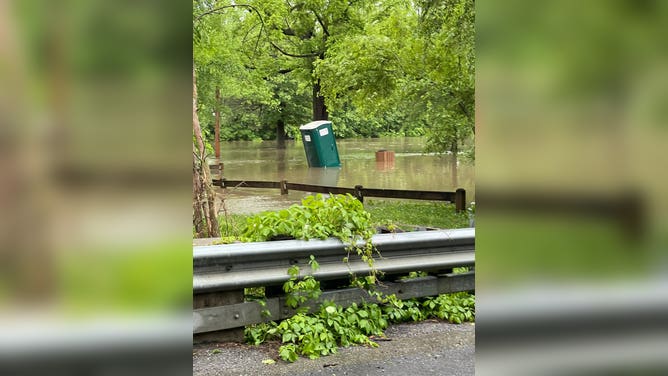 A driver in Beaverdam, Virginia caught this scary sight out his car window. The NWS is investigating a damaged home, disassembled barn and several trees down to determine if the damage resulted from a tornado or straight line winds. Law enforcement did report seeing a tornado.
Severe storms also caused airport delays. The Ronald Reagan Washington National Airport instituted ground delays and arrivals for a good portion of the morning ran over an hour and a half long.
HOW ARE TORNADOES RATED? THE ENHANCED FUJITA SCALE EXPLAINED
An EF-0 hit Olney, Maryland in Montgomery County at 12:22 p.m. Snapped trees fell on cars and toppled power lines. The short-lived storm only traveled a quarter mile and peak winds maxed out at 80 mph. The storm cut a path 125 yards wide.
Just after sunset, a third tornado formed over Charlotte Hall, Maryland. The EF-1 struck with winds to 90 mph and traveled over four miles to Benedict. No one was hurt in the storm that carved out 100-yard line of destruction.
Nearly two dozen hard and soft wood trees snapped and were uprooted. One large tree landed on a home causing structural damage. Several other homes suffered broken winds and siding damage.

Yet another runaway porta-potty, winds carried the lavatory for 30 feet, a Kirkwood, Pennsylvania resident told this photographer. Preliminary NWS reports say the damage is consistent from an EF-1 tornado.