Watch as storms lash the Midwest on a blustery Monday
A powerful cold front swept across the Midwest, including Chicago, creating a chaotic Monday.
Talk about a 'Manic Monday' as Severe Thunderstorm Watches and Warnings checkered the Midwest starting with the morning commute. Storms lit up ahead of a cold front sweeping across the U.S.
Strong winds beat up trees in Arlington Heights, Illinois. This pear tree lost the fight to the gusts. Huge branches broke free and thankfully did not land on the home.
The storm toppled another tree, tearing the screen door half off a Chicago home. @DylanDoppelt tweeted, "The storm didn't look too bad on radar but it managed to knock over a tree and rip off a screen door at my parent's house."
HOW TO WATCH FOX WEATHER ON TV

The Chicago National Weather Service, located in Romeoville, caught a lightning strike nearby their building. 
WHAT HAPPENS WHEN SOMEONE IS STRUCK BY LIGHTNING
The Storm Prediction Center received dozens of wind reports even before the evening commute. Winds blew to 60 mph at Hoffman Estates in Cook County, Illinois. The NWS clocked a gust of 58 mph. In nearby Rosemont, a tree, 18-inches in diameter, snapped at the base.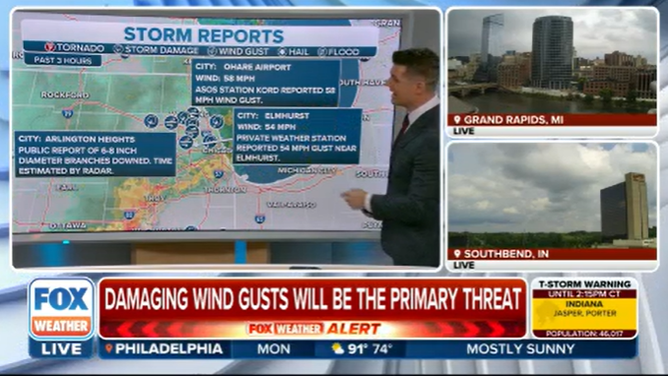 An anemometer at a police station in Peotone, Illinois, measured a 69 mph gust. Just 20 miles east, a resident recorded a wind gust of 81 mph at his home weather station in Lowell, Indiana. 
Flash flooding trapped others in cars in Green County, Missouri. The Office of Emergency Management pleaded with the public to stay off the roads after several water rescues in the city of Springfield. 
The NWS issued a Flash Flood Warning after 2-4 inches of rain fell in less than two hours. They forecast another 1-2 inches to fall.
WHY IT RAINED WHEN YOUR WEATHER APP SAID THERE WAS ONLY A 20% CHANCE OF PRECIPITATION
FlightAware.com's Misery Map showed all red for Chicago. Airlines at Chicago O'Hare International Airport canceled 291 flights, about 10% of all flights, and 707 more were delayed, about 30% of all flights.
A time-lapse video shows the calm before the storm in a Chicago neighborhood with downtown in the distance. It didn't take long for dark clouds to lower and heavy rain to obscure the lens.
WATCH: NATURE'S FIREWORKS - SOME OF OUR FAVORITE LIGHTNING VIDEOS
The sun returns to the Chicagoland area on Tuesday.
Be sure to download the FOX Weather app to track any storms in your area and receive potentially life-saving weather alerts issued by the National Weather Service. The free FOX Weather livestream is also available 24/7 on the website and app and on your favorite streaming platform. The FOX Weather Update podcast also provides weather information for the entire country.