School bells still ring in Arkansas after tornado destroys part of elementary building
An EF-3 tornado touched down shortly after 4 a.m. Central on Wednesday in the southern and the eastern portions of Springdale, causing significant damage
SPRINGDALE, Ark. – Grit, compassion and character were all one Northwest Arkansas community needed to get their tornado-ravaged school doors back open less than a day after the storm's passing.
An EF-3 tornado touched down shortly after 4 a.m. Central on Wednesday in the southern and the eastern portions of Springdale, causing significant damage. Seven people were injured, including two people with critical injuries. Peak winds hit 145 mph and the twister traveled for more than 5 miles.
George Elementary School sustained damage, but structural engineers deemed it safe for operations in support of its 64 staff members and 623 students, the district said. 

The main school building suffered minor damage and was the only district building affected by the storm. The only true destruction to the campus was the gym and outside playground equipment.
AT LEAST 7 INJURED AFTER EF-3 TORNADO RIPS THROUGH NORTHWEST ARKANSAS
According to the district, a construction company was able to successfully repair the roof system of the main building, so students can return to in-person learning.
"It is amazing the difference in how the day started to how it appears to be closing out," said Jared Cleveland, Springdale Public Schools superintendent.
The elementary school's cafeteria dining area was superficially damaged in the storm but was clean and ready for staff and students to use Thursday. The kitchen, however, may take additional time for completion, the district said. Student meals will be prepared off-site to be served in the dining area.
"George Junior High School is preparing for the elementary students to utilize gym space, if needed," Cleveland said. "We are proud of the George schools for their leadership, creativity and partnership."
It was thanks to the coordinated efforts of the Springdale community, district partners, city officials, school personnel and School Board members for the successful reopening, Cleveland expressed.
"Today was different. It was hard. You showed grit, compassion and displayed your true character. We all will need to continue that same determination moving forward," he said.
Here's how you can help
Volunteers rallied early in support of Springdale families by gathering donations at Treehouse Pantry and distributing food and water to area families on Wednesday following the storms.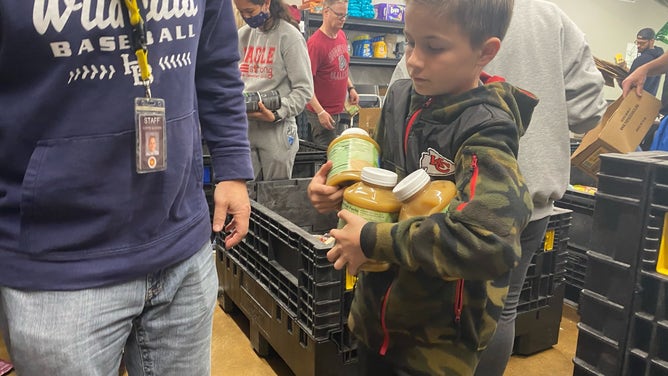 However, the district is still in need of supplies that are ready to use. Several district families do not have power and are in need of non-perishable items.
To donate to their social worker fund, call the district's central office at 479-750-8800. You can drop off any non-perishable items at the Treehouse Pantry located at 802 W. Allen Ave.
Families impacted by severe weather in the area can click here for a list of resources available.