Watch: Rare waterfalls rage through Utah desert
Utah's snowpack measured 227% of average, so the spring melt is overwhelming areas that rarely see water.
GUNLOCK, Utah – Water in the desert is a rare sight, but Utah's Gunlock State Park has so much that it is flooding the roads, canyons and caves. Visitors are flocking to the point that parking lots have hit capacity.
"These rare falls have only occurred a few times in the last decade," reported the park's Facebook page.
NO GOLDEN TICKET REQUIRED: CHOCOLATE FALLS SURGE AFTER MONSOONAL STORMS
Utah had a plethora of snow this winter. The most recent measurement showed 227% of the average, which is more than two winters of snowfall. Only 1984 and 1997 recorded more snowpack since recordkeeping began.
Now that spring has sprung, and temperatures are slowly warming up, the snow is melting quickly. On top of that, recent rains aided the melt. 
"The waterfalls are part of a spillway and flow when the reservoir reaches capacity," states the park's website. "When the reservoir fills quickly, the additional water flows over the dam and spills down the cliffside, creating waterfalls."
The fast-moving water looks almost like lace spilling over and around rocks and rushing through canyons on its way to the Santa Clara River.
7 WEATHER EXTREMES EXPERIENCED AT NATIONAL PARKS
On Sunday, there was so much spillover from the reservoir that park roads flooded. Officials had to close the road. One Facebook user who made it in before the closure wrote, "It's beautiful but scary."
But park officials warn not to get too close as the water is swift and rocks are slippery. Logs sometimes lurk below the surface of plunge pools.
WATCH: DRONE CAPTURES RARE PHENOMENON OF REVERSE WATERFALL IN UTAH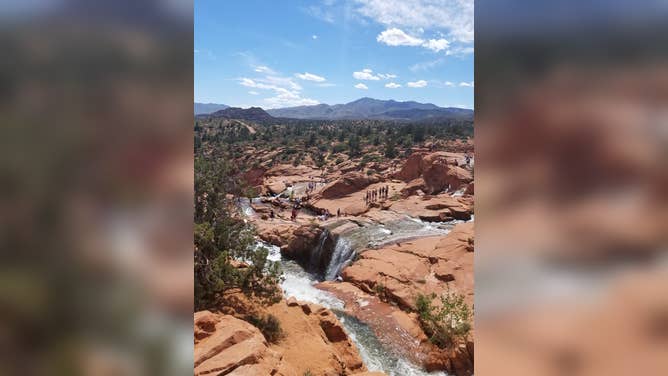 The spring runoff also brings debris down from above. Tree limbs, rocks and dirt accumulate and perch on the top of the falls. Rangers occasionally have to close off the falls to visitors to clear the potential dangers. 
Gunlock State Park posts a "waterfall watch" status on their Facebook page.

The latest Drought Monitor still has the 87% of the state in drought, which is an improvement from the 100% of the state in drought just last year.