Severe storms produce hail, damaging winds in Plains
Severe thunderstorms over the Plains produced large hail and damaging winds.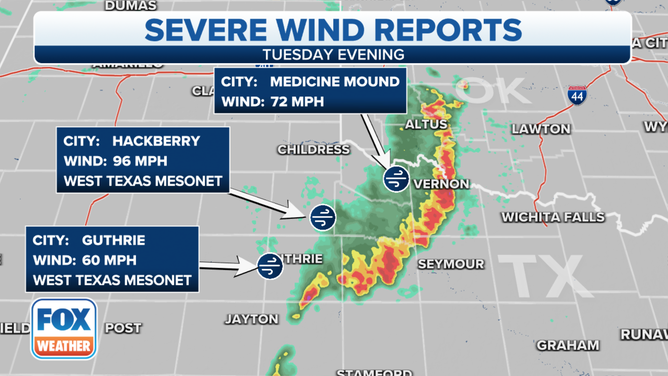 Severe thunderstorms rolled across the Plains on Tuesday evening, producing damaging winds and large hail.

The Storm Prediction Center issued several severe thunderstorm and tornado watch boxes from Texas to Kansas because of the threat. 

Several counties from the Lone Star State to Nebraska saw damaging winds and sizable hail Tuesday evening.
The strongest wind gust reported was 96 mph in Hackberry, Texas, which is about 100 miles west of Wichita Falls.

And the largest sized hail reported was over an inch in diameter seen just to the east of Post, Texas.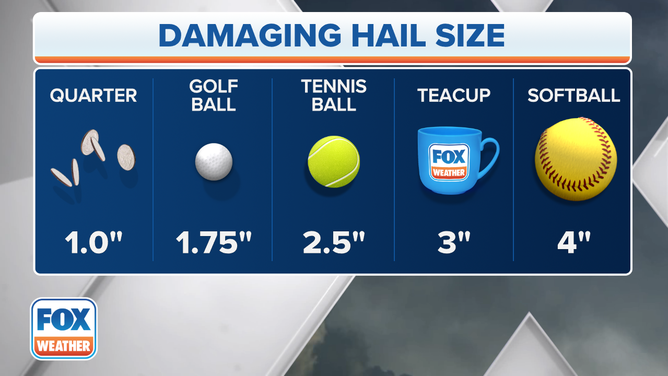 On Wednesday, the risk of severe storms shifts eastward along the Gulf Coast. Plenty of low-level moisture will help the storm system continue producing scattered showers and thunderstorms from eastern Texas to the Florida Panhandle.
FALL IS THE SECOND SEVERE WEATHER SEASON
The main threats from the storms will continue to be hail and damaging winds. Forecast models indicate the storms could reach Alabama and Florida after sunset.