November 2021 saw far fewer severe weather reports than average
Most severe weather reports during the month were for damaging wind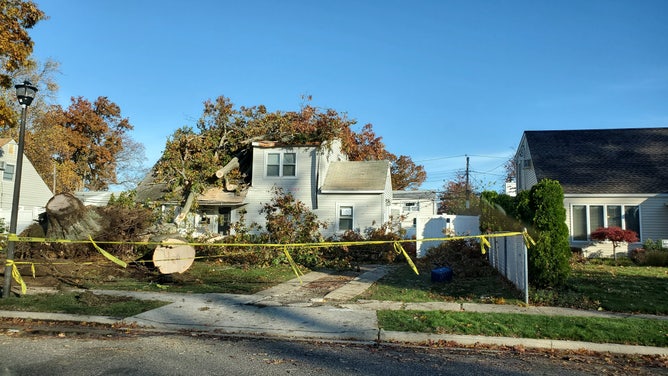 November ended with far fewer severe weather reports than the average number of reports expected, according to an analysis by FOX Weather.
According to FOX Weather Senior Weather Data Specialist Shane Brown, there were 134 reports of severe weather made during November. That is well below the 330 reports that happen on average during November.
"Of those reports, the bulk came on the only two above-average severe days of the month, 57 on the 10th and another 55 on the 13th," Brown said. "Eighteen days of the month saw a goose egg for total number of reports."
Here is a closer look at the reports, based on Brown's analysis.
Tornadoes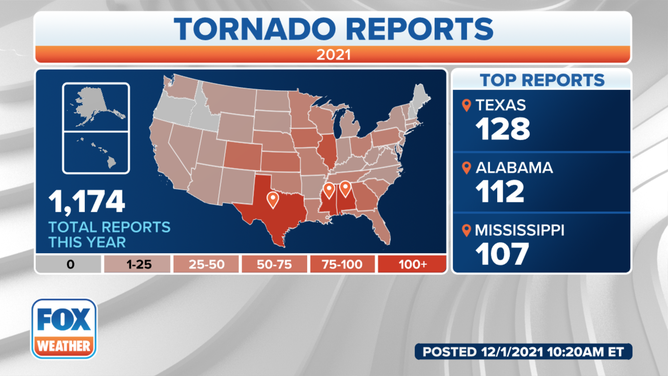 A total of 25 tornadoes were reported during November across seven states. Eight of them have been confirmed across Louisiana, Oklahoma and Texas. Another 12 have been confirmed in the New England region.
"The strongest tornadoes of the month were five EF-1s occurring in Texas, Louisiana, New York, Connecticut and Rhode Island," Brown said.
Brown said the small number of reports in November means the year is trending toward an end that is well-below-average for tornadoes.

According to the Storm Prediction Center, a typical year sees around 1,360 tornadoes.
Hail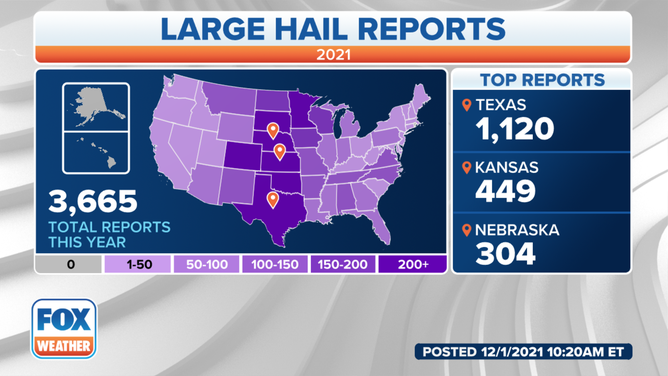 There were 37 reports of hail during the month of November.
According to Brown the largest hailstone reported during the month was a hen-egg-sized, 2-inch stone that fell in Haynesville, Texas, on Nov. 10.
"Texas, Kansas and Nebraska remain the top three hail-producing states of 2021," Brown said.
Brown said the year is also trending toward an end that will be far below average for hail.
Wind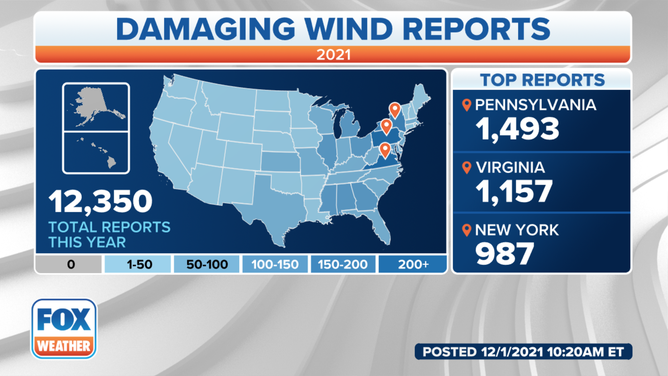 There were 73 reports of severe wind, meaning 58 mph or higher, in the month of November. That is well below the average of 286 that is to be expected during the month.
"A gust comparable to a Category 2 hurricane blew through Glacier Park, Montana, on the 30th with both high wind and red flag warnings in effect," Brown said.
On average, there are more than 15,400 reports of severe wind in the U.S. each year. So far in 2021, there have been a little more than 12,300 reports. Most of those have come from New York, Pennsylvania and Virginia.
Flash flooding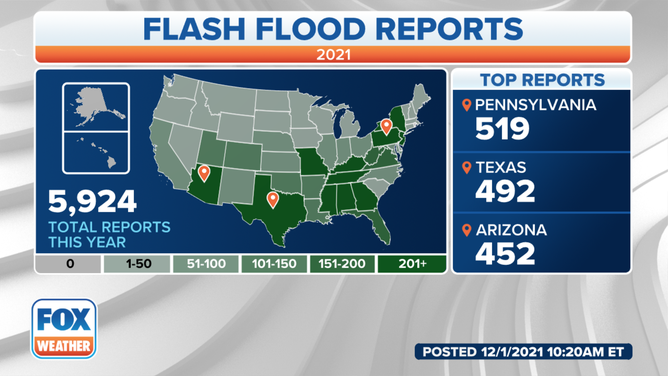 November saw a total of 16 reports of flash flooding, far below the monthly average of 135.
The year is also trending down for flash flooding reports, according to Brown.
"The 5,924 reports made in 2021 are just shy of the average of 6,162," Brown said.
Most of the flash flood reports this year have come from Arizona, Pennsylvania and Texas.