Mushroom bonanza! Iowans haul in a true food delicacy
Morel mushrooms are considered a delicacy and tend to grow in shady areas that see plenty of rain.
KEOKUK, Iowa – The annual hunt to find rare morel mushrooms in southeast Iowa took a turn that Rusty Gates and Jimmy Johnson weren't prepared for– the friends found nearly 200 pounds of a true food delicacy that would make any chef's kitchen the envy of the culinary world.
During the first weekend in May, the pair set out like they do every year with the hopes of only finding a few pounds of the mushrooms.
"The most I had ever found in a season was about 75 pounds. And that's over the whole season. But to find this many mushrooms in one setting is unreal," Johnson said.
During a several-hour excursion through the woods in Lee County, Iowa, the mushroom connoisseurs stumbled upon a jackpot of over 130 pounds of the delicacy, just waiting to be picked from underneath the trees.
"My son and his fiancé, Kamryn McCabe, had to come get the mushrooms because we had too many sacks," Johnson said. "And when we walked back, we continued to pick up more. I'm going to tell you right now that was way too many mushrooms. We were sore the next day."
HOW TO WATCH FOX WEATHER ON TV

Despite finding the bountiful harvest, the two weren't done with their excursion.
Days later, Johnson said he went back out into the wilderness and found at least 44 pounds of more morels.
"I think the soil temperature was just right, and we've had just the right amount of moisture," Johnson stated.
The Iowa State of Natural Resources says there is a science to increasing your chances of finding the delectable mushrooms.
Experts say when nighttime lows bottom out in the 50s and highs reach the 60s the top of the mushroom will poke out of the ground, which gives gatherers a brief window to collect the wild fungi.
WEATHER, RUSSIA-UKRAINE CONFLICT LEADING TO SKYROCKETING WHEAT PRICES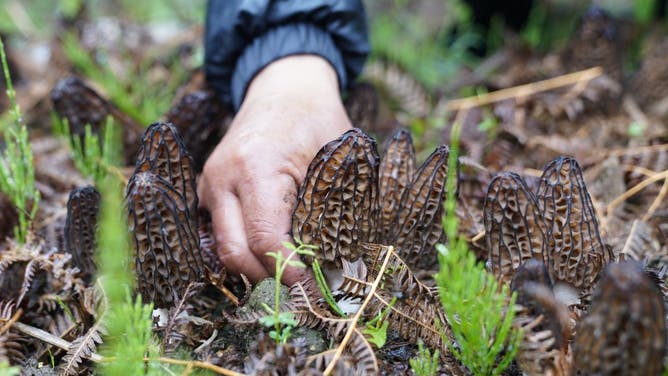 Despite collecting nearly 200 pounds of the morels, Johnson said he either sold or gave away the majority of his season's stash.
"I sold portions at $25 a pound. And some people told me, 'you can get a minimum of $40 a pound out of these.' And I told them I'm not trying to make a profit from this," Johnson said.
The 53-year-old said he and his wife, Nici, have about 20 pounds of morels in their freezer that they'll bread and fry when their hearts desire until he goes back out searching for more next spring.
As for what Johnson will do with his profit, the Iowa resident says he is looking into growing his own morels, but the first crop won't likely be ready for several years.