Military considers impacts of changing weather a threat to national security
The Army's first Climate Strategy includes introducing hybrid vehicles by 2035 and providing 100% carbon pollution-free electricity to installations by 2030
WASHINGTON, D.C. – Military leadership is tasked with not only keeping tabs on adversaries but also developing plans for the future that they hope will provide some impact on a growing foe - Mother Nature.
The Department of Defense says they have already seen the impacts of extreme weather on operations and expect the competition amongst countries to intensify as changing patterns influence actions in critical parts of the world.
The largest branch of the military recently released extensive plans that it believes could help start a large effort towards adapting to the effects of changing weather.
HOW TO WATCH FOX WEATHER ON TV
In the Army's first climate strategy, the leaders outlined goals of providing 100 percent carbon pollution-free electricity to installations by 2030, introducing hybrid-drive tactical vehicles by 2035, enhancing installation resilience and adjusting the focus of training missions.
"We're going to increase the efficiency of the force," Paul Farnan, acting assistant secretary of the Army for installations, energy and environment, recently said. "You're always going to have to be able to operate regularly in extreme environments. They are getting closer to home, we're being called more and more often for humanitarian assistance. We're dealing with these devastating storms that are increasing in frequency."
Officials acknowledged it will be a challenge to introduce electric vehicles into a combat role by 2050 but hope that other advancements can fully incorporate changes to react to the extreme weather,
In addition to the visible changes, the DOD said climate risk analysis will be incorporated into modeling, simulation, wargaming and analysis in order to change the military's approach and maintain a constant state of readiness. 
Weather impacts military operations
A report by the Government Accountability Office identified more than 1,700 military installations that could be affected by sea-level rise and associated weather risks.
Recent weather disasters have already taken advantage of vulnerabilities highlighted by the report and impacted DOD activities.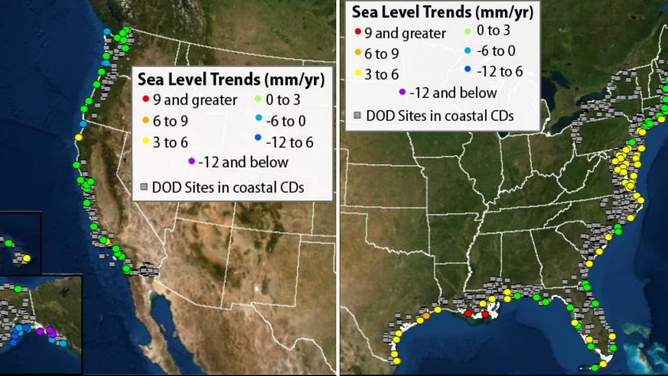 DEPARTMENT OF DEFENSE: WEATHER AWARENESS LEADS TO OPERATIONAL ADVANTAGES ON BATTLEFIELD
According to the report, Hurricane Michael damaged every building at Florida's Tyndall Air Force Base in 2018, and weeks earlier, Hurricane Florence flooded several Marine Corps installations in North Carolina.
The combined damage from both storms to DOD facilities was estimated to be around $9 billion.
The report stressed that while intense hurricanes have not been linked to climate change, more impactful storm surges are directly associated with higher sea levels and pose a risk to all coastal facilities.
Leaders hope resilience and sustainability plans, such as what the Army has unveiled and future efforts, are able to mitigate growing threats by the climate.