Louisiana National Guard deployed to assist with tornado response in New Orleans
There are 260 soldiers and airmen in the area to assist with recovery operations from security, distribution of supplies, engineer team assessments, route clearance and assisting local governments
ARABI, La. – Families in New Orleans have a long recovery from deadly tornadoes, but they are getting some much-needed help from volunteers as the path of destruction will take weeks to comb through. 
The Louisiana National Guard said they deployed forces immediately following the severe weather event in the state on Tuesday to provide support to the community and to help save lives.
There are 260 soldiers and airmen assisting with recovery operations from security, distribution of supplies, engineer team assessments, route clearance and helping local governments.
17 MINUTES OF TERROR: NEW ORLEANS TORNADO HAD WINDS OF 160 MPH
"This is a new experience for us. We're not accustomed to responding to tornadoes, but we're really good at disaster response in general," Task Force Commander Maj. Milton Ramirez said.
So far, National Guardsmen have cleared more than 2 miles of roadway and removed 110 cubic yards of storm debris from municipal areas and parks. They have also delivered 1,300 tarps to St. Bernard Parish officials, with an additional 1,800 tarps staged at their headquarters base, Jackson Barracks, located next to Arabi.
And while they are no stranger to severe weather in southern Louisiana, the National Guard typically deals with hurricanes, not tornadoes.
DEADLY TORNADO RIPS THROUGH HEART OF NEW ORLEANS
"The difference is that it's not as widespread," Ramirez said. "Although it's very destructive, it is very focused in terms of the area that was affected. But again, that does not change our posture and our capability and our readiness to be able to respond to whatever natural disaster, whether it be a tornado or hurricane or even a pandemic."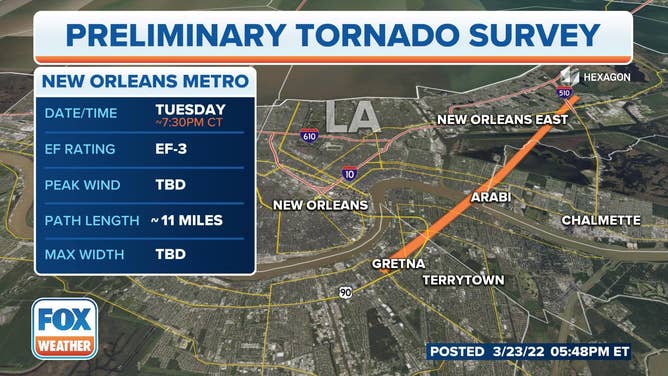 Survey teams continue to investigate damage along the tornado's 11.5-mile path, but so far has given the twister an EF-3 rating with winds up to 160 mph. 
As of Friday, 125 homes were still without power, significantly down from 28,000 homes when the tornado hit.
Tuesday night's tornadoes were part of the same system that brought severe weather across the South over three days.