Lightning sparks fire, damages Illinois church after nearly 500 lightning strikes reported in area
Strong thunderstorms were reported across the region on Monday, and nearly 500 lightning strikes were counted around the time the church may have been struck
MASSAC COUNTY, Ill. - Emergency crews in southern Illinois responded to reports of a fire at a local church caused by a lightning strike during severe weather early Monday morning.
Brian Horn of the Massac County Emergency Management Agency told FOX Weather that they were alerted to the fire at St. John's Church just after 4 a.m. CDT Monday.

Firefighters rushed to the church along Waldo Church Road and Deer Run Road, and flames could be seen coming from the building when they arrived.
Horn said crews were able to extinguish the fire, and the church was heavily damaged.
No injuries were reported.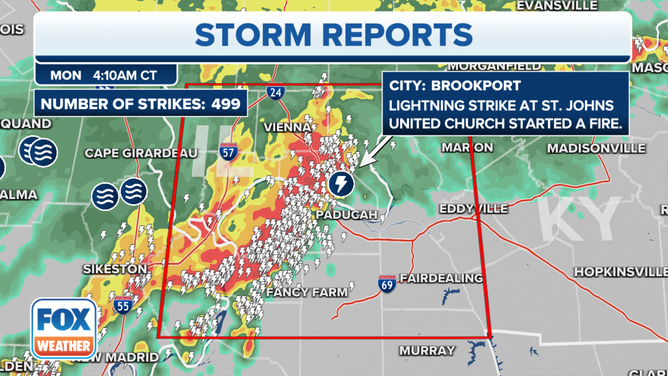 Strong thunderstorms were reported across the region on Monday, and nearly 500 lightning strikes were counted around the time the church was struck.
Severe thunderstorms, including possible tornadoes, are possible from the Ohio and Tennessee valleys through the mid-Atlantic states on Monday.