Hurricane Ian relief volunteers, veterans of Team Rubicon still mopping up after nearly a month
Veterans drop everything and flock to Florida to help Hurricane Ian victims do the work they aren't able to do.
After almost a month, veteran-led Team Rubicon is still in Florida helping survivors of Hurricane Ian. The Sunshine State is still scarred by the Category 4 storm which was the fourth-strongest hurricane ever to hit the U.S. But so many residents who suffered aren't able to tarp roofs, muck-out homes, attack fallen trees with chainsaws or tear out wet drywall and carpeting.
"The entire road is just covered with trees," said Team Rubicon member Tony Aldinger from Port Charlotte three days after the devastating storm. "We just spoke to a neighbor with a handicapped daughter. He hasn't been able to get out, just was in tears and did not understand how we did this for free or could do this for free."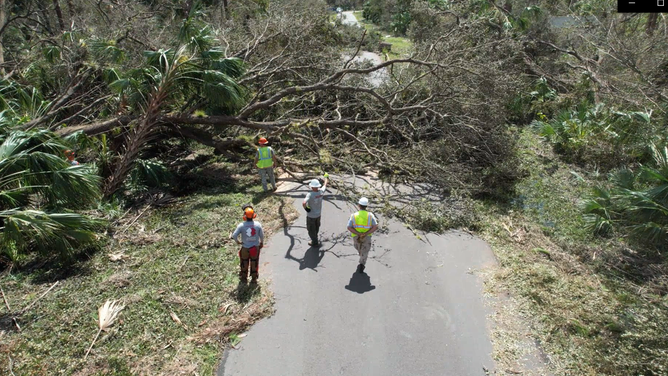 Team Rubicon organized five teams of volunteers and dispatched them across the state to Charlotte, Lee, Polk, Volusia and DeSoto Counties. About 70% of team members are veterans or active duty military, but 100% of the members are committed to helping Floridians return to normalcy.
The non-profit brings its equipment and supplies to hard-hit areas after natural disasters like Hurricane Ian. Sometimes the teams get to damaged neighborhoods before the evacuated residents do.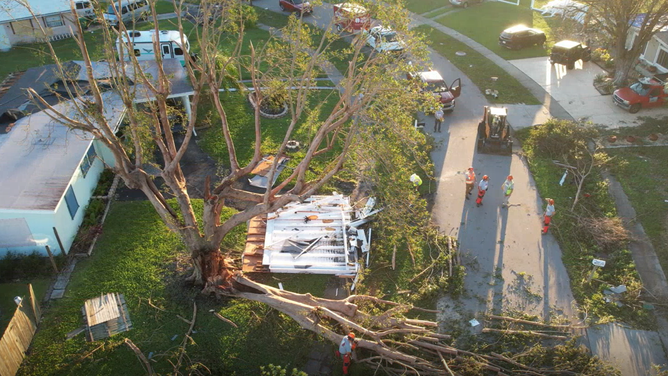 "What I really like about it, a lot of these homes around here they can't even get into their driveways, let alone down their block. And here we are clearing the streets for them when they get back, they will be surprised," said Rob Carlo from New York and volunteering his time on Clearance Team 1. "We met a few of them, and they are so appreciative it makes it all worthwhile."
HURRICANE IAN BY THE NUMBERS: THE SCOPE OF THE CATASTROPHIC DAMAGE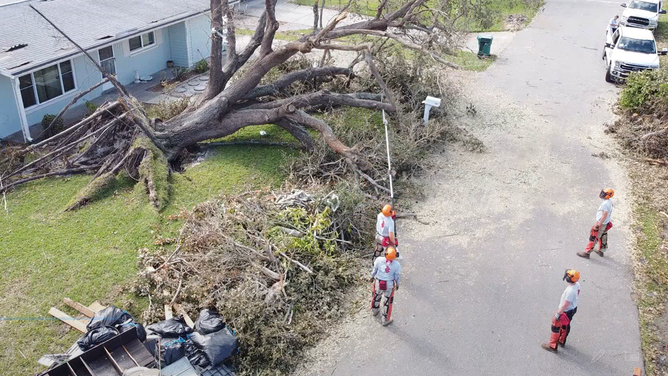 Marylin Stander and her daughter were trapped for days in their home outside of Orlando. She had no power, no phone, and fallen trees blocked the doors and driveway days after the storm.
"I am 86 years old, my daughter is with me, but we don't cut trees. We can't haul trash. But Team Rubicon came, and we are so thankful. Now we'll be able to get out," she said. "Now we are free, and they did a wonderful job."
Shocking scenes from Fort Myers Beach of homes torn to skeletons and feet-deep flooding around Orlando have dominated the news coverage. Some hard-hit areas not in the spotlight are thankful not to be overlooked by hurricane relief help from Team Rubicon in one of those places, Volusia County told FOX Weather Monday.
FLOODED ORLANDO NURSING HOME ADDS TO RESCUE OF HUNDREDS IN ORANGE COUNTY AFTER IAN
"They just need that support and that acknowledgment that that something happened, and they don't want to be forgotten," said Neider. "So we are here trying to make sure that we can help the people that we can and to make sure that we are doing the very best with the resources that we have."
Neider expects the teams to be in Florida through November, at least.
"The Saint John's River is still above flood stage. And so we do still see some areas that homes still have standing water in them," she said a month after Ian. "So we have been focusing on getting into the homes that we can, doing some hard work."
HOW TO WATCH FOX WEATHER ON TV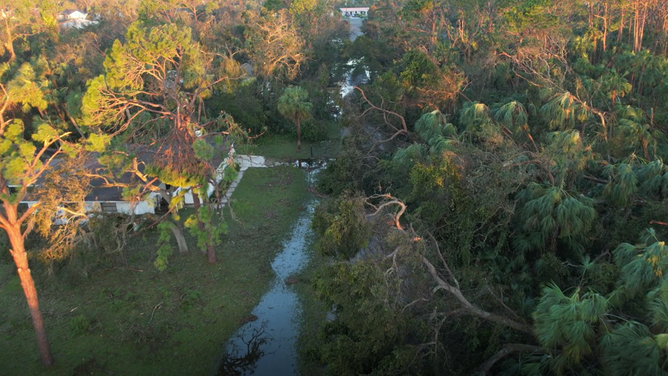 "This is going to be a long fight," echoed team member Art De La Cruz. "So, I encourage each of you to look at your calendar and figure out if you can donate some of your time and energy over the coming months to help Florida in their recovery."
Team Rubicon accepts volunteers across the U.S. to respond to disasters. Their disaster response site states that most deployments are for a week, but there is no minimum commitment time. 
Haiti's 2010 earthquake prompted the founders to establish the humanitarian organization. Over 150,000 U.S. volunteers have aided over 1,100 operations worldwide.