Hurricane Hugo: Wednesday marks 32nd anniversary
The hurricane caused at least $8 to $10 billion in damage and 86 lives were lost.

September 22, 2021, marks the 32nd anniversary of the landfall of one of the strongest hurricanes in South Carolina's history. 
The hurricane caused at least $8 to $10 billion in damage and 86 lives were lost. Not only did Hugo cause destruction to the United States, but the storm devastated Guadeloupe, St. Croix, and Puerto Rico. 
Hugo's track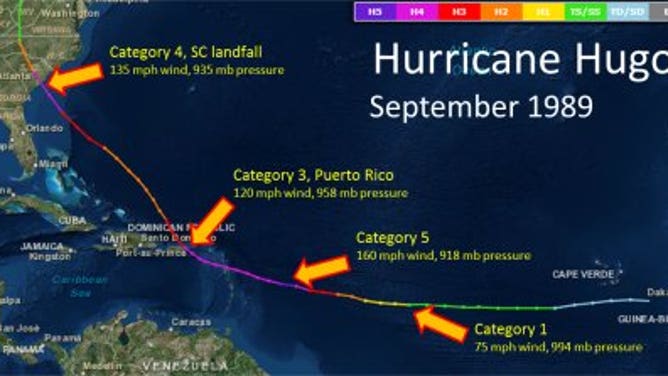 The storm originated near the Cape Verde islands off the African coast on September 9, 1989. The very next day, it displayed enough organization to be named a tropical storm. 
As it traveled over the Atlantic Ocean, Hugo continued to strengthen. On September 14, it officially became a hurricane. 
Hugo quickly intensified on September 15 to a Category 5 hurricane with maximum sustained winds near 160 mph and a central pressure of 918 millibars. 
As the storm continued to churn towards the Leeward Islands of Guadeloupe and Montserrat, Hugo weakened to a Category 4 storm on September 16. 
On September 17, Hugo made landfall on Guadeloupe with winds near 140 mph. 
The next day, the storm moved over St. Croix and just hours later hit Puerto Rico. As it continued over Puerto Rico, the high terrain caused the storm to weaken, and maximum winds fell to 105 mph. 
As it churned into the warm western Atlantic Ocean waters, Hugo began to reorganize.
On September 21, the pressure fell to 935 millibars, and maximum sustained winds increased to 140 mph, making Hugo a Category 4 storm once again.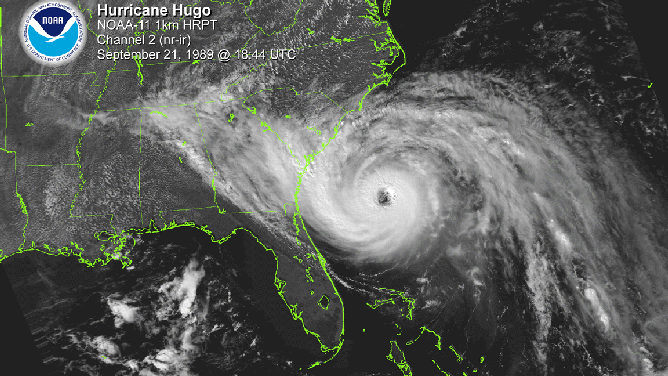 Hugo ended up making landfall at midnight on September 22 near Sullivan's Island, South Carolina.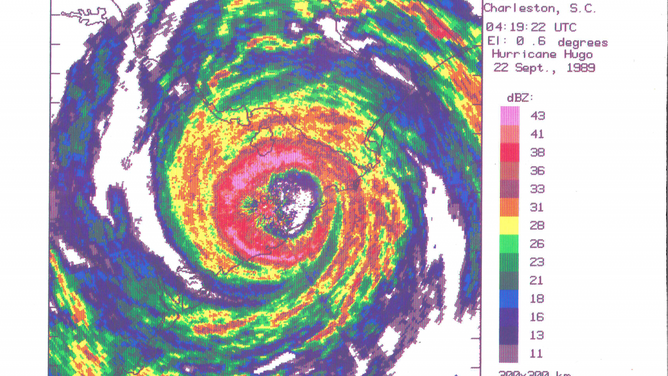 After landfall
As Hugo tracked inland, Charleston, South Carolina, measured winds at 108 miles per hour.
The storm started to move north, and at around 5 a.m., Charlotte, North Carolina, measured gusts of 100 mph. Hugo caused significant destruction in North Carolina. 
Hugo had become disorganized by the time the sun rose that same day, and the eye was no longer identifiable. The storm was downgraded to a tropical storm but continued to produce wind gusts of 40 to 55 mph in Virginia and West Virginia. 
Even though this powerful storm caused significant destruction, rainfall totals were surprisingly low.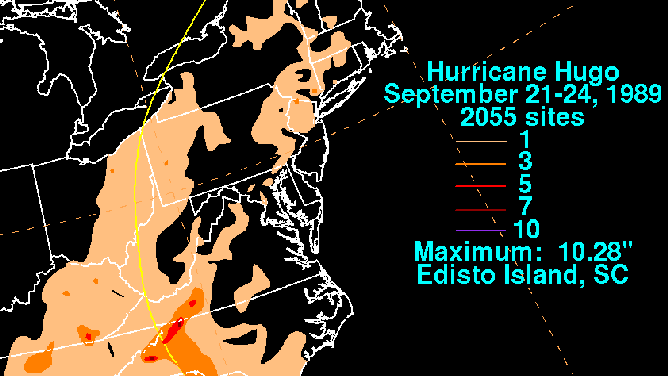 The National Weather Service recorded more than 10 inches of rain at Edisto Island, SC. The NWS says a secondary maximum of heavy rainfall occurred in the North Carolina and Virginia mountains as tropical air was pushed up and over the ridges.
Rainfall totals of 6.10 inches in Savannah, GA, and 5.90 inches at the airport in North Charleston, SC, were also measured. 

Additional Information, Research, and Links:
Natural Disaster Survey Report: Hurricane Hugo, September 10-22, 1989
National Weather Service Charleston, SC Hugo 25th Anniversary Page
National Weather Service Charleston, SC Hurricane Hugo