Man rescued from Earl's fury: Watch helicopter pull injured man off of rocks
An injured fisherman clung to rocks while Earl's 6-ft waves battered and delayed rescue in the US Virgin Islands
DOG ISLAND, U.S. Virgin Islands – A 50-year-old fisherman clung to sharp rocks, battered by 6-foot waves Sunday, waiting for Coast Guard rescuers to pull him to safety. Tropical Storm Earl churned up the waves catching the man by surprise.
The man got off his 26-foot fishing boat to spear fish on the rocks just off of Dog Island. The island is in the Caribbean southeast of St. Thomas.
STRENGTHENING TROPICAL STORM EARL DRENCHES PUERTO RICO WHILE HURRICANE DANIELLE CHURNS IN ATLANTIC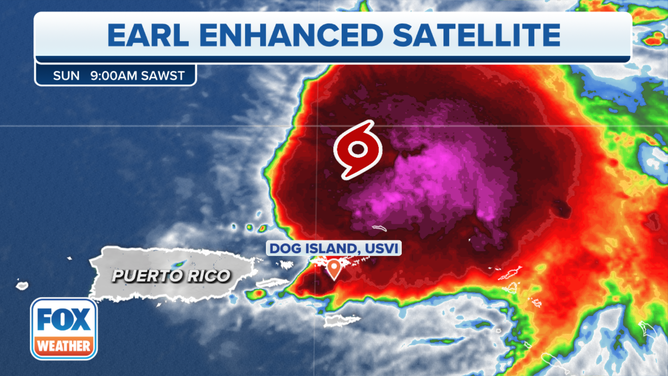 Waves quickly overcame the fisherman who was thrown against the rocks and injured. His friend on the boat called 9-11 around 8:30 a.m. 
A Coast Guard Boat tried to throw the man a line, but the turbulent waves prevented the craft from getting close enough. The man continued to hold on to the rocks while a helicopter readied to send a rescue swimmer down by line.
WATCH: COAST GUARD RESCUES 7 AFTER LIGHTNING HITS BOAT
"This was a challenging case in a tropical storm with heavy seas, gusty winds, and low visibility, but this is what the Coast Guard trains for," said Lt. Shea Smith, Coast Guard. "I'm proud of the crew, everyone came together as a team to safely and efficiently execute the mission.  Fortunately, the survivor was able to hang on until we could arrive and we are all glad that he is safe."
HOW TO WATCH FOX WEATHER ON TV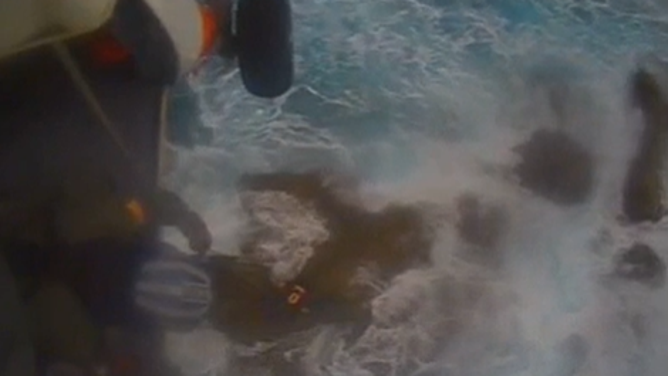 Take a look at the rescue video above. The swimmer can't even see the fisherman below initially. The rescuer is slowly lowered to the man. After securing the victim in a harness, both were pulled back into the helicopter.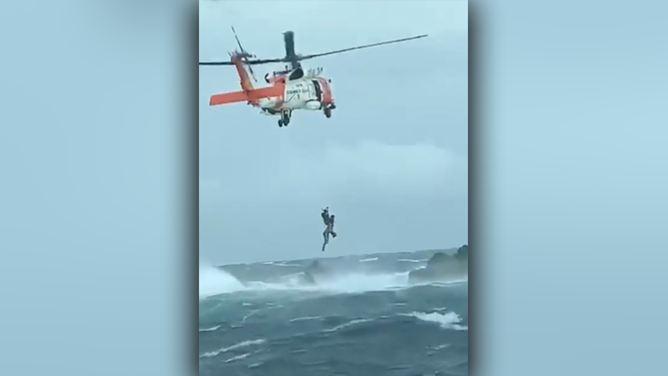 The fisherman was treated at a St. Thomas hospital for his injuries.
The FOX Weather app is a great resource that can be used to alert you of any watches or warnings issued for your area. The free FOX Weather livestream is also available 24/7 on the website and app and on your favorite streaming platform. The FOX Weather Update podcast also provides weather information for the entire country.