State of emergency declared in 2 West Virginia counties after flash flooding
More rain is forecast Monday, and officials say it will take time for the water to recede
West Virginia's governor declared a state of emergency Monday in two counties after nearly a half-foot of rain resulted in flash flooding, prompting water rescues within the state. 
Photos shared with FOX Weather showed floodwaters covering roads and a pickup truck in Kanawha County, where a Flood Warning continues until 12:30 p.m.
HOW TO WATCH FOX WEATHER ON TV
First responders were called out to 130 calls for service, including 25 water rescues in Kanawha and Fayette counties. Those are the counties included in the emergency declaration issued by West Virginia Gov. Jim Justice, who said more than 20 people had to be rescued from their homes because of rising floodwaters.
Kanawha County Commissioners said in a news release that the area received record rainfall between Sunday night and Monday morning, with up to 6 inches in some areas. In response, the county emergency operations center opened overnight. 
Residents with flooding damages are asked to report it to the Kanawha County Planning office, which will help the county seek federal flood aid and disaster assistance.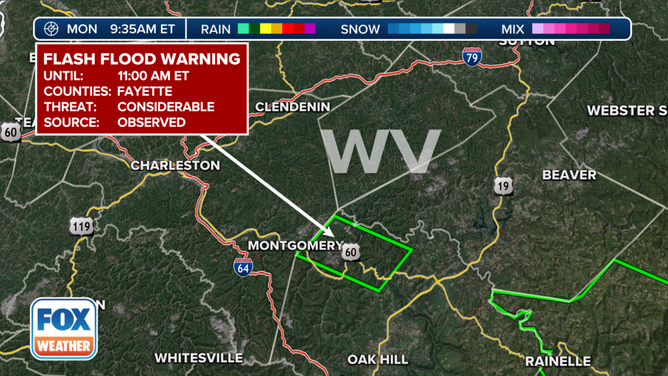 Initial estimates by county officials show more than 100 homes suffered water damage in Campbells Creek where at least two bridges washed away.
Between 2.5 and 5 inches fell, causing flash flooding in Fayette County. A Flash Flood Warning was extended for northwest Fayette County until 11 a.m. 
Emergency management officials said numerous roads are closed due to flooding, and it will take several hours for the floodwater to work through local drainage systems in urban areas.

First responders in Smithers have been responding to reports of flooding from Smithers Creek as the water approached homes and businesses near Cannelton Hollow Road. A swift water rescue team was deployed.


EXPLAINING FLOOD ALERTS ISSUED BY NATIONAL WEATHER SERVICE
Meanwhile, images showed vehicles in Coal Fork covered in water up to the roofline near Campbells Creek. 
Drivers who cannot see the road should turn around and not attempt to travel through floodwaters.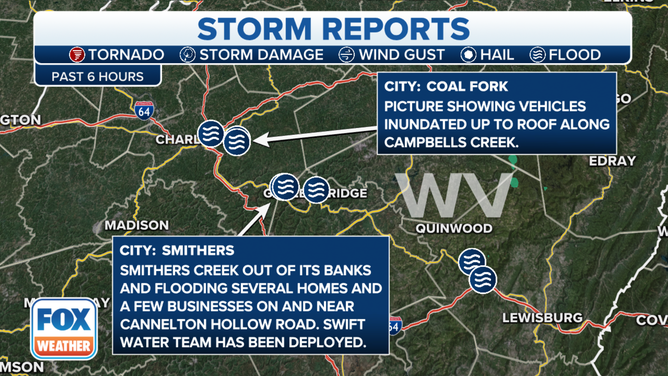 The FOX Forecast Center estimates between 3 and 5 inches of rain has already fallen outside the Charleston area as of Monday morning. 
The Charleston International Airport received 1.69 inches, a new daily record set in one hour between 1 and 2 a.m. The airport has received more than 4 inches since midnight, marking the second-wettest day in August.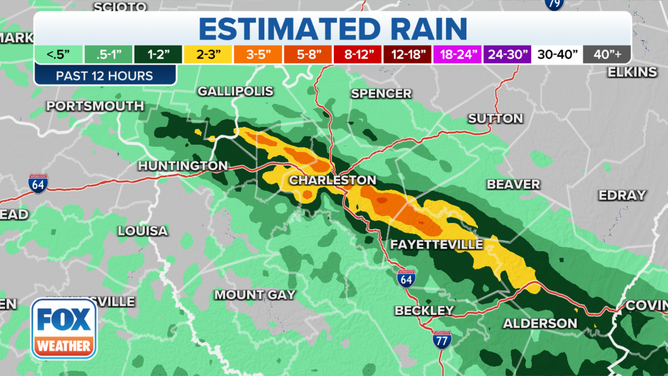 In central West Virginia, residents reported heavy rain in Rupert, Crawley and Quinwood, including flooding on Route 60.
A Flood Warning was extended for west Greenbrier County until 4:30 p.m. with continued excessive rainfall forecast throughout Monday.
The National Weather Service in Blacksburg reports up to 2.5 inches of rain have fallen and flooding of many creeks, streams and rivers is imminent or already ongoing.