Half of Kentucky town was leveled by tornado, governor says
Forty hours after the deadly tornadoes struck, Dawson Springs scrambles dig out of debris.
DAWSON SPRINGS, Ky. -- Search crews continued to pore over the destruction left behind by a massive tornado that tore through western Kentucky Friday night, leaving several neighborhoods in ruin.
"Western Kentucky and its people were at ground zero," Kentucky Gov. Andy Beshear said as he surveyed the damage Sunday in Dawson Springs, his father's hometown.
People were methodically going from one destroyed home to another, looking to see if anyone was alive or buried underneath the rubble.  Piles of crumpled cars, sheared aluminum and splintered wood mixed in with signs of regular household life such as pillows, clothes and picture albums.

It's not known yet how many died here; the death toll in Kentucky was "at least 80," Beshear said but warned the number was likely to exceed 100.
"We have significant loss here," he said, adding about half the town had been leveled.
Residents are reeling, having lost their homes, belongings and perhaps their fellow neighbor to the twister—all just two weeks before Christmas.
Others displaced by the storms took refuge at Kentucky's state parks.
"We already have 104 adults and kids in Tenerife," said Beshear.  He explained that many parks were open to families that lost their homes, volunteers and first responders.
"We are taking them in.  We are trying to guarantee everybody a two-week stay, so they are not worried about tomorrow," Beshear added.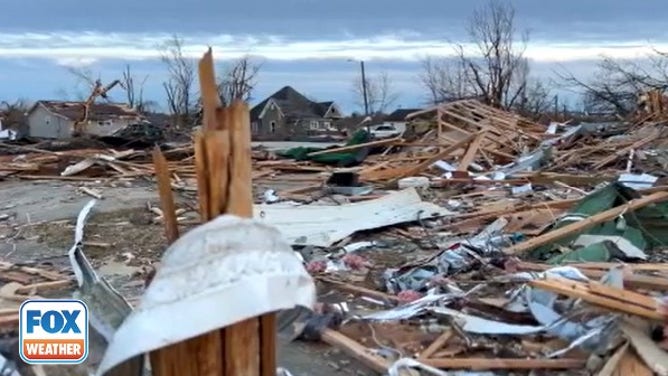 The National Weather Service storm survey crews are still researching the extensive damage. Still, meteorologists say the tornado could have been on the ground for over 200 miles -- potentially record-breaking -- and may rate an EF-4 or rare EF-5 tornado with 200 mph wind.