Missouri flood victims evacuated by bulldozer in 'team effort' by community
City street crews joined firefighters and several volunteers to evacuate 21 people from floodwaters in Fredericktown
FREDERICKTOWN, Mo. – It was a true testament of a small Missouri town in the foothills of the Ozark Mountains as volunteers joined first responders to aid in flash flooding evacuation efforts early Thursday morning.
City street crews joined firefighters and several volunteers to evacuate 21 people from floodwaters in Fredericktown; some families were even transported out in high-profile construction vehicles.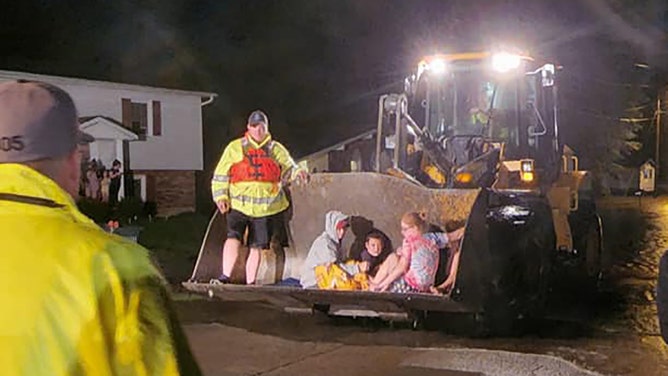 "Definitely a team effort," the Fredericktown Fire Department said. "So many came out in the dead of the night to see if they could help. We have a wonderful community."
HOW TO WATCH FOX WEATHER ON TV
The Fredericktown Fire Department said they were handling a high number of calls for help starting at 3 a.m. as strong thunderstorms dumped heavy rains while they moved through the area, which is about 90 miles south of St. Louis.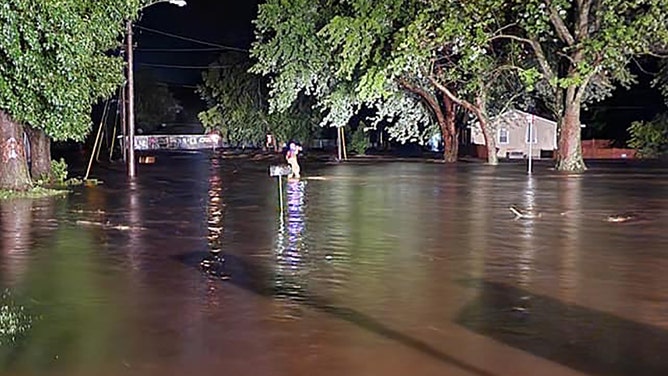 Firefighters also responded to numerous vehicles stranded in high water, downed trees, powerlines and an investigation of smoke in a commercial building inundated with floodwaters. 
Extensive flash flooding affected the Holmes subdivision as well as homes and businesses along Saline Creek and a creek along South Mine La Motte, authorities said. No injuries were reported.
While the water has since receded, members of the volunteer fire deportment are out surveying the damage with the Missouri State Emergency Management Agency.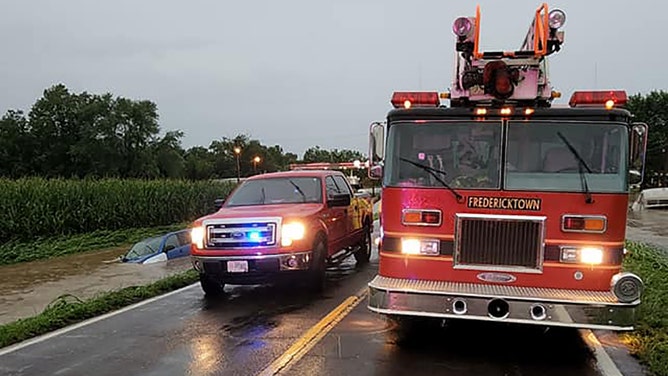 15 inches of rain in two weeks for St. Louis
The National Weather Service said this has been the wettest 2-week period St. Louis has ever seen after Wednesday night's record-breaking rainfall after the slow-moving storm system moved through the area. 
The city set a new daily rainfall record Wednesday with 4.32 inches breaking the old record of 1.45 inches set in 1946. The city observed 15 inches of rain from July 24 through 9 a.m. Thursday.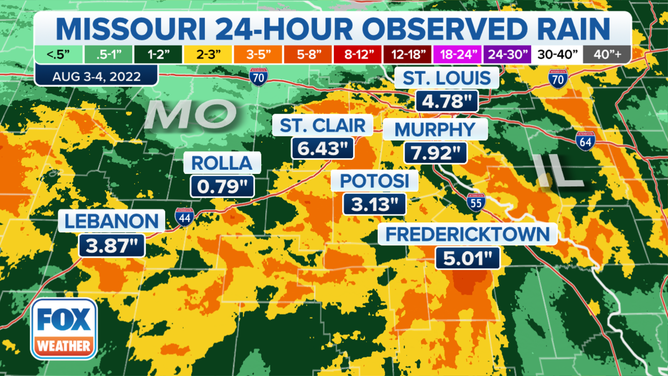 Scattered showers and thunderstorms are possible Thursday afternoon and early evening. Most rainfall is not expected to be as heavy with amounts generally between 1/4 and 1/2 inch. However, some heavier showers and storms continue to be possible throughout the day. Locally higher rainfall in excess of 1 inch with these heavier showers and storms is possible, the NWS said.
CLICK HERE TO GET THE FOX WEATHER UPDATE PODCAST
The FOX Weather app is a great resource that can be used to alert you of any watches or warnings issued for your area. The free FOX Weather livestream is also available 24/7 on the website and app and on your favorite streaming platform. The FOX Weather Update podcast also provides weather information for the entire country.