Fires, heat and earthquakes: Alaska currently the epicenter of extreme weather
More than 2.3 million acres have been consumed by wildfires this season
Alaska is facing a record wildfire season due to above-average temperatures and thousands of lightning strikes a day, but that's not all Mother Nature is throwing at the state this summer. Over the Fourth of July weekend, southwestern Alaska recorded nine earthquakes. 
According to the U.S. Geological Survey, nine earthquakes were recorded on the Alaska Peninsula, in the Gulf of Alaska or in the Bering Sea.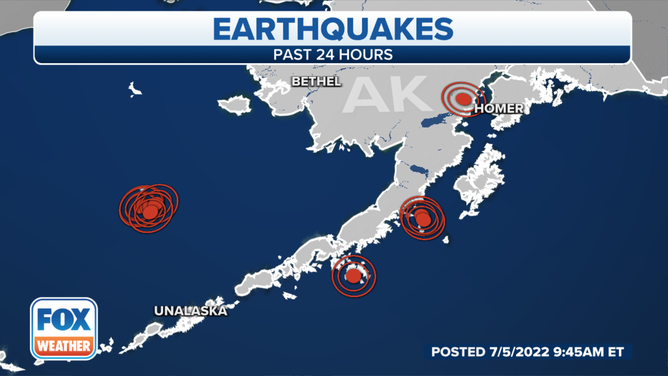 Two earthquakes were detected in the early hours of Tuesday morning, in the form of a magnitude 3.8 and a magnitude 3.3 earthquake near Chignik. On Tuesday, magnitude 4.1 and 3.1 quakes were recorded near Saint George. On Monday, another magnitude 4.1 earthquake was recorded near Port Alsworh, along with a magnitude 2.5 quake near Ninilchik and magnitude 3.6 and 2.9 quakes near Saint George. On the same day, a magnitude 3.3 quake was recorded in the Gulf of Alaska.
Most of these quakes were not felt, according to the USGS Alaska Earthquake Center. 
EAST VS. WEST: WHY EARTHQUAKES ARE FELT DIFFERENTLY ON EITHER SIDE OF THE US
Earthquakes are common in this region of Alaska because it is located along the Queen Charlotte-Fairweather fault, where two blocks of Earth's crust slide horizontally past each other in opposite directions, according to the U.S. Geological Survey. The fault extends from southeastern Alaska to northern British Columbia, and part of it is located offshore under the sea floor.
According to the USGS, the Queen Charlotte-Fairweather fault has generated six earthquakes of magnitude 7 or greater in the last 120 years. Since 2015, USGS scientists have been working with the Pacific Coast Marine Science Center and the Alaska Science Center to study the fault and better understand its hazards. 
Large earthquakes can cause tsunamis like the 2012 and 2013 quakes that led to Tsunami Warnings and evacuations in Canada, Alaska, Washington, Oregon, California and Hawaii. 
No Tsunami Warnings, Watches or Advisories were in place Tuesday morning, according to the National Atmospheric Oceanic Administration U.S. Tsunami Warning System website.
Record summer heat, lightning fueling wildfires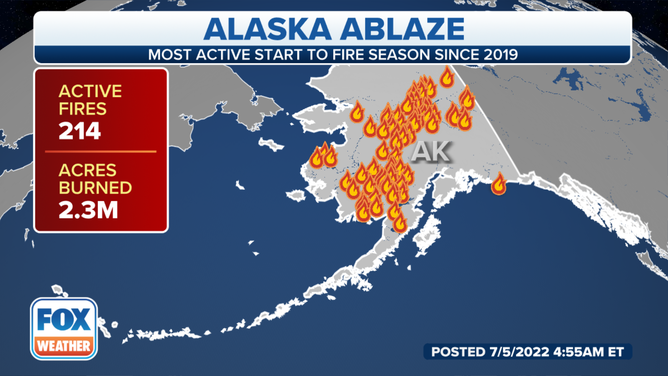 As of July 1, 161 fires were actively burning across the state, and fires have consumed more than 1.8 million acres, according to the Alaska Interagency Coordination Center Wildland Fire Dashboard. After the July Fourth holiday, 52 new fires had been reported as of Tuesday, bringing the statewide total to 213 active fires with 2.3 million acres impacted. 
Critical fire weather and dry thunderstorms are fueling this summer's record wildfire season across Alaska. 
WHY DRY THUNDERSTORMS POSE WILDFIRE, DUST STORM RISKS 
Record-warm temperatures have been recorded across multiple regions. Juneau, Palmer and Kodiak saw their highest average temperatures on record between June 1 and July 4. Anchorage recorded its second-highest temperature average for this time of year. 
Juneau has recorded six days with temperatures above 80 degrees and has averaged 68.7 degrees since June 1, compared to the normal 62.9 degrees.
On Tuesday, the high in Fairbanks is forecast to reach near 80 degrees. According to the National Weather Service, heading into the weekend, high temperatures should be closer to the mid-70s.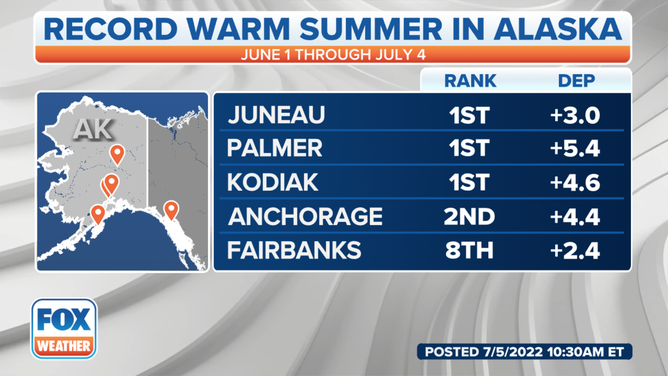 Fire Weather Warnings are in effect for the Central and Eastern Interior regions due to lightning activity expected through Tuesday night. 
According to the NWS office in Fairbanks, thunderstorm activity Tuesday afternoon could bring between 5,000 and 10,000 lightning strikes to the Eastern Interior region. The state and neighboring territories saw 5,050 strikes on Monday and 5,800 strikes on Sunday. 
Alaska's largest wildfire, the Bean Complex Fire, which includes five fires, was started by lightning and has consumed more than 122,000 acres.
WHY DOES THE AIR QUALITY GET SO BAD IN THE SUMMER?
Smoke from hundreds of burning wildfires across the state is visible by NOAA satellites collecting data from space. Video released by NOAA last week shows the state engulfed in smoke, creating unhealthy air quality in some areas. 
Relief coming 
There is some good news in the forecast for Alaska. 
7 FACTS THAT EXPLAIN HOW AIR QUALITY IS MEASURED
A cold front along the west coast will move into the state's interior on Tuesday and Wednesday, bringing much-needed rainfall and cooler temperatures.
Central interior regions could see up to 2 inches of rain by Thursday, and isolated areas along the interior Alaska peninsula could see up to 3 inches.
According to the NWS Fairbanks, temperatures could be near average by Wednesday and will continue through the rest of the week.
CLICK HERE TO GET THE FOX WEATHER UPDATE PODCAST
Be sure to download the FOX Weather app to track any storms in your area and receive potentially life-saving weather alerts issued by the National Weather Service. The free FOX Weather livestream is also available 24/7 on the website and app and on your favorite streaming platform. The FOX Weather Update podcast also provides weather information for the entire country.