Family narrowly escapes home as flash flood sweeps through Flagstaff
"The water was waist high, by those seconds it got super high," the homeowner said. "We couldn't get out the door and we had to crawl out of the window with two little kids."
FLAGSTAFF, Ariz. – A family of four was lucky to escape their home that was being inundated with flash floodwaters during heavy rains near Flagstaff. Burn scars from a previous wildfire meant all that rainwater had nothing to absorb it, and it ended up rushing down though several neighborhoods.
Liana Montanos was home with her boyfriend and two young kids, including an infant just a week old when the water came pouring in, FOX10 News reported.
"The water was waist high, by those seconds it got super high," she said. "We couldn't get out the door and we had to crawl out of the window with two little kids so it was super hard."
A neighbor across the street was able to get to the four and bring them into his truck and away to safety.
"I came and checked on this house and helped (another neighbor) get out of her house too, and then I came over here because they have a newborn so I wanted to check," said Andrew Jones. "And I knocked on the window and they were panicking because the water was halfway up, and helped them get out."
Flash flood waters inundated many parts of Flagstaff, leaving a muddy mess behind and a big cleanup ahead for neighbors.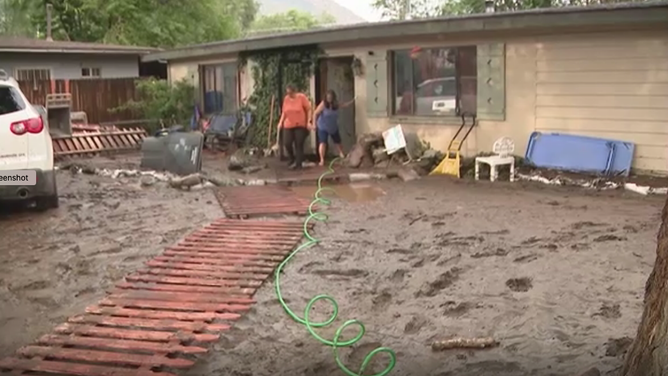 "(It) was like rapids you see in a movie and it's just scary coming down," said a neighbor. "Especially if there's big things floating down the road."
"It was terrifying," added Montanos. "I was crying trying not to freak out."
Century-old tree lost to the monsoon wind
As the thunderstorms rolled through the Arcadia area of Phoenix, one tree that had stood through more than a century of monsoon seasons finally succumbed to Mother Nature.
"Hate to see that one go," Jim McDonald told FOX10 News. "Like losing a brother."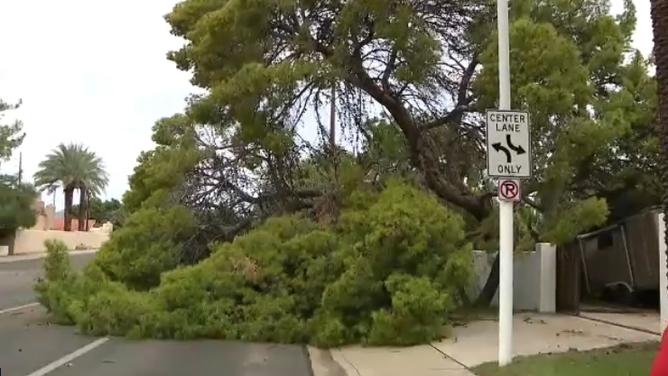 The 105-year-old tree spilled onto 44th Street, taking out a custom trailer along the way.
"Came out here and watched this tree go 'poof'," McDonald said.
Another tree fell farther south in town, damaging the roof of a BMW. A third tree damaged power lines, leaving electricity intermittent in the area. But for McDonald, losing the 105-year-old tree huts the most.
"It's gonna be missed," he said. "I love that tree along with the others here."
A very wet monsoon season
The 2021 monsoon season, which runs from July into August, has been among the wetter ones in recent years. 
Tucson has had nearly a foot of rain since June 15, nearly triple the average amount for this time of the season. Flagstaff has had over 8 inches of rain since July 1 -- more than double its usual amount. Even arid Phoenix has had over 3 inches of rain which is about an inch above normal.
The summertime thunderstorms are not new to the desert, but each summer the stories are the same of people getting trapped in flood waters. 
Crews were busy in the Phoenix area towing vehicles that had become disabled after attempting to drive through running washes and flooded intersections.
"Most of the time people understand the risks they know better," says Ashley Coles, a University of Arizona graduate who researched why people attempt to drive through flood waters. "People are making this decision out of a sense of urgency: 'I need to get home to my children. I need to get to work.' I know it's dangerous but right now, I'm weighing the potential danger versus all of the environmental conditions I'm observing and my need to be somewhere."
More storms Wednesday evening, but drier Thursday
And the monsoon storms were not letting up on Wednesday.  Heavy rains were causing flash flooding in parts of Arizona once again. 
A particularly heavy thunderstorm brought a radar-estimated 6 inches of rain in 12 hours near Globe, Arizona, causing street flooding there. 
But forecasts indicated a break from the monsoon storms Thursday lasting into the weekend before storm activity was expected to pick up again next week.