Another Extreme Heat Warning issued for England as UK set to sizzle anew this week
An Amber Extreme Heat Warning has been issued for southern England and Wales as temperatures are expected to eventually reach into the 90s later this week.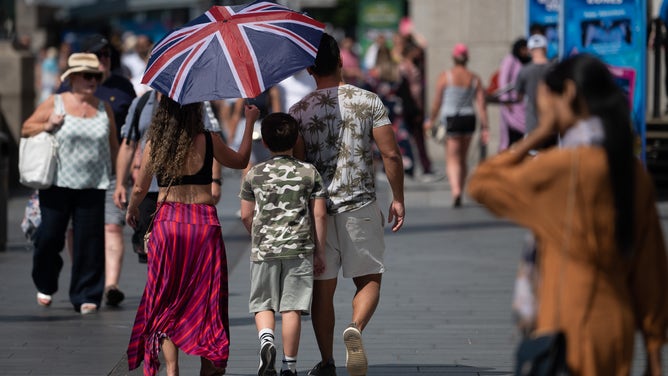 LONDON – With memories of last month's historic heat wave across much of the U.K. that sent temperatures well into triple digits still fresh, another multiday stretch of hot weather is under way to end the week.
"Amber" Extreme Heat Warnings have been issued across southern England, including London, and into parts of Wales for Thursday through Sunday. It's the second-highest rung on their heat wave warning scale behind the red extreme heat warning only used once before during July's heat wave. 
Temperatures are expected to climb into the upper 80s to lower 90s Fahrenheit, with some areas reaching as hot as the mid-90s on Friday and Saturday. Average highs are in the lower 70s.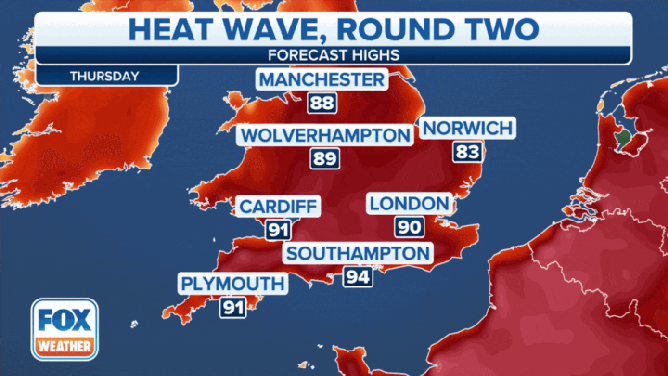 High pressure is once again pushing hot air in from continental Europe, where France is expected to bake in temperatures some 25 to 30 degrees Fahrenheit above average.
Even on Wednesday, high temperatures were well above average, reaching into the mid-80s across southern England and Wales. 
The heat won't be quite as extreme as what happened on July 19 when England and Wales set all-time national heat records. London reached 104 degrees Fahrenheit while Coningsby hit 105 and Hawarden, Wales, hit 99. The U.K. Met Office said 35 sites reached temperatures hotter than what had previously been the national heat record.  Infrastructure not built for such temperatures suffered, with dozens of fires reported in town and crews wrapping the Hammersmith Bridge in foil to protect from extreme heat.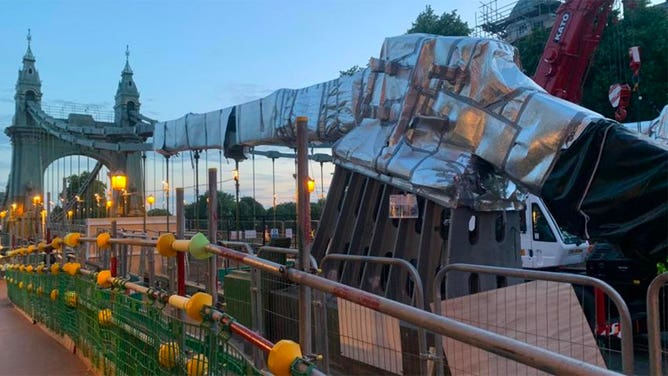 LONDON TEMPS SWELL TO 104 DEGREES, SETTING ALL-TIME UK HEAT RECORD
With air conditioning nearly unheard of in a region that sits on roughly the same latitude as Calgary, Alberta, health officials are stressing that residents once again take several precautions to avoid heat-related illness.
"It's important to ensure that people who are more vulnerable – elderly people who live alone and people with underlying health conditions – are prepared for coping during the hot weather," Dr Agostinho Sousa, Head of Extreme Events and Health Protection at the U.K. Health Security Agency, said in a news release highlighting the upcoming heat wave's dangers. "The most important advice is to ensure they stay hydrated, keep cool and take steps to prevent their homes from overheating."
Much cooler, more typical English weather looks to return on Monday.