Climate tipping points could be reached even if warming is limited to current goals, study finds
The Paris Agreement set a goal of limiting global temperature rise to less than 2 degrees Celsius (3.6 degrees Fahrenheit), but scientists say even lower levels of warming could trigger irreversible climate change.
The planet is already approaching so-called climate tipping points, and more could be reached even if global warming is limited to current goals.
That is the conclusion of scientists who authored a study published in the journal Science on Friday.
Climate tipping points, also known as CTPs, are conditions beyond which changes in part of the climate system become self-perpetuating, according to the study. Once passed, the changes might lead to irreversible impacts on humanity.
The study aimed to reassess CTPs that were originally identified in 2008 and provide timeframes of impacts for each one.
Scientists said they have identified nine global "core" tipping points which substantially contribute to the Earth system. They also identified seven regional "impact" tipping points that will have significant impacts on human welfare or have great value as unique features of the global system.
The CTPs identified in the study include ice sheets at both poles, the Amazon Rainforest, coral reefs in the lower latitudes and mountain glaciers.
50-50 ODDS THAT EARTH REACHES CRITICAL CLIMATE-CHANGE THRESHOLD BY 2026, SCIENTISTS SAY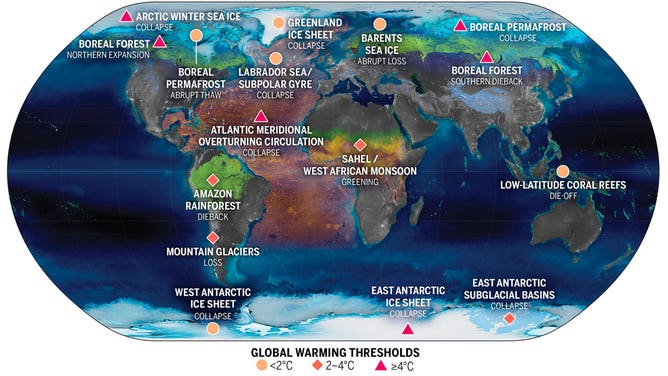 According to the study, current global warming is at about 1.1 degrees Celsius (1.98 degrees Fahrenheit) above preindustrial levels. That amount of warming already lies within the lower end of five CTP ranges, scientists said.
"Observations have revealed that parts of the West Antarctic ice sheet may have already passed a tipping point. Potential early warning signals of the Greenland ice sheet, Atlantic Meridional Overturning Circulation, and Amazon rainforest destabilization have been detected," scientists wrote in the study.
The Paris Agreement adopted by 196 countries in 2015 set a goal of limiting global temperature rise to less than 2 degrees Celsius (3.6 degrees Fahrenheit), but scientists said in the study that level of warming could lead to crossing more CTPs.
"Six CTPs become likely (with a further four possible) within the Paris Agreement range of 1.5 to <2°C warming, including collapse of the Greenland and West Antarctic ice sheets, die-off of low-latitude coral reefs, and widespread abrupt permafrost thaw," scientists wrote in the study. "An additional CTP becomes likely and another three possible at the ~2.6°C of warming expected under current policies."
MAGIC MUSHROOMS: SCIENTIST SAYS FUNGI COULD REVOLUTIONIZE CLIMATE CHANGE FIGHT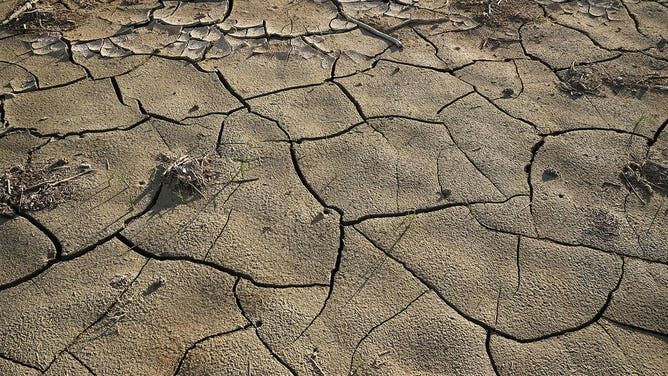 Scientists said that even if the goals of the Paris Agreement were achieved, the risks of crossing some CTPs would be lowered but not eliminated.
"This strengthens the evidence base for urgent action to mitigate climate change and to develop improved tipping point risk assessment, early warning capability, and adaptation strategies," scientists wrote.
They suggested that the world should instead aim for a lower warming threshold of 1.5 degrees Celsius (2.7 degrees Fahrenheit).
The U.S. has set a goal of reducing greenhouse gas emissions, a driving force of climate change, by 50 to 52% below 2005 levels by 2030. The country has set 2050 as its target to achieve net-zero emissions.