California cancels salmon fishing season amid 'climate disruption'
Near-record low numbers of Chinook salmon across California and Oregon prompted the National Marine Fisheries Service to postpone the start of the 2023 salmon fishing season through May and to recommend a California ban through April 2024.
Near-record low numbers of Chinook salmon forced officials to ban salmon fishing for a good portion of the West Coast through spring. 
The National Marine Fisheries Service announced that there would be no salmon fishing from Cape Falcon, Oregon (near Portland) to the U.S./Mexico border until May 15, well past the sport and commercial April start. The agency also proposed plans to keep California closed for salmon fishing through April 2024.
"The main factor in making their determination is salmon returns," said Jordan Traverso, of the California Department of Fish and Wildlife. "These fish are returning to their home rivers from birth three years ago, following their voyage out to the ocean. Three years ago, we were dealing with intense drought that dried up rivers as well as climate disruption."
CAUTION: SALMON CROSSING! SEASON'S FIRST FLOOD BRINGS ANNUAL MIGRATION TO STREETS NEAR SEATTLE
Lowest numbers since "collapse of the salmon fishery"
The Pacific Fishery Management Council (PFMC), a multi-state, quasi-federal body that determines salmon fishing seasons and advises the National Marine Fisheries, took stock of Chinook salmon that returned to the Klamath and Sacramento Rivers in the fall. Both showed the second-lowest numbers since records began. Only in 2009, another drought year, were return numbers lower.
The PFMC banned salmon fishing in the 2008 to 2009 season as well after what NOAA calls a "collapse of the salmon fishery." Studies show an economic loss of $500 million to $2 billion. The ban forced 1,200 fishing boats to stay in port and 5,000 to 23,000 people lost jobs. 
"Such a collapse would have been unlikely before the diversity of salmon and habitats was lost," said a NOAA researcher. 
HOW SALMON NUMBERS RISE AND FALL DURING EL NINO AND LA NINA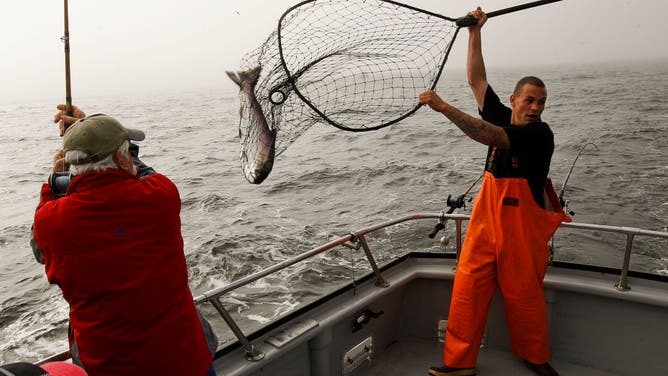 "The 2023 salmon season discussions have been dominated by the severely low forecasts for both the Klamath and Sacramento River fall Chinook stocks", said PFMC Executive Director Merrick Burden in a statement.
"The Council will need to deliberate on the best path forward in setting 2023 seasons with considerations for economic implications to the coastal communities and the low abundances of key salmon stocks and the need to ensure future generations of healthy salmon returns," he continued.
Federal requirements mandate Chinook and coho salmon conservation. The PFMC regulates all salmon fishing based on Chinook stocks from the Sacramento and Klamath Rivers.
Traverso said that other salmon populations are not thriving either. 
"Not good after about ten years of drought, lots of barriers to fish passage like dams, increased human presence and infrastructure and climate disruption," Traverso said.
HOW TO WATCH FOX WEATHER ON TV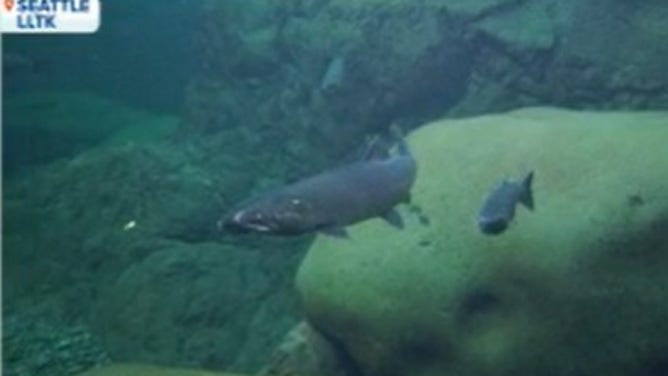 NOAA states that tremendous ocean fishing in the early 1900s left behind younger salmon and those more vulnerable to weather and climate change. That meant that just a couple of bad weather years could affect the species' survival. 
On top of that, newly built dams blocked high-elevation habitats for the salmon, which used to retreat to the water cool enough for the fish to survive the summer heat. 
Signs of a rebound
The winter's atmospheric river storms, which have already alleviated California's drought severity, bring a silver lining. The flooding rains could mean a population bounce-back in 3 years.
HOW TOO MUCH AND NOT ENOUGH RAINFALL IS HURTING FISH IN THE WEST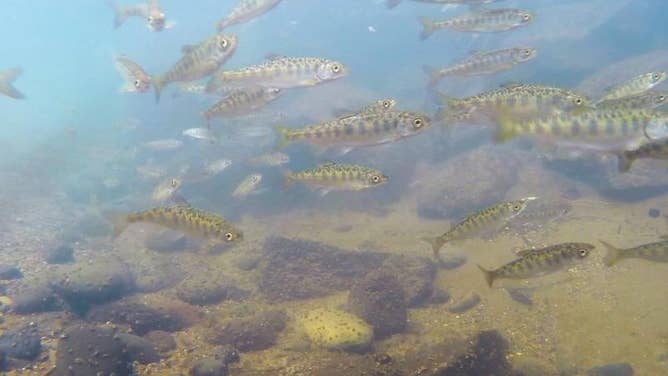 "The good news is that salmon numbers fluctuate, and we anticipate that the fish born this year will have better success due to the ample precipitation we're seeing this year," said Traverso. 
NOAA research shows that salmon abundance is higher following wetter years.
"For example, the 2010 above average rainfall year resulted in higher stock forecasts of California adult Chinook in 2012 and 2013," wrote NOAA.
The first of four dams on the Klamath River will also come down in July.
"The largest river restoration project in American history is underway to remove four dams on the Klamath River that will improve river health for salmon," said Traverso.
While the PFMC has recommended banning all California salmon fishing for 2023, the final decision comes in early April after giving the public a chance to comment.