BY THE NUMBERS: Heartland tornado outbreak
Twisters swept through several states from the mid-South to the Ohio Valley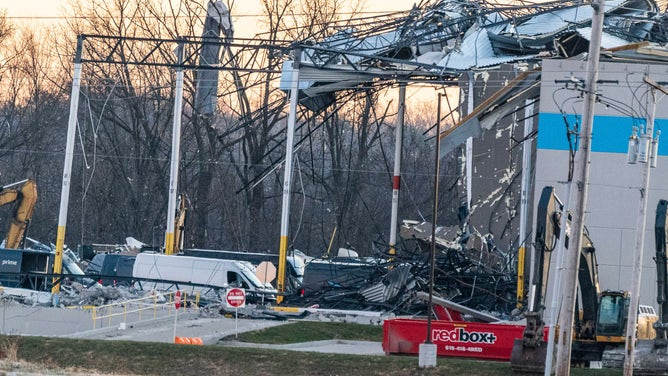 Tornadoes left a path of unimaginable damage across several states from the mid-South to the Ohio Valley.
Here are some numbers that help tell the story of the tornado outbreak in the nation's heartland.
90
At least 90 people have died because of the tornadoes that swept across parts of six states. The majority of the deaths have happened in Kentucky. Gov. Andy Beshear, of Kentucky, said Monday, at least 74 people have been killed there. He said he expects that number to increase.
6
Six people were killed when a tornado tore through an Amazon warehouse in Edwardsville, Illinois on Friday night. Officials said about 190 people were employed at the facility, but they do not have an exact count on the number of people who were inside the warehouse at the time of the twister.
Read more about this tornado here.
109
Kentucky Gov. Andy Beshear said Monday there are 109 people who are still missing, and he believes that number is too low. He said damage to the communication system in the state has made it difficult to find people who have been reported missing.
40
Teams from the National Weather Service have fanned out across the areas hit hardest by the storms to conduct surveys and determine if a tornado caused the damage. As of Monday afternoon, NWS officials have confirmed 40 tornadoes. This number could increase as surveys are still underway.
Most of the confirmed tornadoes have been in Tennessee, where 12 twisters touched down.
Read more about how storm surveys are conducted here.
EF-3
The strongest tornadoes that have been confirmed as of Monday afternoon have been rated at least an EF-3. Four of the 30 tornadoes confirmed so far have been rated an EF-3.
A tornado in Mayfield, Kentucky, has been given a preliminary rating of EF-3. Officials said that rating could increase as teams continue their survey of damage to the southwestern Kentucky town.
Read more about the Enhanced Fujita Scale here.
585
Across the two days of the outbreak that started Friday night and lasted through Saturday morning, there were 585 reports of severe weather. Of those, 70 were reports of tornadoes. The rest of the reports were for high winds or large hail.
18,500
According to Kentucky emergency manager Michael Dossett, more than 18,500 people are without power in Kentucky as of Tuesday afternoon.
However, that number does not include the town of Mayfield, Dossett said, because "that doesn't exist. So that will take weeks and months to rebuild."