As many as 3,600 giant sequoias killed by 2021 wildfires
Losses represent up to 5% of world's giant sequoia population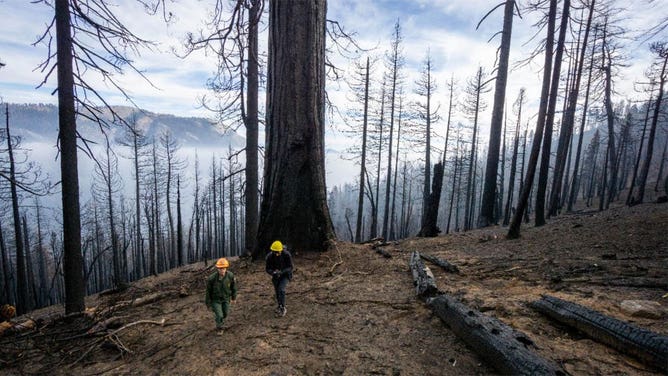 SEQUOIA NATIONAL PARK, Calif. – More than 3,600 giant sequoias are estimated to have been killed by the wildfires that burned in California this year.
Officials at the National Park Service said lightning sparked the KNP Complex Fire and the Windy Fire which burned inside parts of both Sequoia National Park and Kings Canyon National Park.
Satellite imagery, aerial reconnaissance and analysis of response plans were used to complete the assessment of the damage from the 2021 wildfire season to the sequoia forests that grow in the Southern Sierra Nevada Mountains.
Officials said between 2,261 and 3,637 giant sequoias were killed by the fires or have been damaged so badly that they're expected to die within five years. This represents between 3% and 5% of the world's population of the majestic trees.
LESSONS FROM PAST WILDFIRES GIVE HOPE TO SAVING WORLD'S LARGEST TREES
As many as 2,380 of these trees were in Sequoia National Park, and as many as 1,257 were in Kings Canyon National Park, officials said.
According to NPS officials, up to 14% of the world's giant sequoia population were killed during the 2020 wildfire season.
Officials said that fire is an important part of maintaining a healthy forest, but a history of fire suppression across the West combined with drought has led to wildfires that burn to intensely to benefit the trees.
"The sobering reality is that we have seen another huge loss within a finite population of these iconic trees that are irreplaceable in many lifetimes," says Sequoia and Kings Canyon National Parks Superintendent Clay Jordan. "As we navigate the complex process of restoring access to the parks, we will continue to work diligently with our partners in the Giant Sequoia Lands Coalition to become ever-better stewards of these incredibly special places, despite the enormous challenges we face."
Officials said prescribed burns helped save the Giant Forest, a grove of sequoias in Sequoia National Park that is home to some of the world's largest and oldest trees.
The KNP Complex and Windy fires have consumed a combined 185,000 acres.