Americares gears up for hurricanes while still responding to war and other disasters
Organizations like Americares are preparing for another above-average hurricane season
STAMFORD, Conn. – With hurricane season underway, disaster relief groups are getting ready to respond to tropical systems.
Global nonprofit Americares ships emergency supplies to approximately 90 countries annually, responding to about 30 disasters a year.
When disaster strikes, groups like Americares are ready to send supplies to impacted people, and the process starts at the Americares distribution center in Stamford, Connecticut. 
HERE'S HOW TO PREPARE FOR HURRICANE SEASON NOW
For more than four decades, the nonprofit has responded to hurricanes, tornadoes, wildfires, droughts and, more recently, the war in Ukraine.
For the seventh hurricane season in a row, NOAA has forecast an above-average number of named storms.
NOAA's Climate Prediction Center forecasters are predicting 14 to 21 named storms, six to 10 hurricanes, and three to six major hurricanes (Category 3 or higher on the Saffir-Simpson Hurricane Wind Scale). 
With a busy season ahead, the organization is preparing by stocking up on the supplies they need during disasters. 
Teams are preparing thousands of emergency response kits that will be deployed as soon as the severe weather event strikes.
Dr. Julie Varughese, chief medical officer and vice president of Americares' technical unit, said volunteers help make hygiene kits for someone facing a disaster. The kits have shampoo, soap, towels, toothpaste and a toothbrush. 
"They're intended to be just basic toiletries for someone who is facing a disaster or to have some items for comfort and dignity as they're dealing with post-disaster times," Varughese said.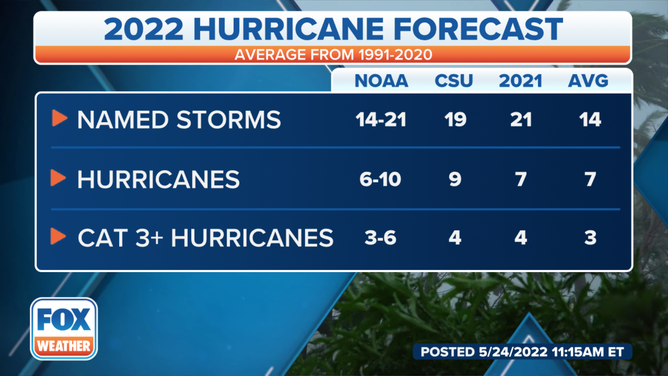 WHERE TROPICAL STORMS, HURRICANES TYPICALLY OCCUR DURING EACH MONTH OF THE ATLANTIC HURRICANE SEASON
The emergency response team is always ready to deploy. They monitor storms and potential weather-related events all year.
"We have a coordination system in place at Americares for monitoring and then determining if we're going to respond," Varughese said. "Often we send teams in advance of a weather event so that they can start to work with partners and really start to do an assessment and be ready to go once disaster strikes."
Varughese advises people living in hurricane-prone states to make a hurricane kit and develop a disaster plan. This plan should include your whole family, including pets. 
"Make sure that everyone in your home, your family, knows what the plan is. Also, I would say really have a kit where you have at least three days' worth of food stocked and available to go," Varughese said.
WATER FROM HURRICANES, TROPICAL STORMS KILLS MORE IN U.S. THAN WIND
According to NOAA, the most active time during hurricane season is from mid-August to mid-October. 
Americares will continue responding to all types of emergencies -- not just natural disasters -- all year round.