Aid workers struggle to reach the 3.1 million homeless survivors of Pakistan's monsoon flooding
'A third of our country is underwater' said a Pakistan Minister. Officials and aid agencies rush to stave off more suffering, disease and mosquito-borne infections for the over 33-million Pakistanis the flood has touched.
After one of the deadliest monsoon seasons in Pakistan's history, aid workers and agencies scramble to get essential supplies to millions.
Months of monsoon rains triggered mudslides and overflowing rivers leaving a third of Pakistan underwater.
Over 3.1 million people had to flee from their homes, and more than 1,100 died. An official estimates that one out of every seven Pakistanis has been affected.
"People are still having to evacuate their homes. Some people are stuck where they are because of the thousands of miles of roads that have been damaged and bridges as well. Houses have been completely destroyed or are being swept away," Jenelle Eli of the International Federations of Red Cross and Red Crescent Societies (IFRC) told FOX Weather. "So people are really just in need of really basic things like shelter, food and water, and our teams are working to get those things to them."
HOW TO WATCH FOX WEATHER ON TV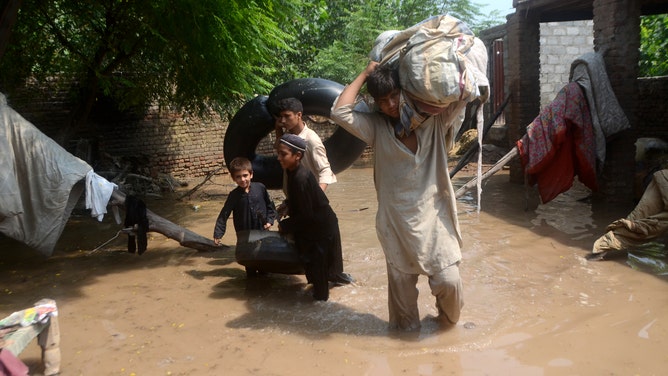 Creative solutions to deliver aid
With so much of the country cut off by water, Eli said the IFRC has had to get innovative to deliver essentials, including airdropping supplies. Drinking water is a top priority to avoid a secondary health crisis like dehydration or sickness from dirty water.
"Things like mosquito nets are being distributed right now to make sure that people can stay healthy today and next week for mosquito-borne diseases. We're also thinking creatively about what aid we can give to people that will help them rebuild their livelihoods," said Eli. "People lost crops, livestock and just their basic things that help them build an income. So if we're able to get cash in the hands of people in need where markets are working, they can start trying to think about how they can rebuild."
Government agencies estimate over 710,000 heads of livestock were lost, over half a million homes destroyed and $10 billion of damage.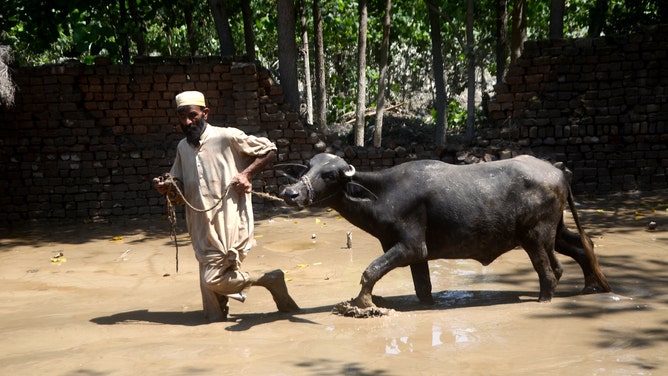 "The situation is worsening by the day. These torrential floods have severely restricted transportation and mobility. Damage to vehicles, infrastructure and connectivity are further making our emergency relief works almost impossible," said Chairman of Pakistan Red Crescent, Abrar ul Haq in a statement. "We fear the worst is yet to come as the risk of water-borne diseases looms over the heads of our people."
The Red Crescent deployed over 500 crisis responders across 23 of the most affected districts. The IFRC is accepting donations for flood victims.  The U.N. launched a campaign to raise $160 million to help the suffering. The International Monetary Fund also approved a $1.2 billion loan. 
7 FACTS YOU SHOULD KNOW ABOUT FLASH FLOODS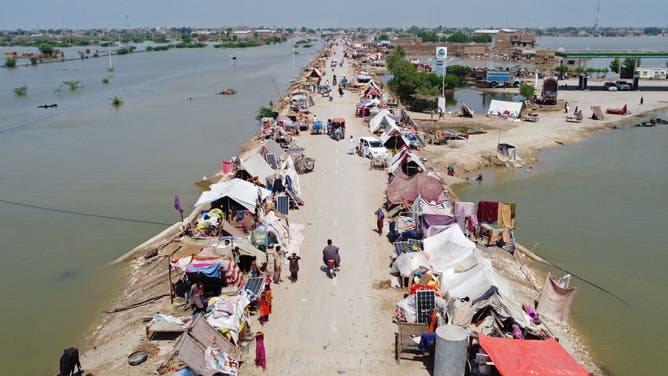 "The Pakistani people are facing a monsoon on steroids, the relentless impact of epochal levels of rain and flooding," said U.N. Chief Antonio Guterres said in a video statement. "This climate catastrophe has killed more than 1,000 people with many more injured." 
MORE THAN 1,000 KILLED FROM HISTORIC MONSOON FLOODING IN PAKISTAN 
Faces of the victims
Video shows volunteers running a rope across a rushing river that used to be a street. They used a bed frame as a rescue craft and pulled a boy and man to safety.
Rescuers trying to save villagers cut off by fast-moving floodwaters took a moment to help a villager's pet. The terrified cat clings to a man who is winched across the divide. At one point, the cat slips, but the rescuer grabs hold of the feline before it was swept away. 
Residents walk waste deep through the water to escape their flooded homes, carrying any valuable they could salvage on their heads and shoulders.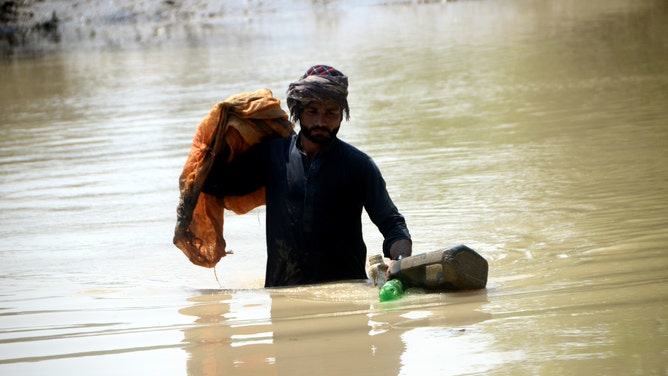 Only the floods of 2020 have been deadlier, taking over 2,000 lives. The Pakistan Meteorological Department writes that the monsoon expects the severity of the deluges to taper off into September, the end of monsoon season generally. 
The FOX Weather app is a great resource that can be used to alert you of any watches or warnings issued for your area. The free FOX Weather livestream is also available 24/7 on the website and app and on your favorite streaming platform. The FOX Weather Update podcast also provides weather information for the entire country.